David Bowie 1974-07-02 Tampa ,Curtis Hixon Hall – Class Of '74, Volume 6 – (JS master).
Sound Quality Rating
01. STAGE INTRO.flac
02. 1984.flac
03. REBEL REBEL.flac
04. MOONAGE DAYDREAM.flac
05. SWEET THING.flac
06. CHANGES.flac
07. SUFFRAGETTE CITY.flac
08. ALADDIN DANE.flac
09. ALL THE YOUNG DUDES.flac
10. CRACKED ACTOR.flac
11. SPACE ODDITY.flac
12. DIAMOND DOGS.flac
13. PANIC IN DETROIT.flac
14. BIG BROTHER.flac
15. CHANT OF THE EVER CIRCLESKELETAL FAMILIE.flac
16. TIME.flac
17. WIDTH OF A CIRCLE.flac
18. THE JEAN GENIE.flac
19. ROCK 'N' SUICIDE.flac
Label: EgoDisc 009
Audio Source: audience JS MASTER
Lineage:
Total running time: 1:18:12
Sound Quality: Much noise ,dull ,but still good listened to
Attendance: 7.400
Artwork: None.
Note: Same as Toronto,minus Drive in Saturday and Future Legend.
The driver or one of the lorries containing the scenery,lighting equipment,etc. ,got stung by a bee and so the lorry ended up in a swamp.
Before the concert starts the announcer says: "Good evening. Good evening ladies and gentlemen. The concert you're going to see tonight is not the show we had planned for you. Due to an unfortunate road accident, half of our stage scenery, costumes, lighting equipment is in a local swamp fifteen miles north of here."Oh my god" cry the audience."There was talk of cancelling tonight's performance but David Bowie would not hear of it and insisted we go on in the remaining half condition. So, in a few minutes we'll go on with the concert – thank you"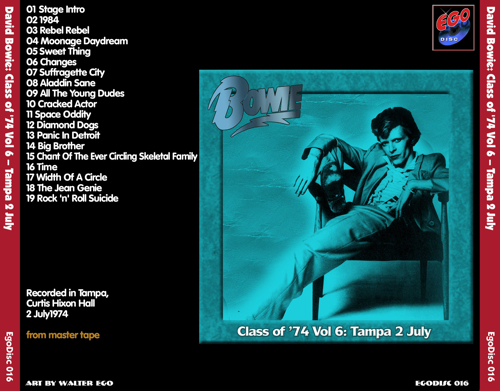 Before All the Young Dudes Bowie says: "Good evening Tampa. Well,we thought it wasn't gonna happen,because as you probably heard we had a bad road accident and we're still upset about it,but l'd like to thank you for being here". With or without scenery,Bowie made it into a great concert,and after a stand-up ovation which lasted twenty minutes,he even played an extra,the only one of the whole tour. However,this extra is not included in this tape and which number it was is unknown to me.
Tour band 1974 (June – July)
• David Bowie – vocals
• Michael Kamen – electric piano, Moog synthesizer, oboe, music director
• Earl Slick – guitar
• Mike Garson – piano, mellotron
• David Sanborn – alto saxophone, flute
• Richard Grando – baritone saxophone, flute
• Herbie Flowers – bass
• Tony Newman – drums
• Pablo Rosario – percussion
• Gui Andrisano – backing vocals
• Warren Peace – backing vocals
(Visited 642 times, 1 visits today)