David Bowie 1974-09-11 San Diego ,Sports Arena – Watch Me Dance –
Sound Quality Rating
101. 1984.flac
102. Rebel Rebel.flac
103. Moonage Daydream.flac
104. Sweet Thing.flac
105. Candidate.flac
106. Sweet Thing (Reprise).flac
107. Changes.flac
108. Suffragette City.flac
109. Aladdin Sane.flac
110. All The Young Dudes.flac
111. Cracked Actor.flac
112. Rock'n'Roll With Me.flac
113. Knock On Wood.flac
201. It's Gonna Be Me.flac
202. Space Oddity.flac
203. Future Legend.flac
204. Diamond Dogs.flac
205. Big Brother.flac
206. Chant of the Ever Circling Skeletal Family.flac
207. Time.flac
208. The Jean Genie.flac
209. Rock'n'Roll Suicide.flac
210. John I'm Only Dancing (Again).flac
Label: From The Hunky Geordie Tapes – HUG057CD
Audio Source: audience
Lineage: TDK D90 tape (Noggin, unknown gen) > (side 1) JVC PC-X95 tape deck / (side 2) Denon DRM-500 tape deck >
Total running time: 1:30:01
Sound Quality : Not good ,much Noise ,very dull
Attendance: 15.000
Artwork: By steve23yh.
Same as Los Angeles 2 september minus Young American, This ,again,is a very fine concert. In a couple of songs ,e.g. Swweet thing and Cracked Actior,Bowie manoevres his voice hrough the whole range of extremely low to extremely high.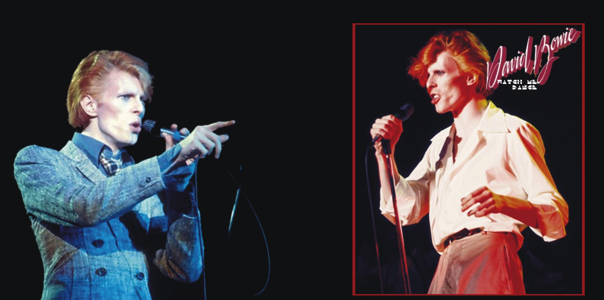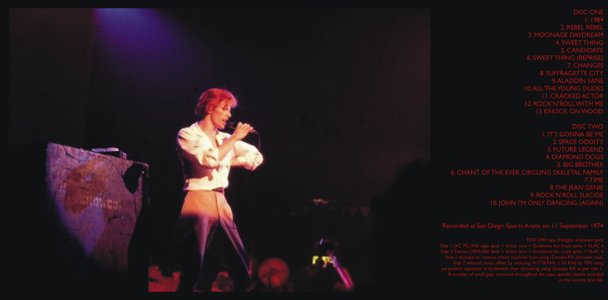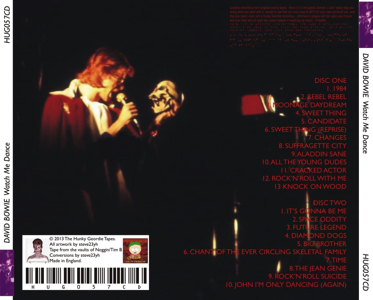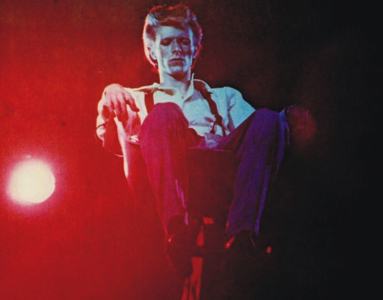 Tour band 1974 (September)
• David Bowie – vocals
• Michael Kamen – electric piano, Moog synthesizer, oboe
• Mike Garson – piano, mellotron
• Earl Slick – guitar
• Carlos Alomar – rhythm guitar
• David Sanborn – alto saxophone, flute
• Richard Grando – baritone saxophone, flute
• Doug Rauch – bass
• Greg Errico – drums
• Pablo Rosario – percussion
• Gui Andrisano – backing vocals
• Warren Peace – backing vocals
• Ava Cherry – backing vocals
• Robin Clark – backing vocals
• Anthony Hinton – backing vocals
• Diane Sumler – backing vocals
• Luther Vandross – backing vocals
============================
Fix notes:
Denoise to both sides, minor machine hum
Small gap at 25 seconds in 1984 removed – trivial impact.
Gap between Aladdin Sane and All The Young Dudes remained. Crops some of the All The Young Dudes intro.
Gap removed at 30 seconds in Knock On Wood – loses the middle of the song. Further cut removes the end of the song.
Reworking of disc two used parametric equaliser:
4177.8 Hz ± 20Hz – reduced by 70%: removed some of the worst of the whoosh, but can't remove all
Small gap in It's Gonna Be Me, at 58 seconds, removed. No music lost.
Gap between It's Gonna Be Me and Space Oddity removed, opening notes of Space Oddity clipped.
Gap at 5:27 in Space Oddity removed – maybe a second lost.
Tiny blip in Future Legend @ 1:01. Left alone.
Gap removed from Time @2:21. Maybe a second lost.
Gap between Time and The Jean Genie – removed, opening notes of The Jean Genie clipped
Gap in crowd noise between Rock'n'Roll Suicide and John I'm Only Dancing (Again). Removed.
(Visited 861 times, 1 visits today)