David Bowie 1974-07-19 New York ,Madison Square Garden – Halloween Jack In Hunger City – SQ -7 (mp3). Fake ,correct date 20 July.
Sound Quality Rating
01 – 1984.mp3
02 – Rebel Rebel.mp3
03 – Moonage Daydream.mp3
04 – Sweet Thing.mp3
05 – Changes.mp3
06 – Suffragette City.mp3
07 – Aladdin Sane.mp3
08 – All The Young Dudes.mp3
09 – Cracked Actor.mp3
10 – Rock 'N' Roll With Me.mp3
11 – Watch That Man.mp3
12 – Knock On Wood.mp3
13 – Space Oddity.mp3
14 – Diamond Dogs.mp3
15 – Panic In Detroit.mp3
16 – Big Brother.mp3
Label: No label
Audio Source: audience
Lineage:
Total running time: 1:13:58
Sound Quality : Much noise ,dull ,but still good listened to
Attendance: 9.800
Artwork: yes.
note 1: Fake ,correct date 20 July
note 2: last 4 tracks missing on the master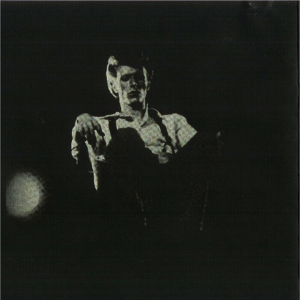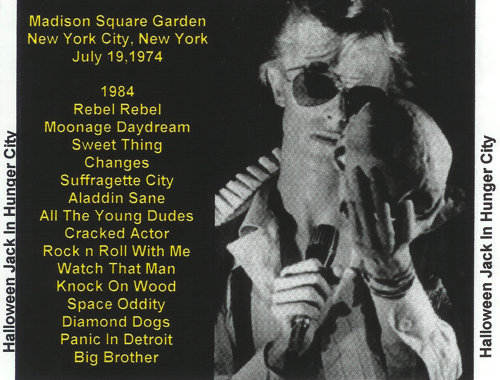 Ziggy Stardust was dead, and when Bowie returned to town for his first performances at the Garden, it was with the insanely ambitious Diamond Dogs tour, which featured a full theatrical set (including a catwalk and a cherry picker hoisting Bowie over the audience) and choreography (by none other than Toni Basil).
Diamond Dogs was meant to be Bowie's vision of Orwell's 1984, having come about after his attempts to create a musical based on the book were blocked by the author's widow. But Bowie's own post-apocalyptic creation was plenty bleak on its own.
These MSG shows — the final concerts on this leg — were filmed by Bowie's management for release, but although audio is out there, the video has never surfaced.
Tour band 1974 (June – July)
• David Bowie – vocals
• Michael Kamen – electric piano, Moog synthesizer, oboe, music director
• Earl Slick – guitar
• Mike Garson – piano, mellotron
• David Sanborn – alto saxophone, flute
• Richard Grando – baritone saxophone, flute
• Herbie Flowers – bass
• Tony Newman – drums
• Pablo Rosario – percussion
• Gui Andrisano – backing vocals
• Warren Peace – backing vocals
(Visited 1,241 times, 1 visits today)