David Bowie 1973-06-04 Worcester ,Gaumont Theatre – Time To Unfreeze –
Sound Quality Rating
01. Hang On To Yourself.flac
02. Ziggy Stardust.flac
03. Watch That Man.flac
04. Wild Eyed Boy From Freecloud.flac
05. All The Young Dudes.flac
06. Oh You Pretty Things.flac
07. Moonage Daydream.flac
08. Changes.flac
09. Space Oddity.flac
10. The Jean Genie.flac
11. Time.flac
12. The Width Of A Circle.flac
13. band introductions.flac
14. Let's Spend The Night Together.flac
15. Suffragette City.flac
16. White Light White Heat.flac
17 Round And Round.flac
Label: From The Hunky Geordie Tapes – HUG102CD
Audio Source: audience
Lineage: TDK SA90 tape (Noggin) > Denon DRM-500 tape deck
Total running time: 1:12:01
Sound Quality : Not good ,much Noise ,very dull
Attendance: ???
Artwork: steve23yh.
It is a good tape,but Bowie is hard to understand when he speaks. "Good evening Worcester" he says after Width of a Circle,"it's nice to be here. It' 5 nice to introduce you to the group tonight". When Bowie announces White Light-White Heat he calls Lou Reed "a man that I admire very much",and also Round & Round gets a lengthy introduction.
First 3.6 seconds of Hang On To Yourself (which is incomplete anyway) removed because of static interference.There is then some more interference during first minute of Hang On To Yourself – can't be accessed so left alone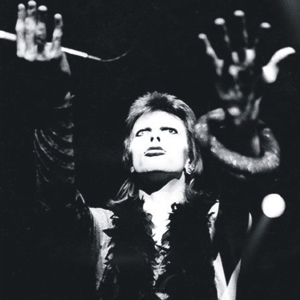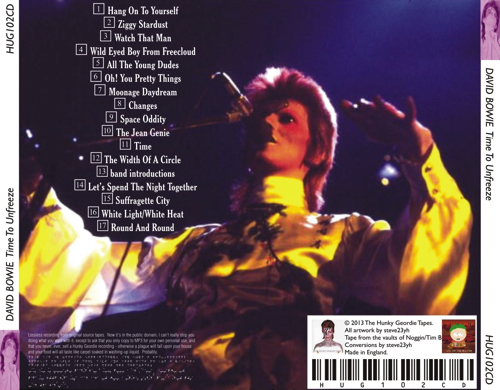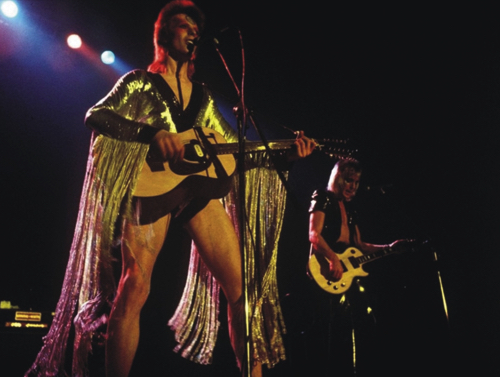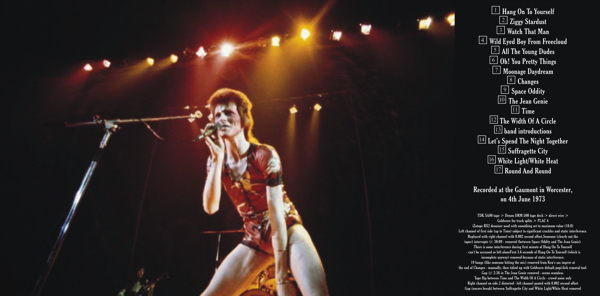 David Bowie Tour Band – The Ziggy Stardust Tour
David Bowie
– vocals, guitar, harmonica
Mick Ronson – guitar, vocals
Trevor Bolder – bass
Mick "Woody" Woodmansey – drums
Mike Garson – piano, mellotron, organ (22 September 1972 – end of tour)
John Hutchinson – rhythm guitar, 12-string acoustic guitar (8 Apr 1973 – 20 Apr 1973 – 3 July 1973)
Geoffrey A. MacCormack – backing vocals, percussion (19 January 1973 – end of tour)
Ken Fordham – saxophone (19 January 1973 – end of tour)
Brian Wilshaw – saxophone, flute (19 January 1973 – end of tour)

Crew
Robin Mayhew ,Will Palin ,Mick Hince ,Dean Heiser – Sound ,Ground Control ,Front of House Engineer ,Stage hands
Nigel Olliff, Nick Gilbey, Paul Normand and crew – Lights ,1972 Heavy Light ,1973 See Factor Industries NY Bob See ,Steve Hurston ,Mick Fussey
Peter Hunsley – Stage Equipment
Suzi Fussey – Wardrobe, Makeup and Hair



========================
Notes
iZotope RX2 denoiser used with smoothing set to maximum value (10.0).
Too fast, speed adjusted, factor of 98%

Left channel of first side (up to Time) subject to significant crackles and static interference.
Replaced with right channel with 0.002 second offset.
Someone (clearly not the taper) interrupts @ 30:09 – removed (between Space Oddity and The Jean Genie)
First 3.6 seconds of Hang On To Yourself (which is incomplete anyway) removed because of static interference.
There is then some more interference during first minute of Hang On To Yourself – can't be accessed so left alone

Tape flip between Time and The Width Of A Circle – crowd noise only Right channel on side 2 distorted – left channel pasted with 0.002 second offset Gap (encore break) between Suffragette City and White Light/White Heat removed Sector boundary errors resolved using TLH.

.

.

(Visited 833 times, 1 visits today)