David Bowie 1973-02-15 New York City ,Radio City Music Hall – (Remaster)
Sound Quality Rating
01. Ode To Joy.flac
02. Hang On To Yourself.flac
03. Ziggy Stardust.flac
04. Changes.flac
05. Soul Love.flac
06. John, I'm Only Dancing.flac
07. Drive In Saturday.flac
08. Five Years.flac
09. Space Oddity.flac
10. My Death.flac
11. The Supermen.flac
12. Aladdin Sane.flac
13. Panic In Detroit.flac
14. Moonage Daydream.flac
15. The Width Of A Circle.flac
16. Time.flac
17. Let's Spend The Night Together.flac
18. Watch That Man.flac
Label: No label
Audio Source: audience
Lineage: Tape > Technics Rs-bx501
Total running time: 1:23:40
Sound Quality : Much noise ,dull ,but still good listened to
Attendance: 5.884 Sold out
Artwork: MossGarden
Remaster : by Zannalee1967)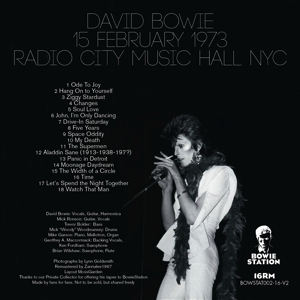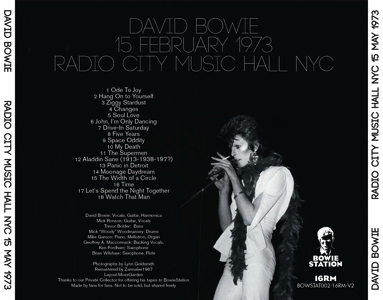 Great concert
After the beatifully sung My Death,the film of the cosmos rushing at high speed towards the audience was again produced,accompanied by all kinds of space sounds. The audien­ce's response to this is quite funny: lots of "Oh my god"s and some one says "Oh god,I have never seen anything like it!". The film charges into Supermen ,this time in a special perfor­ mance: Bowie sings the first lyrics and then the band join in. Very good!
Bowie announces the new songs of Aladdin Sane. "That was called Aladdin Sane. This is called Panic in Detroit,which was written in Detroit" Bowie says,and immediately afterwards a man from the audience can be heard to shout "When's your album corning out?". But there is no reply from Bowie!
< David Bowie Tour Band – The Ziggy Stardust Tour
David Bowie – vocals, guitar, harmonica
Mick Ronson – guitar, vocals
Trevor Bolder – bass
Mick "Woody" Woodmansey – drums
Matthew Fisher – piano (20 Apr 1972 – 27 May 1972)
Robin Lumley – piano (2 Jun 1972 – 15 Jul 1972)
Nicky Graham – piano (1 Aug 1972 – 7 Sep 1972)
Mike Garson – piano, mellotron, organ (22 September 1972 – end of tour)
John Hutchinson – rhythm guitar, 12-string acoustic guitar (8 Apr 1973 – 20 Apr 1973 – 3 July 1973)
Aynsley Dunbar – additional drums (8 Apr 1973 – 20 Apr 1973)
Geoffrey A. MacCormack – backing vocals, percussion (19 January 1973 – end of tour)
Ken Fordham – saxophone (19 January 1973 – end of tour)
Brian Wilshaw – saxophone, flute (19 January 1973 – end of tour)
Crew
Robin Mayhew ,Will Palin ,Mick Hince ,Dean Heiser – Sound ,Ground Control ,Front of House Engineer ,Stage hands
Nigel Olliff, Nick Gilbey, Paul Normand and crew – Lights ,1972 Heavy Light ,1973 See Factor Industries NY Bob See ,Steve Hurston ,Mick Fussey
Peter Hunsley – Stage Equipment
Suzi Fussey – Wardrobe, Makeup and Hair
.
==================================
Remaster details:
* Both files opened in ADOBE and downgraded to 44.1 kHz – 16 bit,
* The first 70 minutes (up to TWOAC) sounded different from the last part, so they were treated differently.
PART ONE:
– minor dehiss
– gentle low and mid tweak to soften the rather harsh recording
– leveled the recording to match part two
PART TWO:
– dehissed
– gentle mid tweak to soften the rather harsh recording
* Crossfaded part one and two – no music missing
* Created a fade in and fade out at the beginning and end of the recording – no music missing
* Fixed a few gaps – no music missing
* Smoothened the transistion from MD into TWOAC – no music missing
* Fixed SBE with TLH
.
.
(Visited 1,054 times, 1 visits today)