David Bowie 1972-12-24 London ,The Rainbow – Christmas Stardust – Sound Quality Rating
01. Ode To Joy.flac
02. Let's Spend The Night Together.flac
03. Hang On To Yourself.flac
04. Ziggy Stardust.flac
05. Changes.flac
06. The Supermen.flac
07. Life On Mars.flac
08. Five Years.flac
09. The Width Of A Circle.flac
10. John I'm Only Dancing.flac
11. Moonage Daydream.flac
12. The Jean Genie.flac
13. Suffratette City.flac
14. Rock'n'Roll Suicide.flac
Label: From The Hunky Geordie Tapes
Audio Source: audience
Lineage: Apparent needledrop from acetate > TDK D60 > Denon DRM-500 deck
Total running time: 0:54:53
Sound Quality : Not good ,much Noise ,very dull
Attendance: 3.000
Artwork: by Steve23yh.
Remake : iZotope RX2 denoiser to remove hiss.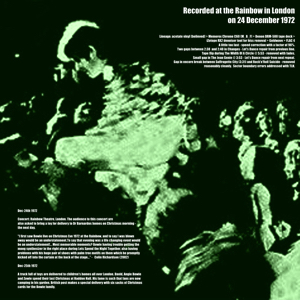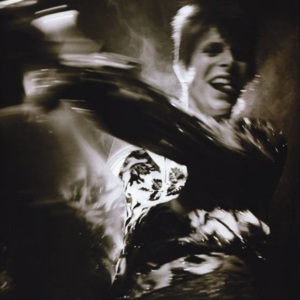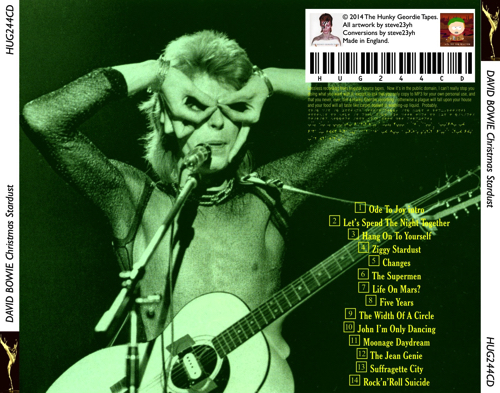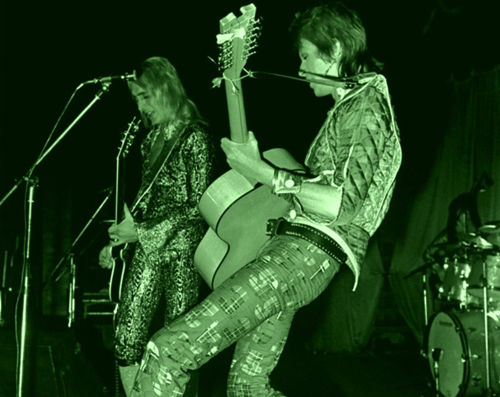 Bowiemania or Ziggymania
For this short series of concerts Bowie has chosen Let's spend the Night to Together as the opening number. Towards the end of it he does a sort of act,speaking to the audience: "When I saw you coming coming coming coming coming coming down the street. Are you an Aries? Are you a Gemini? What are you? You're a Leo? You're what,a Peruvian?! Well I'm a Capricorn with an A. Are you still at school? That turns me on. Education is so … educate me". Halfway Live On Mars Bowie stops for a moment,in order to allow the audience to join in. "It's jolly nice to be back in London as well,we've got the abominable flu at the moment,so that's why we're a bit wanting. It's either that or we've had too much in our mouths over the last few months,haha – we've had some things. What should we do next. This is from the Ziggy album, it's called Moonage Daydream".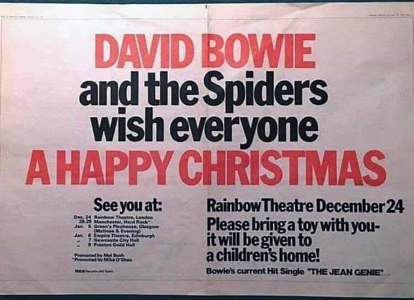 "Let all the children boogie"
David Bowie and The Spiders kicked off a short UK tour at the end of 1972 with a triumphant homecoming show at the Rainbow Theatre, on December 24th.
They were enjoying much greater chart recognition since previously being in the country and The Jean Genie had just entered the Top 20 on its way to #2 in the UK single chart.
David recalled this batch of shows and the Rainbow gig fondly in Mick Rock's book, Moonage Daydream:
"We put in a short tour of the UK between December and January 1972-73. It was always a great buzz to come back home and this was probably one of the best, highest energy jaunts of our short eighteen-month life. That's all it was, 18 months.
We had another Rainbow show on Christmas Eve, so I asked the audience beforehand to bring a toy to be donated to Dr Barnardo's childrens' home, the organisation for which my dad had worked all of his life. I think we filled an entire truck with them."
Indeed they did, as Andy Barding of Cygnet Committee points out in this excellent celebration of the night, with contributions from Woody Woodmansey.
'Twas the night before Christmas, 1972
… and in a North London concert hall David Bowie was making it a night to remember. And not just for his fans.
When tickets for his Christmas Eve show at the Rainbow Theatre were put on sale, David made a public appeal for concertgoers to bring toys with them as a charity donation. The response was fantastic, as David's drummer Woody Woodmansey remembers:
"David's toy appeal created more response than we could have imagined. There was a huge truckload of stuff. We hadn't done anything like that since the Save the Whale benefit concert much earlier on." (Royal Festival Hall, London, July 8 1972)
The very next day, Christmas morning, the goodwill mountain of toys and games that had stacked up in the venue's foyer was distributed to appreciative youngsters in children's homes across London.
David was delighted. His father, who had passed away three years earlier, had been a public relations officer for Dr Barnardo Homes. So this was a cause close to his heart.
This sold-out Rainbow concert marked a triumphant homecoming for 25-year-old David and his band, the Spiders from Mars. They had just returned from nearly three months on the road in America and their absence from Britain had made homegrown hearts grow a lot, lot fonder.
NME writer and seasoned David Bowie concertgoer Charles Shaar Murray was taken aback by the frenzied audience reception.
"Just for the record, they've started screaming at David Bowie," he wrote.
"At the Rainbow on Christmas Eve young girls were reaching out for our hero's supple limbs and squealing in the customary manner. Whether it's Bowiemania or Ziggymania or a combination of the two is not yet apparent."
Rival music paper Melody Maker hit the newsstands with a David Bowie-dominated Christmas issue that same week. David was crowned their 'main man of 1972', and voted Top Vocalist in the end of year poll. The 'Rise and Fall of Ziggy Stardust and the Spiders from Mars' album, which sold close to 200,000 copies in the UK and US during 1972, was declared the MM critics' choice.
Those who attended the Rainbow were treated to a spectacular new live set kicked off by 'Let's Spend the Night Together' (featuring David playing his new VCS3 Moog synthesizer). And as a bonus attraction they were the first in Britain to hear new boy Mike Garson on piano.
This was quickly followed by a "razor-edged" 'Hang On To Yourself', which Charles Shaar Murray enthusiastically reported was "played better than I've ever heard it." And this in spite of David having only just got over a bout of Asian flu.
In a radical break from the regular Ziggy show format, this festive concert did away with the half-time acoustic section in favour of an all-out electric experience.
"We had worked hard in the US," said Woody, "and I think it had evolved into a rockier show. It was nice to get back to the UK, and a perfect way to end the year with a new set."
Charles Shaar Murray agreed: "That American tour has really honed the Spiders to perfection. The show is tougher, flashier and more manic than it's ever been before."
Let's hope it was all worth the £2.50 ticket price (£1.50 for a cheap seat in the Circle). The concert ended late and, this being Christmas Eve AND the early seventies, night buses and trains were few and far between. By the time the gig ended with 'Rock 'n' Roll Suicide', all underground train services had stopped. Most Bowie freaks had to either walk home or shell out for taxis. At least one silver lame-clad fan spent the night curled up in a Finsbury Park shop doorway. It's worth clarifying that this was the only London concert by David and the Spiders in December 1972. When Christmas Eve tickets sold out pretty much instantly, efforts were made to book the venue for an extra show on the previous day, December 23. But ultimately it could not be done.
There were dramatic scenes at the stage door, as the band made their way out that night.
Woody: "I do remember the fans outside the stage door when we exited. We had to actually push one over-enthusiastic fan who was brandishing a pair of scissors.
"As we came out she lunged forward and attempted to secure a lock of Mick Ronson's hair and narrowly missed his left eye by a fraction of an inch."
Afterwards, David headed for his South London home (where six Royal Mail sacks full of Christmas cards were waiting for him) and the Spiders were driven home to Yorkshire in a limo – though not by MainMan bodyguard Stuey George, as has been previously documented, says Woody.
"It snowed all the way and we arrived at my mum's in the early hours and surprised them," he said.
And on Christmas Day, as hundreds of London kids unwrapped surprise presents from those generous David Bowie fans, the rest of the country settled down in front of their tellies to watch the traditional Christmas Top of the Pops – and a repeat showing of that now-legendary 'Starman' performance.
1972 had been a super-stellar year for David and the Spiders. And that Christmas, for a lot of reasons, can be considered the icing on the cake.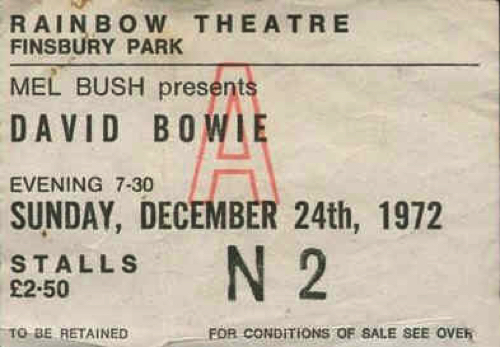 .
David Bowie Tour Band – The Ziggy Stardust Tour
David Bowie – vocals, guitar, harmonica
Mick Ronson – guitar, vocals
Trevor Bolder – bass
Mick "Woody" Woodmansey – drums
Matthew Fisher – piano (20 Apr 1972 – 27 May 1972)
Robin Lumley – piano (2 Jun 1972 – 15 Jul 1972)
Nicky Graham – piano (1 Aug 1972 – 7 Sep 1972)
Mike Garson – piano, mellotron, organ (22 September 1972 – end of tour)
John Hutchinson – rhythm guitar, 12-string acoustic guitar (8 Apr 1973 – 20 Apr 1973 – 3 July 1973)
Aynsley Dunbar – additional drums (8 Apr 1973 – 20 Apr 1973)
Geoffrey A. MacCormack – backing vocals, percussion (19 January 1973 – end of tour)
Ken Fordham – saxophone (19 January 1973 – end of tour)
Brian Wilshaw – saxophone, flute (19 January 1973 – end of tour)
Crew
Robin Mayhew ,Will Palin ,Mick Hince ,Dean Heiser – Sound ,Ground Control ,Front of House Engineer ,Stage hands
Nigel Olliff, Nick Gilbey, Paul Normand and crew – Lights ,1972 Heavy Light ,1973 See Factor Industries NY Bob See ,Steve Hurston ,Mick Fussey
Peter Hunsley – Stage Equipment
Suzi Fussey – Wardrobe, Makeup and Hair
.
===================
A little too fast – speed correction with a factor of 96%.
Two gaps between 2:38 na d2:40 in Changes – Let's Dance repair from previous line.
Tape flip during The Width Of A Circle @ 5:53 – removed with fades.
Small gap in The Jean Genie @ 3:53 – Let's Dance repair from next repeat.
Gap in encore break between Suffragette City (3:31) and Rock'n'Roll Suicide – removed reasonably cleanly.
Sector boundary errors resolved using TLH.
.
(Visited 671 times, 1 visits today)