David Bowie 1973-03-01 Detroit ,Masonic Temple Auditorium – A Gun And Me Along –
Sound Quality Rating
01. Ode To Joy intro.flac
02. Hang On To Yourself.flac
03. Ziggy Stardust.flac
04. Changes.flac
05. Moonage Daydream.flac
06. Panic In Detroit.flac
07. Five Years.flac
08. Watch That Man.flac
09. Aladdin Sane.flac
10. The Width Of A Circle.flac
11. Space Oddity.flac
12. Time.flac
13. Suffragette City.flac
14. The Jean Genie.flac
15. Rock'n'Roll Suicide.flac
Label : From The Hunky Geordie Tapes – HUG225CD
Audio Source : audience
Lineage: Lineage : TDK D90 (Noggin) > Denon DRM-500 tape deck.
Total running time : 1:08:58
Sound Quality : Much noise ,dull ,but still good listened to
Attendance : 4.856
Artwork: steve23yh.
A fine concert,but very short,with Bowie introducing the new numbers. In his book Fletcher writes that before Panic in Detroit Bowie says "This one is particulary pertinent to this city,it's called Panic in Detroit",which is incorrect. He just says "This one's called Panic in Detroit". Aladdin Sane is introduced with the words "This is the title track from the album,it's called Aladdin Sane". "Thank you Detroit!" Bowie calls out to the enthusiastic audience after Rock & Roll Sui­cide. A fine tape – and it is in stereo.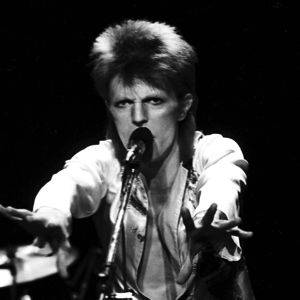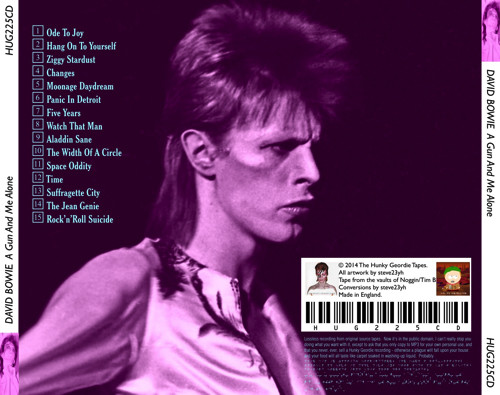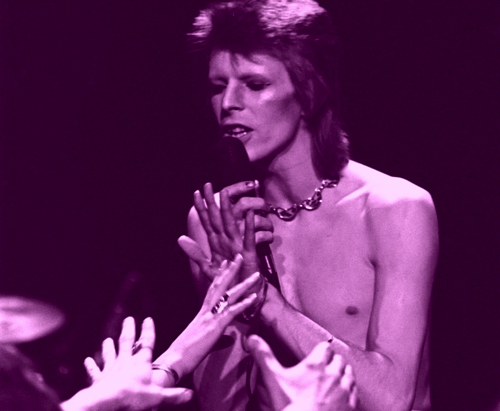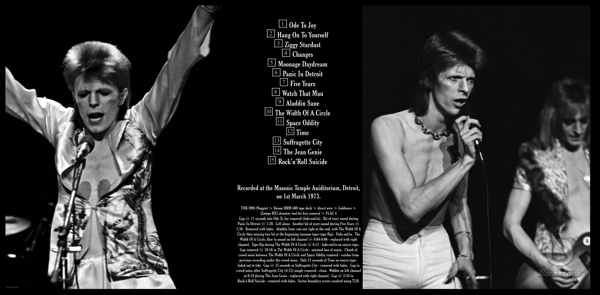 David Bowie Tour Band – The Ziggy Stardust Tour
David Bowie – vocals, guitar, harmonica
Mick Ronson – guitar, vocals
Trevor Bolder – bass
Mick "Woody" Woodmansey – drums
Matthew Fisher – piano (20 Apr 1972 – 27 May 1972)
Robin Lumley – piano (2 Jun 1972 – 15 Jul 1972)
Nicky Graham – piano (1 Aug 1972 – 7 Sep 1972)
Mike Garson – piano, mellotron, organ (22 September 1972 – end of tour)
John Hutchinson – rhythm guitar, 12-string acoustic guitar (8 Apr 1973 – 20 Apr 1973 – 3 July 1973)
Aynsley Dunbar – additional drums (8 Apr 1973 – 20 Apr 1973)
Geoffrey A. MacCormack – backing vocals, percussion (19 January 1973 – end of tour)
Ken Fordham – saxophone (19 January 1973 – end of tour)
Brian Wilshaw – saxophone, flute (19 January 1973 – end of tour)
Crew
Robin Mayhew ,Will Palin ,Mick Hince ,Dean Heiser – Sound ,Ground Control ,Front of House Engineer ,Stage hands
Nigel Olliff, Nick Gilbey, Paul Normand and crew – Lights ,1972 Heavy Light ,1973 See Factor Industries NY Bob See ,Steve Hurston ,Mick Fussey
Peter Hunsley – Stage Equipment
Suzi Fussey – Wardrobe, Makeup and Hair
=======================
Notes
iZotope RX2 to remove hiss (fairly light)
Gap @ 11 seconds into Ode To Joy removed (fade-out/in)
Bit of wavy sound during Panic In Detroit @ 1:30. Left alone.
Another bit of wavy sound during Five Years @ 1:38. Removed with fades.
Aladdin Sane cuts out right at the end, with The Width Of A Circle then missing tiny bit at the beginning (assume taper tape flip). Fade-out/in.
The Width Of A Circle, flaw in sound on left channel @ 8:04-8:06 – replaced with right channel.
Tape flip during The Width Of A Circle @ 8:13 – fade-out/in on source tape.
Gap removed @ 10:16 in The Width Of A Circle – minimal loss of music.
Chunk of crowd noise between The Width Of A Circle and Space Oddity removed – residue from previous recording under the crowd noise.
Only 31 seconds of Time on source tape – faded out to tidy.
Gap @ 15 seconds in Suffragette City – removed with fades.
Gap in crowd noise after Suffragette City (4:12) simply removed – clean.
Wobble on left channel at 6:19 during The Jean Genie – replaced with right channel.
Gap @ 2:34 in Rock'n'Roll Suicide – removed with fades.
.
(Visited 1,160 times, 1 visits today)