David Bowie 1973-04-20 Tokyo ,Shinjuku Koseinenkin Kaikan Public Hall – A Cat From London – Sound Quality Rating
Tracklist
01. Hang On To Yourself.flac
02. Ziggy Stardust.flac
03. Changes.flac
04. Moonage Daydream.flac
05. John I'm Only Dancing.flac
06. Watch That Man.flac
07. The Jean Genie.flac
08. Time.flac
08. Five Years.flac
09. Let's Spend The Night Together.flac
10. Starman.flac
11. Suffragette City.flac
12. Rock'n'Roll Suicide.flac
13. Round And 'Round.flac
Label: No label
Audio Source: audience
Lineage:
Total running time: 1:05:58
Sound Quality : Not good ,much Noise ,very dull
Attendance: Sold out
Artwork: Yes.
Note : Same as the bootleg "The Carrot Coloured Shogun"
The last Japanese concert ends in a semi riot as Japanese police overreact to enthusiastic fans.
Legend has it that Angie was partially responsible for starting the riot by throwing chairs and trying to expel Japanese police and following the concert she and Tony Zenatta had to leave Japan quickly and so avoid arrest.
There is a 15 minute ovation and Bowie is forced to do three encores of "Round & Round." Due to a misunderstanding with hall organisers over a bus to take them from the concert, Bowie and entourage are forced to shelter in their dressing room from over-enthusiastic fans.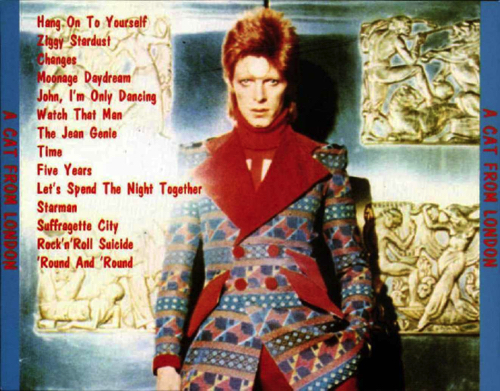 Bowie ends up spending the last two nights in Japan signing autographs at his hotel from 11pm to 2am.
"You know, learning a language isn't easy, but when you visit a country, with a tradition so beautiful as Japan and you want so much to absorb the flavour of that beautiful land – you just push and discipline yourself and carry your little pink phrase book everywhere with you, then bore everyone you meet with your Japanese greetings and your endless counting from one to ten until little by little you begin to develop the same feeling for the words as you hold for the country in your heart. At least that's they way it is for me – me and my blossoming romance with Japan. And speaking about blossoming, the cherry blossoms were in full-bloom in Kyoto, the ancient capital of Japan, when I performed there and they are such a beautiful sight to behold – especially against such a great setting as this lovely city.
Angie and I managed to squeeze in a whole afternoon of sightseeing there before boarding the train for Tokyo, and then from the train window we saw the most famous sight of all – the mighty and majestic Mount Fujiyama – standing so proudly high above the delicate Japanese landscape. I felt so good and so lucky to have the chance to travel as I do and to experience all these worldly wonders in such a direct and simple way. As each experience becomes a part of me, it can't help but flow back to you in my songs. Oh, you may not hear me speak specifically of Mt. Fuji or the cherry blossoms of Kyoto, but you will hear some of the influence and the feelings which they left in my heart and my mind forever.
Of course when you do get a chance to travel around this world as I do, the feeling that emerges most, the one that proves itself over and over, the most important feeling of all, is that we are all one. We may not look quite the same as the people of other lands or speak the same language, but we are members of the same human race with very much the same human needs. And though we live on so many different levels on this one tiny planet, we all have a share in the brotherhood of man.
Angie and I have begun to take little Zowie everywhere with us now, so that he may have the chance to see and develop his own feelings about the world in which we live. He had a fabulous nanny in Japan who dressed him up in the most adorable little Japanese kimonos and he even had a go at chopsticks, though I think it will take him a little more practice before his technique is perfected enough for a formal Japanese dinner! The thing that thrilled him most was seeing his dear old dad on a stage for the very first time in his life. Angie and the nanny brought him to the theatre in Tokyo and they sat right in the first row where I could see them jumping up and down and clapping their hands wildly. It made me feel so proud and since Zowie didn't understand the words, and neither did the Japanese audience. I made all my movements very large and very intense and though I was singing the lyrics, it was just the sound of the words and the music and my elaborate movements to which they related and responded so well.
Japanese theatre is based so heavily on movement and while I was in Tokyo, I had the honour of attending a performance by Tomaso Boru, Japan's most popular Kabuki star. After the show we met and he told me so many fascinating things about the traditions and the development of Japanese theatre, and he showed me how to apply the beautiful Kabuki make-up. It looks like I am running out of space which is a great pity as there are still so many things I want to tell you about my incredible trip to Japan. I think I'll save them until next week, so until then I will take my leave."
"Last week I was telling you all about Japan, and how I had the honour of attending a performance by Tomasa Boru (in case you've forgotten he is Japan's most popular Kabuki star), after which we met and talked, and he showed me how to put on the Kabuki make-up. The next evening he came to my concert, and what an evening it turned out to be! This time the audience really went wild, so I took off my favourite white costume, the one that Freddy made for me with the big red lightning streak on the back, and I threw it into the audience and thousands of hands were reaching up to get it. Meanwhile, almost no one noticed that I was standing there on stage dressed only in my pink underwear with a few rhinestone studded scatter pins splashing down the front. Well, when they realised what I was, or should I say wasn't wearing, they all just stormed the stage. I got so scared 'cause there just seemed to be so many of them and then suddenly they began disappearing right before my eyes – and I was safe. I didn't realise until long after the show that the whole floor right in front of the stage had collapsed and what actually happened is that everyone just sank about three feet, putting them below stage level and therefore out of sight. Miraculously, no one was hurt and I managed to escape.
The next day Angie and Ronno (Mick Ronson) and I visited the Imperial Gardens at the Emperor's Palace and took part in the ancient and exquisite tea ceremony. We were served some very light and very weak greenish tea and tiny, thin wafers by a most delicate and graceful Japanese lady who knelt, bowed and curtsied and moved with grace and at the pace the whole country must have at one time moved. The Asian 'flu sure slowed me down for a while in Tokyo. I stayed in bed for two whole days and then got up, fever and all, to do a show. I thought I was going to collapse at the end of it, and couldn't even go back on stage for my encore. Angie made me promise to rest all the next day while she went out to buy me a beautiful red silk kimono for my long journey back home to England. The next day she and the baby flew home and I (who don't like flying very much – except in spaceships!) boarded the ship, Felix Nzerjinski, at Yokohama which took me to Nakhodka where I caught the Trans-Siberian Express. Though it was raining very heavily when I left Yokohama, thousands of fans and friends showed up at the pier to bid me farewell. Now it's late and I too must say farewell but not goodbye just… sayonara (that's the Japanese words for love and kisses!)." – taken from My World – by David Bowie (Mirabelle magazine – 12th & 19th May 1973). Ghost-written by Cherry Vanilla – Bowie's publicist at the time.
 
 
 
 
David Bowie Tour Band – The Ziggy Stardust Tour
David Bowie
– vocals, guitar, harmonica
Mick Ronson – guitar, vocals
Trevor Bolder – bass
Mick "Woody" Woodmansey – drums
Matthew Fisher – piano (20 Apr 1972 – 27 May 1972)
Robin Lumley – piano (2 Jun 1972 – 15 Jul 1972)
Nicky Graham – piano (1 Aug 1972 – 7 Sep 1972)
Mike Garson – piano, mellotron, organ (22 September 1972 – end of tour)
John Hutchinson – rhythm guitar, 12-string acoustic guitar (8 Apr 1973 – 20 Apr 1973 – 3 July 1973)
Aynsley Dunbar – additional drums (8 Apr 1973 – 20 Apr 1973)
Geoffrey A. MacCormack – backing vocals, percussion (19 January 1973 – end of tour)
Ken Fordham – saxophone (19 January 1973 – end of tour)
Brian Wilshaw – saxophone, flute (19 January 1973 – end of tour)
 
Crew
Robin Mayhew ,Will Palin ,Mick Hince ,Dean Heiser – Sound ,Ground Control ,Front of House Engineer ,Stage hands
Nigel Olliff, Nick Gilbey, Paul Normand and crew – Lights ,1972 Heavy Light ,1973 See Factor Industries NY Bob See ,Steve Hurston ,Mick Fussey
Peter Hunsley – Stage Equipment
Suzi Fussey – Wardrobe, Makeup and Hair
 
 
 

.

(Visited 392 times, 1 visits today)