David Bowie 1972-08-20 London ,The Rainbow Theatre – Ziggy Played Guitar –
Sound Quality Rating
01 – Lady Stardust.flac
02 – Hang On To Yourself.flac
03 – Ziggy Stardust.flac
04 – Life On Mars.flac
05 – The Supermen.flac
06 – Changes.flac
07 – Five Years.flac
08 – Space Oddity.flac
09 – Andy Warhol.flac
10 – My Death.flac
11 – Wild Eyed Boy From Freecloud.flac
12 – Starman.flac
13 – Moonage Daydream.flac
14 – Queen Bitch.flac
15 – Suffragette City.flac
16 – White Light White Heat.flac
17 – Waiting For The Man – Band Intro – Thanks By Bowie.flac
Label : Audio Vaults
Audio Source : Audience recording
Lineage : Unknown
Taping Gear : Unknown
Taper: Unknown
Recording Location: Unknown
Total running time : 1:16:10
Sound Quality : Noise ,dull ,but still good listened to
Attendance : 3.000
Artwork :
Note: The intro & Width of a Circle are missing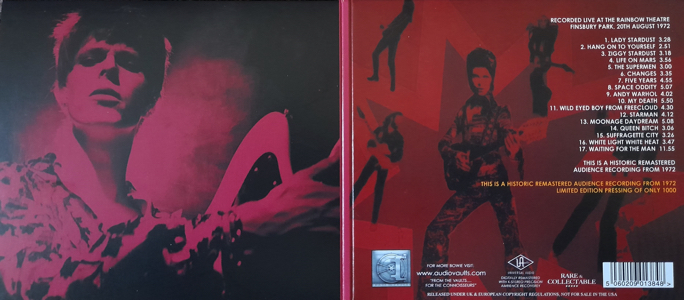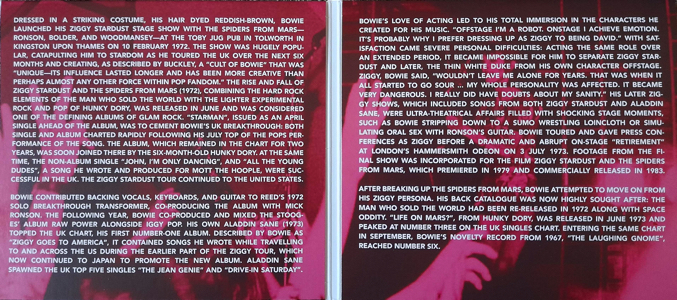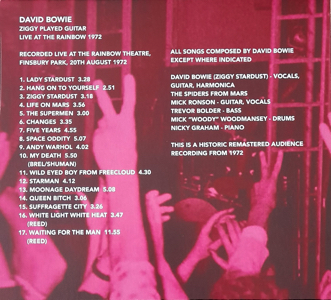 This only surfaced a year or so ago, and is the second night of the "Ziggy Stardust Shows". Again the lyrics to "Starman" were changed. This one is much much clearer than "Starman Over The Rainbow" .This is the only show I have come across where Bowie sings Lady Stardust
David Bowie's show at the Rainbow theatre towards the end of the 1st leg of his first UK tour of his 1972 tour just as his touring venues begun to get larger and larger, promoting the 'Ziggy Stardust and the Spiders from Mars' album has been one of the Dame's bootleg staples for a while, originally released as 'The Rise Of Ziggy Stardust And The Spiders From Mars' (K-West records) and 'Screwed Up Eyes and Screwed Down Hairdo' (No Label) on vinyl, with digital copies being released previously as 'Live At The Rainbow' (Grow music) and 'Street Scene' (Dasuye CDR) – this EAP version claims to come from a newly sourced audience recording from a private collector who has been sitting on this version for a while, in essence though, hearing the cut at 2:17 of 'Width Of A Circle' – I might suggest this is a copy of the very same but embellished a little by EQ – That they're thin on the ground however, this is an attractive alternative.
The sound of this newly found tape is a mono recording, a little bassier than previous releases, each instrument is afforded a bit of space but Mick Ronson's guitar is turned up just that little bit louder than most. It's less 'hissy' or air filled than previous higher generational tapes. The audience don't affect the atmosphere, generally awestruck quiet when the music plays, they flourish between songs with a muted applause. The only time you really hear them chatter over the music is at the introduction for 'Wide Eyed Boy From Freecloud' but as soon as the band kick in, they melt in to the background.
As always, and it shouldn't be so, I'm still surprised by the ferocity of the band – when you've listened to 'The Rise And Fall ..' LP so many times then switch on to the live shows, you appreciate just how much that the band were really, really tight live too – Trevor Boulders bass as effortlessly gliding as Mick's guitar with Woody's drumming almost militant in force. Of course, we can't forget Mike Garson's part in all of this too, energetic and dramatic piano lines which edge on the side of grandiose but without sounding too 'hotel lobby'. The quartet were the perfect backing to this richly cut voice and shows both Bowie's excellent choices of musicians throughout his career and the power that Bowie's shows had back then – bigger and bolder than some of his studio works.

"At the end of one of the Rainbow concerts, David said sorry for not doing an encore but they had played all the songs they knew!!" – Cliff Masters (2001)
David Bowie Tour Band – The Ziggy Stardust Tour
David Bowie – vocals, guitar, harmonica
Mick Ronson – guitar, vocals
Trevor Bolder – bass
Mick "Woody" Woodmansey – drums
Matthew Fisher – piano (20 Apr 1972 – 27 May 1972)
Robin Lumley – piano (2 Jun 1972 – 15 Jul 1972)
Nicky Graham – piano (1 Aug 1972 – 7 Sep 1972)
Mike Garson – piano, mellotron, organ (22 September 1972 – end of tour)
John Hutchinson – rhythm guitar, 12-string acoustic guitar (8 Apr 1973 – 20 Apr 1973 – 3 July 1973)
Aynsley Dunbar – additional drums (8 Apr 1973 – 20 Apr 1973)
Geoffrey A. MacCormack – backing vocals, percussion (19 January 1973 – end of tour)
Ken Fordham – saxophone (19 January 1973 – end of tour)
Brian Wilshaw – saxophone, flute (19 January 1973 – end of tour)
Crew
Robin Mayhew ,Will Palin ,Mick Hince ,Dean Heiser – Sound ,Ground Control ,Front of House Engineer ,Stage hands
Nigel Olliff, Nick Gilbey, Paul Normand and crew – Lights ,1972 Heavy Light ,1973 See Factor Industries NY Bob See ,Steve Hurston ,Mick Fussey
Peter Hunsley – Stage Equipment
Suzi Fussey – Wardrobe, Makeup and Hair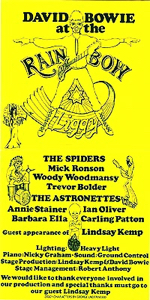 (Visited 12 times, 1 visits today)