David Bowie 1972-11-25 Cleveland ,Public Auditorium – Ziggy Plays Cleveland 1972 (JouRays Master Series 25 –
Sound Quality Rating
01. Ode To Joy.flac
02. Hang On To Yourself.flac
03. Ziggy Stardust.flac
04. Changes.flac
05. The Supermen.flac
06. Life On Mars.flac
07. Five Years.flac
08. Space Oddity.flac
09. Andy Warhol.flac
10. Drive-In Saturday.flac
11. The Width Of A Circle.flac
12. John, I'm Only Dancing.flac
13. Moonage Daydream.flac
14. I'm Waiting For The Man.flac
15. The Jean Genie.flac
16. Suffragette City.flac
17. Rock 'n' Roll Suicide.flac
18. Ode To Joy.flac
Label : JoeRay Master Series Volume 25 / JEMS
Audio Source : Audience recording
Lineage : cassette
Taping Gear : AKG D100E mic > Phillips Cassette Deck (Mono)
Taper: JoeRay
Recording Location: Row 4 (left of center)
Total running time : 1:22:39
Sound Quality : noise ,dull ,but still good listened to
Attendance : 10.000 SOLD OUT
Artwork : Yes
Prior to playing "Drive in Saturday," David asks all of the tapers to leave as he is about to play an unreleased song
"I'd been asked to ask the people who have …. good evening everybody ….Then I should ask if people who were standing could sit down.I'd appreciate it and a lot of other people would. Thank you . I'm sure you will."
uch is Bowie's popularity now that the Cleveland Public Hall is used for these two concerts rather than the smaller capacity Music Hall, which was used for the first Cleveland concert. Both the Music Hall and Public Hall shared the same back-to-back stage. Both halls are still being used today.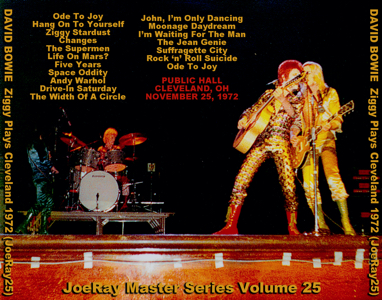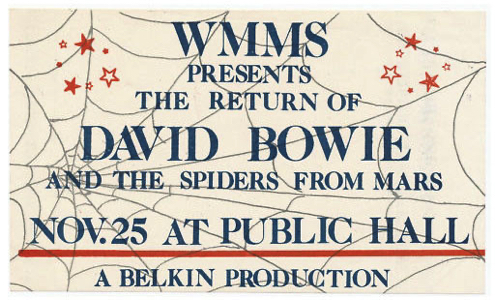 David Bowie Tour Band – The Ziggy Stardust Tour
David Bowie – vocals, guitar, harmonica
Mick Ronson – guitar, vocals
Trevor Bolder – bass
Mick "Woody" Woodmansey – drums
Matthew Fisher – piano (20 Apr 1972 – 27 May 1972)
Robin Lumley – piano (2 Jun 1972 – 15 Jul 1972)
Nicky Graham – piano (1 Aug 1972 – 7 Sep 1972)
Mike Garson – piano, mellotron, organ (22 September 1972 – end of tour)
John Hutchinson – rhythm guitar, 12-string acoustic guitar (8 Apr 1973 – 20 Apr 1973 – 3 July 1973)
Aynsley Dunbar – additional drums (8 Apr 1973 – 20 Apr 1973)
Geoffrey A. MacCormack – backing vocals, percussion (19 January 1973 – end of tour)
Ken Fordham – saxophone (19 January 1973 – end of tour)
Brian Wilshaw – saxophone, flute (19 January 1973 – end of tour)
Crew
Robin Mayhew ,Will Palin ,Mick Hince ,Dean Heiser – Sound ,Ground Control ,Front of House Engineer ,Stage hands
Nigel Olliff, Nick Gilbey, Paul Normand and crew – Lights ,1972 Heavy Light ,1973 See Factor Industries NY Bob See ,Steve Hurston ,Mick Fussey
Peter Hunsley – Stage Equipment
Suzi Fussey – Wardrobe, Makeup and Hair
Known Faults:
-I'm Waiting For The Man: start slightly cut
We are pleased to feature one of JoeRay's most legendary recordings as Volume 25 of our series. David Bowie And The Spiders From Mars @ Public Hall in Cleveland.
JoeRay made a fresh 2022 Hi-Res transfer which gave us an excellent point to start with for this fresh remaster.
After a few weeks working on it I just could not get it to a point I was totally happy with. So I called in the big guns shipping it off to JEMS South to apply some additional magic using additional tools I did not have at my disposal. About a week later it showed up and BK had nailed what I was missing!
For the first time JoeRay tells us the story of this recording and how apparently "Drive-In Saturday" ended up on the 30th Anniversary edition of 'Aladdin Sane'.
*********************************************************
I saved this recording I made of David Bowie and the Spiders From Mars for the 25th volume in the Joe Ray Master Series. It is one of my top 5 recordings of live concerts that I recorded in the last 55 years, not the best quality but damn good. I had the fortunate blessing to see David Bowie and the Spiders when they first arrived in America and played their first concert September 22, 1972 at Cleveland's Music Hall. I was told by Billy Bass that I had to see this concert. I had tickets in the second row-left center and was simply fucking blown away, only the orchestra pit separated me from the band.
Never before did I see an artist that was dressed like half space alien and half singer/musician. Bowie clearly had the androgynous look with an ambiguous sexual identity. He was part man, part woman, part alien and Cleveland loved him. He wore 4" heels, spiked red hair, makeup and with Mick Ronson, he sang and played music that took the audience on a trip to a different place and time. He sang about "Life on Mars" with a "Moonage Daydream". He was Ziggy Stardust who was a Superman in a Space Oddity that had Five Years before he ended it with a Rock N Roll Suicide.
I was 17 years old, was at Kent State University playing hockey the day of the shooting and I was about to be drafted. I got hooked on music and was playing my own songs after being influenced by Jimi Hendrix, The Stones, Airplane, Mountain, Beatles, CSNY, Jesse Colin Young, James Taylor, Buzzy Linhart, The Who, Joe Cocker, Chicago, The Grateful Dead and Glass Harp; all musicians I saw live and from right in front of the stage. These were my heroes and people I tried to emulate my life from. Still, except for Hendrix and Neil Young, no one simply blew me away like Bowie did. I had never seen anything like him. Mick Ronson was the musical brains behind Bowie and made the Spiders the perfect complement to Bowie as he sprung his songs and persona on America.
About a month after Bowie's opening night at Cleveland's Music Hall, I learned from Billy Bass that Bowie was coming back to Cleveland to play two more nights at Public Hall, November 25 and 26, 1972. I immediately called my ticket broker, Al who owned Tyson Ticket Agency and had his office in the Statler Hotel Lobby. Billy Bass also turned me on to Al who made sure I had tickets in the first 4 rows to every concert I attended from 1968 to 1996 when he retired. I was able to score 10 tickets on the 4th row from Al and I took my family (Mom and Dad, girlfriend Patty, and another 6 close friends) to experience David Bowie and the Spiders From Mars. I should mention that Music Hall and Public Hall in Cleveland are two separate halls that share the same stage. Music Hall holds 3500 and Public Hall holds 9600.
We arrived at Public Hall about 7:30pm and I got my family situated but I intentionally did not tell them what to expect. I wanted them to have the same mind boggling experience of seeing Bowie, Mick Ronson and Band hit the stage and immediately tear into "Hang On To Yourself". The show opened with a recording of a classical orchestrated version of Ode To Joy which allowed Bowie to hit the stage looking like someone no one had ever seen or witnessed. This was 1972 and society had not been exposed to glam rock. Seeing a guy dressed and made up like a female alien was simply mind expanding. Just look at the pictures I took with a Kodak Instamatic camera.
The next six songs set the stage for wild acceptance. I had never seen a musician have the audience in awe and shear excitement as Bowie and Mick Ronson did that night. These two musicians played off each other. Bowie the singer and Ronson the consummate musician. The Spiders also included Mike Garson on piano and keyboard, Trevor Bolder with the longest grey sideburns on bass and Mick Woodmansey on drums. It was said that Bowie wanted Rick Wakeman on keys but Garson turned out to be Bowie's music director for the rest of his career.
Bowie did a song on 12 string called "Andy Warhol" and at the end of it, looked out and saw me recording the concert by holding a AKG D1000E vocal mic in the 4th row right in front of him. Bowie then asked that anyone taping to please turn off their recorder as he was about to do a new song that wasn't copywritten yet, "Drive-In Saturday". I acted like I turned the recorder off BUT I DIDN'T…
As I was a regular for most of the great live concerts produced by the Belkin Brothers at both Music Hall and Public Hall, the fact that I recorded many of the concerts was well known by Jane Scott who wrote and reviewed most concerts for the Cleveland Plain Dealer Newspaper and probably Mike Belkin who often asked me if I was recording that night. This info got back to Bowie who somehow got my families phone number and he and someone else called me asking if I recorded the show and if he could have a copy of my recording. He said the version of "Drive-In Saturday" he performed that night was the best version he and the band ever did of that song. He sounded grateful when I told him my recorder kept recording when I tried to turn it off during the concert. Several weeks later I got my tape returned to me by mail with an autographed picture of Bowie in Black & White with three X's "XXX" instead of a signature. I never heard back from Bowie again but in 2003, I received a Fed Ex package at my law office in Kenai, Alaska with a copy of the 30 Anniversary of the Remaster of the album, Aladdin Sane, a 2 CD set and book. The remaster had two disks and the second disk had a recording of Bowie and The Spiders From Mars performing in Boston on October 1, 1972. But the last song on that second disk was an audience recording of the song, "Drive-In Saturday" recorded from the audience in Cleveland's Public Hall November 25, 1972. I'd like to think this recording of "Drive-In Saturday" was from my recording but I will never know for sure. If you listen to this recording of mine and the version on the 30 Anniversary Remaster of Aladdin Sane, the two recordings sound identical. I still kept 30th Anniversary Remaster of Aladdin Sane (Japan) that mysteriously was sent to me in 2003 but I never knew who sent it to me.
I recorded the concert using a Philips Recorder with a AKG D100E mic and a Memorex 120 cassette tape. I digitalized my master cassette of this wonderful concert by playing it back on my Nakamichi DR1 cassette player>Sound Devices USBPre2>Mac Pro>Audacity>Adobe Audition C6> SSD drive by 24 bit 192 sampling. Prior recordings of this concert were takes from a third generation cassette that was digitalized back in 2008 using 16 bit 44.1. It was questionable quality compared to this studio remaster that JEMS has done. I believe this will be the definitive version that will hopefully one day go into the RNR Hall of Fame Archive Department with my other master recordings.
I was told that Bowie had only two recordings made from the Ziggy Tour. Boston and Santa Monica even though his soundman recorded every show but only used one cassette tape. Hence, the prior show was recorded over by the next show. That supposedly is why Bowie's last concert in London survived.
Please enjoy this recording. I am amazed the cassette survived for 50 year and it sounds as great today as it sounded that day in Cleveland when David Bowie and the Spiders From Mars hit the stage of Cleveland's Public Hall. This is the same stage and hall that several of the RNR Hall of Fame Induction ceremonies have been held at…Wham Bam Thank You Mam…
**************************************************
Some major callouts on this one, thanks to Goody for his continued pitch perfect work on all our releases. A big thanks to my JEMS partner, BK, for stepping up and hitting the mark when I was wide to the bullseye.
The biggest thanks, as always, to JoeRay for capturing this and so many other legendary shows. For trusting me with his recordings and presenting them to be enjoyed for decades to come.
Artwork using photos JoeRay took at the September show included…
mjk5510, JEMS & JoeRay
(Visited 59 times, 1 visits today)