David Bowie 1972-07-18 Aylesbury ,Borough Assembly Hall ,Friars Club –
Sound Quality Rating
01. Ode To Joy [intro].flac
02. Hang On To Yourself.flac
03. Queen Bitch.flac
04. John, I'm Only Dancing.flac
05. The Supermen.flac
06. Ziggy Stardust.flac
07. Moonage Daydream.flac
08. Starman.flac
09. This Boy.flac
10. The Width Of A Circle.flac
11. Waiting For The Man.flac
12. White Light White Heat.flac
13. Suffragette City.flac
14. Round And Round.flac
Label: No label
Audio Source: audience
Total running time: 0:53:25
Sound Quality: Not good ,much Noise ,very dull
Attendance: 2.000
Artwork: Yes.
Note: This is Bristol 27th August 1972. David never played Aylesbury on this date
This Boy :
"Good evening,my name is David Bowie and these are the Spiders from Mars and we're gonna rock & roll tonight allright".
Instead of Ziggy Stardust: Bowie plays Queen Bitch after Hang on to Yourself; in later shows he was to alter this again. RCA had just brought out the single John ,I'm Only Dancing and tonight Bowie did some promoting: "Our new single on RCA Records and Tapes, this is called John, I'm Only Dancing". The number is played fast and vigorously and when it is over Bowie says : "I don't usually talk much on stage ,do I? Hello,haha! l'll tell you where the numbers come from, this next one is from an album called The Man Who Sold The World,and it's about two years old, we're doing a couple of those things tonight and this is the first one called Supermen" . The great surprise of this tape is Bowie playing the Beatles song This Boy. He has played it before,but as far as I can tell this is the only tape that has it. "This is one for pleasure" Bowie says before he starts the song and it certainly is a jolly version. "This is one from The Man Who Sold the World as well ,we haven't done this for quite while. This one's called Width Of A Circle". "Allright,Mister Reed,your numbers now" Bowie says,as an introduction to Wating for the Man and White Light, White Heat. By the way, lots of copies of this tape do not eontain the last song. "Thank you very much Aylesbury" Bowie calls out gratefully when he returns to the stage,and plays a vigorous version of Round & Round as an extra.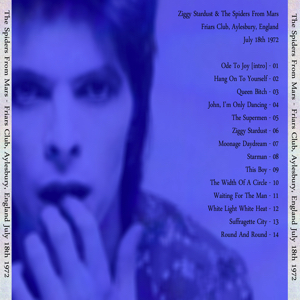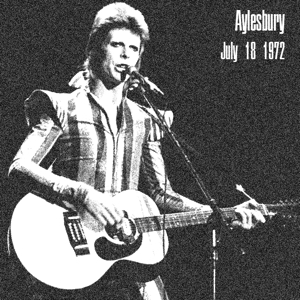 THIS BOY (Lennon / McCartney)
The Beatles classic , originally a 1963 B-side , was an occasional addition to the Ziggy Stardust repertoire in the summer and autumn of 1972, including shows in BRISTOL on 27 august ,Stoke on 7 september, and a couple of the subsequent US concerts.
The most commonly available recording of "THIS BOY" has appeared on numerous bootlegs, but in the absence of reliable confirm it's exact provenance remains uncertain.
It is often said to hail from Friars, Aylesbury on 15 july, but the evidence points more compellingly to BRISTOL gig of 27 August
David Bowie Tour Band – The Ziggy Stardust Tour
David Bowie – vocals, guitar, harmonica
Mick Ronson – guitar, vocals
Trevor Bolder – bass
Mick "Woody" Woodmansey – drums
Matthew Fisher – piano (20 Apr 1972 – 27 May 1972)
Robin Lumley – piano (2 Jun 1972 – 15 Jul 1972)
Nicky Graham – piano (1 Aug 1972 – 7 Sep 1972)
Mike Garson – piano, mellotron, organ (22 September 1972 – end of tour)
John Hutchinson – rhythm guitar, 12-string acoustic guitar (8 Apr 1973 – 20 Apr 1973 – 3 July 1973)
Aynsley Dunbar – additional drums (8 Apr 1973 – 20 Apr 1973)
Geoffrey A. MacCormack – backing vocals, percussion (19 January 1973 – end of tour)
Ken Fordham – saxophone (19 January 1973 – end of tour)
Brian Wilshaw – saxophone, flute (19 January 1973 – end of tour)
Crew
Robin Mayhew ,Will Palin ,Mick Hince ,Dean Heiser – Sound ,Ground Control ,Front of House Engineer ,Stage hands
Nigel Olliff, Nick Gilbey, Paul Normand and crew – Lights ,1972 Heavy Light ,1973 See Factor Industries NY Bob See ,Steve Hurston ,Mick Fussey
Peter Hunsley – Stage Equipment
Suzi Fussey – Wardrobe, Makeup and Hair
.
(Visited 958 times, 1 visits today)