David Bowie 1973-02-14 New York ,Radio City Music Hall.
Sound Quality Rating
101. INTRO.wav
102. HANG ON TO YOURSELF.wav
103. ZIGGY STARDUST.wav
104. CHANGES.wav
105. SOUL LOVE.wav
106. JOHN I'M ONLY DANCING.wav
107. MOONAGE DAYDREAM.wav
108. FIVE YEARS.wav
109. SPACE ODDITY.wav
110. MY DEATH.wav
111. WATCH THAT MAN.wav
112. DRIVE IN SATURDAY.wav
113. ALADDIN SANE.wav
114. PANIC IN DETROIT.wav
115. CRACKED ACTOR.wav
116. WIDTH OF A CIRCLE.wav
201. BAND INTRI – TIME.wav
202. PRETTIEST STAR.wav
203. LET'S SPEND THE NIGHT TOGETHER.wav
204. THE JEAN GENIE.wav
205. SUFFRAGETTE CITY.wav
206. ROCK & ROLL SUICIDE.wav
ALADDIN SANE SESSION 1973
230. A LAD IN VEIN – (SHORT VERSION ).wav
231. TIME – (INTRUMENTAL).wav
232. DRIVE IN SATURDAY – (INTRUMENTAL).wav
233. ALADDINE SANE – (INTRUMENTAL).wav
234. A LAD IN VEIN – (LONG VERSION).wav
235. ALL THE YOUNG DUDES -.wav
Label: No label
Audio Source: audience
Lineage:
Total running time: 1:51:51
Sound Quality : Sound Quality Rating Not good ,much Noise ,very dull
Attendance: 5.884 Sold out
Artwork : None
This is Bowie's big breakthrough in the US.
The show was becoming even more outrageous with many new costume changes and more bizarre make-up. Both shows are a sell-out of 6,200 people each. Attending celebrities include Truman Capote, Salvador Dali (a fan who has attended other Bowie performances), Johnny Winter and Todd Rundgren. Bowie faints on stage after a fan leaps on the stage during "Rock n Roll Suicide" and embraces him. He is diagnosed by an attending nurse as suffering from exhaustion (blocked pores from the makeup is also blamed) and sleeps 12 hours straight the next day. Rumours suggest that gunshots rang out before Bowie collapsed but audience tapes do not support this fanciful theory.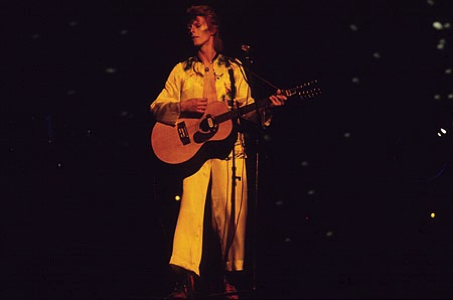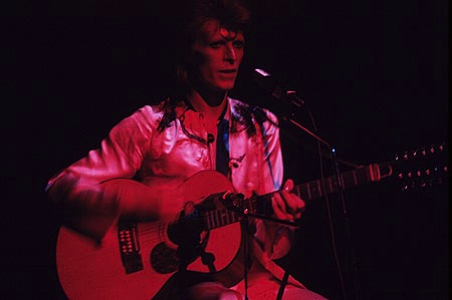 "The giant auditorium was filled with Walter Carlos' recorded cybernetic music from Clockwork Orange, as several layers of curtains parted to reveal a giant screen on which was projected an animated film of the cosmos rushing at light speed at the viewer. A single spotlight opened up on a set of large concentric spheres welded into a cage and suspended 50 feet above the floor of the stage, in the middle of which was standing a stern and staring Bowie clad in a black silver silk garment, the first of what would be five different costumes that night. It was truly an amazing sight: Bowie the noted acrophobe, who won't fly in planes or ascend above a certain level in buildings, coolly gazing at his adoring fans, while his band, The Spiders From Mars, augmented by six additional musicians on horns and percussion, cranked into "Hang Onto Yourself"…. At times Bowie acted out his role as a straight pop singer, a sort of hyperthyroid Anthony Newley; at others he would change into a progressively more skimpy costume and whip his arse around, a campy gamine leg-throw here, a cute barefoot pirouette there. Those songs dealing with Bowie's starkly paranoid themes of rock-star death, impending planetary doom and coming suicide were treated as little theater pieces, playlets recited and acted rather than sung and played." – Stephen Davis – Rolling Stone Magazine.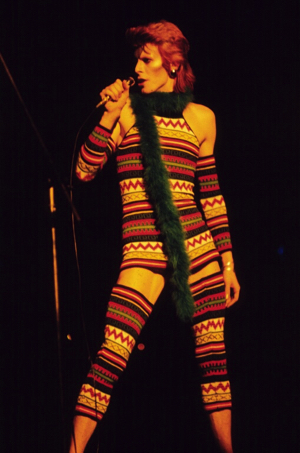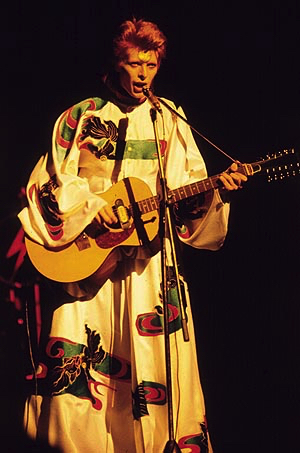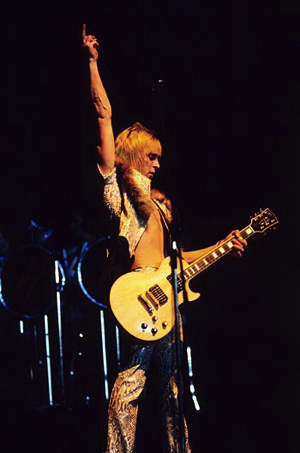 David Bowie Tour Band – The Ziggy Stardust Tour
David Bowie – vocals, guitar, harmonica
Mick Ronson – guitar, vocals
Trevor Bolder – bass
Mick "Woody" Woodmansey – drums
Matthew Fisher – piano (20 Apr 1972 – 27 May 1972)
Robin Lumley – piano (2 Jun 1972 – 15 Jul 1972)
Nicky Graham – piano (1 Aug 1972 – 7 Sep 1972)
Mike Garson – piano, mellotron, organ (22 September 1972 – end of tour)
John Hutchinson – rhythm guitar, 12-string acoustic guitar (8 Apr 1973 – 20 Apr 1973 – 3 July 1973)
Aynsley Dunbar – additional drums (8 Apr 1973 – 20 Apr 1973)
Geoffrey A. MacCormack – backing vocals, percussion (19 January 1973 – end of tour)
Ken Fordham – saxophone (19 January 1973 – end of tour)
Brian Wilshaw – saxophone, flute (19 January 1973 – end of tour)
Crew
Robin Mayhew ,Will Palin ,Mick Hince ,Dean Heiser – Sound ,Ground Control ,Front of House Engineer ,Stage hands
Nigel Olliff, Nick Gilbey, Paul Normand and crew – Lights ,1972 Heavy Light ,1973 See Factor Industries NY Bob See ,Steve Hurston ,Mick Fussey
Peter Hunsley – Stage Equipment
Suzi Fussey – Wardrobe, Makeup and Hair
.
.
(Visited 778 times, 1 visits today)