David Bowie & The Hype ‎Five Years/Hang On To Yourself/A Lad In Vein
Tracklist
A Five Years
B Hang On To Yourself – A Lad In Vane
Designed to look like a Japanese release, but issued in the USA on the bootleg Major Tom label.
Tracks "Five Years" and "Hang On To Yourself" are from BBC recording sessions. The track "A Lad In Vain" is an outtake from the "Aladdin Sane" sessions, which is also known as "Zion". On this disc about five minutes are missing! The full length version is around seven minutes long.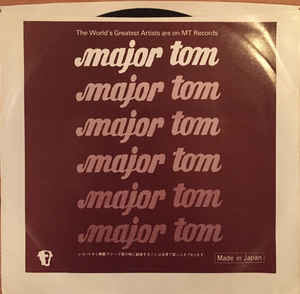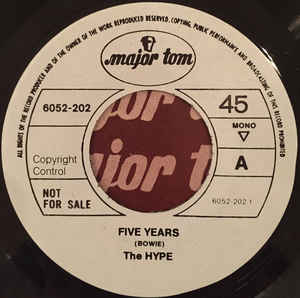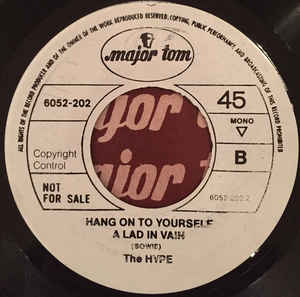 The Hype (David Bowie band)
From Wikipedia, the free encyclopedia
Hype was a band formed by David Bowie in 1970. They were originally called Harry the Butcher, then David Bowie's imagination. Bowie settled on the name Hype. Bowie has said he choose the name tongue in cheek. The band has been credited with helping to form the glam rock scene in the 1970s. The band was also the debut for Mick Ronson when they played at the Roundhouse.
Their first performance was badly received, the band was laughed and jeered at as they left the stage.
Members included:
David Bowie, alias Space Star/Rainbowman – vocals, 12-string guitar
Mick Ronson, alias Gangsterman – Les Paul guitar
Tony Visconti, alias Hypeman – bass guitar, vocals
John Cambridge, alias Cowboyman – drums (until April 1970)
Mick 'Woody' Woodmansey – drums (from April 1970)
Benny Marshall – vocals, harmonica (from November 1970)
In February 1970, David Bowie required a more permanent band to back him for the promotion of his latest album, 'David Bowie.' John Cambridge was retained from the 'Space Oddity' recording session and Tony Visconti volunteered for bass guitar duty. Cambridge recommended his friend Mick Ronson as guitarist.
On February 5, 1970, on John Peel's The Sunday Show on BBC Radio 1 'Hype' make their first radio appearance, performing after a short Bowie solo spot, an embryonic
'Width of a Circle',
'Janine',
'Wild eyed boy from Freecloud'
'Unwashed & Somewhat Slightly Dazed',
'Fill Your Heart',
'I'm Waiting for the Man'
'The Prettiest Star',
'Cygnet Committee'
'Memory of a Free Festival.
Later that same month Hype signed to Mercury Records.
In the March 28, 1970 edition of Melody Maker, Bowie stated "I'm very happy with the band, I have Tony Visconti who has played bass on nearly all my records, John Cambridge who used to be with Juniors Eyes and Mick Ronson on guitar and I play 12 string guitar. Although we're all happy with the set up I can't see it becoming a really permanent thing. I want to retain Hype and myself as two separate working units whereby we can retain our own identities. We've had these costumes made by various girlfriends which make us look like." I was a bit apprehensive about wearing them at the Roundhouse gig because I didn't know how the audience would react. If they think it's a huge put on, the whole thing will backfire, but they seemed to accept it which was nice."
(Visited 522 times, 1 visits today)