David Bowie Transmission Impossible (Legendary Radio Broadcasts From The 1970s – 1990s)
Sound Quality Rating
From a live FM broadcast recorded at the Derby Rock Festival, Estadio River Plate, Buenos Aires, Argentina, 29th September 1990
101 – Space Oddity.flac
102 – Life On Mars.flac
103 – Rebel Rebel.flac
104 – Ashes To Ashes.flac
105 – Stay.flac
106 – Pretty Pink Rose.flac
107 – Blue Jean.flac
108 – Let's Dance.flac
109 – Sound & Vision.flac
110 – Ziggy Stardust.flac
111 – China Girl.flac
112 – Suffragette City.flac
113 – Fame.flac
114 – Heroes.flac
115 – Modern Love.flac
The Cher Show, 1975
216 – Young Americans (Medley).flac
217 – Fame.flac
218 – Can You Hear Me.flac
The Dinah Shore Show, 1976
219 – Stay.flac
220 – Five Years.flac
TopPop, Netherlands, 1977
221 – "Heroes".flac
The Dinah Shore Show, 1977
222 – Funtime.flac
223 – Sister Midnight.flac
Musikladen, Germany, 1978
224 – Beauty & The Beast.flac
225 – The Jean Genie.flac
226 – Alabama Song.flac
Saturday Night Live, 1979
227 – The Man Who Sold The World.flac
228 – Boys Keep Swinging.flac
229 – TVC 15.flac
The Tonight Show, 1980
230 – Life On Mars.flac
231 – Ashes To Ashes.flac
The Tonight Show, 1993
232 – Nite Flights.flac
233 – Black Tie White Noise.flac
The Tonight Show, 1995
234 – Strangers When We Meet.flac
Letterman, 1995
235 – The Heart's Filthy Lesson.flac
From a live FM broadcast recorded at the Nippon Budokan, Tokyo, Japan, 17th February 1992
336 – Sorry.flac
337 – Goodbye Mr. Ed.flac
338 – If There Is Something.flac
339 – Baby Universal.flac
340 – Crack City.flac
341 – I Can't Read.flac
342 – You Can't Talk.flac
343 – Stateside.flac
344 – Go Now.flac
345 – Bus Stop.flac
346 – You Belong In Rock'n Roll.flac
347 – Debaser.flac
348 – Heaven's In Here.flac
349 – Shopping For Girls.flac
350 – Sacrifice Yourself.flac
Label : Eat To The Beat ‎– ETTB091
Audio Source : FM Broadcast
Lineage : Unknown
Total running time : 3:52:41
Sound Quality : very good. Equals record or radio apart from a slight noise and some dullness
Attendance : Unknown
Artwork : Yes
CLASSIC LATE PERIOD BOWIE TELEVISION BROADCASTS
David Bowie s output from the late 1980s and 1990s has been reassessed in all the right quarters since the great man s tragic passing in 2016, and has rightfully now been awarded plaudits often denied the releases and concerts from this era at the time they took place.
This triple disc set goes some way to contributing to this effort by bringing together broadcast recordings form 1990 and 1992.
The first of these was recorded at Bowie s gig in Buenos Aires in August of 90, while the second is from Tin Machine s legendary tour of Japan in the early part of 92, with the show presented here being the group s performance at the Nippon Budokan in Tokyo on 17th February.
The set is completed with a disc of television appearances recorded between 1975 and 1995,which features some of Bowie s best ever live TV spots.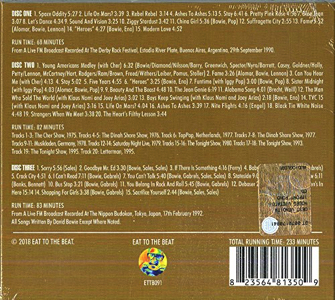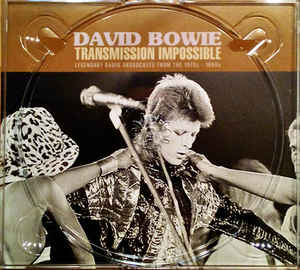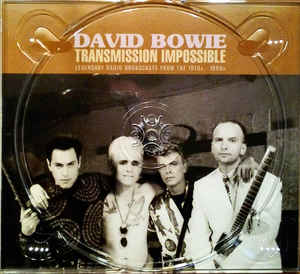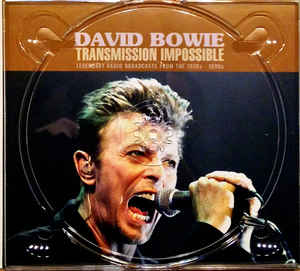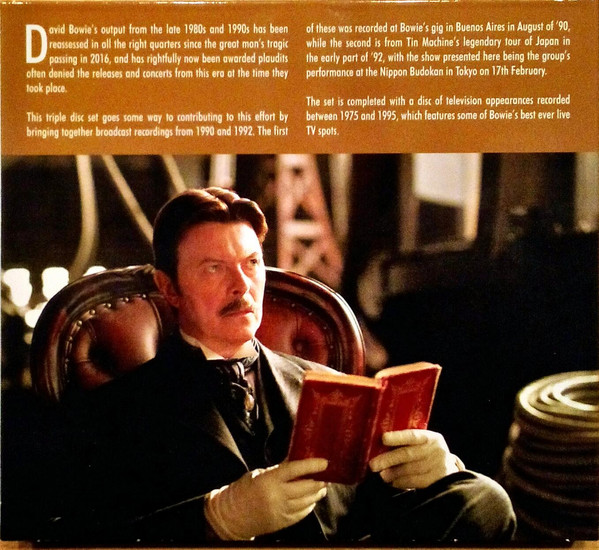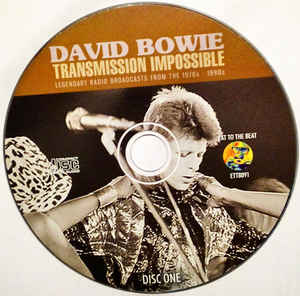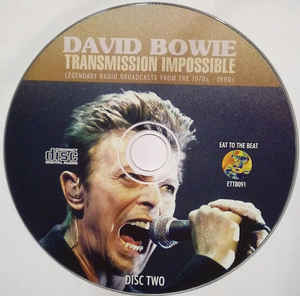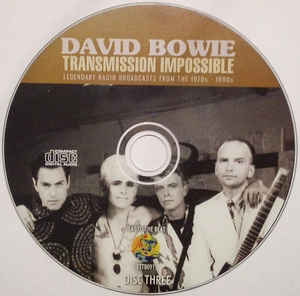 (Visited 1,754 times, 1 visits today)