David Bowie 1999-08-23 New York ,Radio ,Manhattan Center Studios – Telling Stories – (VH1 Storytellers).
Sound Quality Rating
New York Manhattan Centre Studios 23.08.1999.
01. life on mars.flac
02. story #1.flac
03. rebel rebel.flac
04. story #2.flac
05. thursday child.flac
06. story #3.flac
07. can't help thinking about me.flac
08. story #4.flac
09. china girl.flac
10. story #5.flac
11. seven.flac
12. story #6.flac
13. drive in saturday.flac
14. story #7.flac
15. word on a wing.flac
Wembley Arena 09.10.1999.
16. the pretty things are going to hell.flac
17. drive in saturday.flac
18. rebel rebel.flac
David Letterman Show 04.10.1999.
19. the pretty things are going to hell.flac
20. interview.flac
Saturday Night Live 02.10.1999.
21. thursday's child.flac
22. rebel rebel.flac
Label : B³ ‎– CD-001
Audio Source : Broadcast
Lineage : Unknown
Taping Gear : Unknown
Taper: Unknown
Recording Location: Unknown
Total running time : 1:11:50
Sound Quality : Excellent quality! Equals record or radio
Attendance : Unknown
Artwork : Yes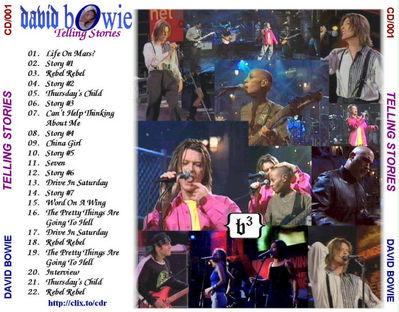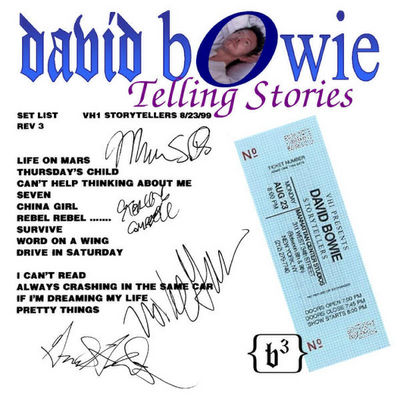 David Bowie Tour band 1999 Hours Tour
The Hours Tour was a small-scale promotional concert tour by David Bowie comprising eight live performances and numerous television appearances in support of the album Hours. Guitarist Page Hamilton, founding member of Helmet, was drafted to replace Reeves Gabrels whose final performance and association with Bowie ended at the VH1 Storytellers performance on 23 August 1999. Rumours of a split were denied by both parties, until a few months later the story changed as the guitarist admitted that he and Bowie had drifted apart.
The Tour band
• David Bowie: vocals
• Page Hamilton – lead and rhythm guitar
• Gail Ann Dorsey: bass guitar, vocal
• Sterling Campbell – drums, percussion
• Holly Palmer – backing vocals, percussion
• Mark Plati – lead and rhythm guitar, acoustic guitar, bass guitar, backing vocals, Music_director
• Mike Garson: keyboards, backing vocals
• Emm Gryner – backing vocals
Personnel
David Bowie: vocals, guitar
Reeves Gabrels: guitar
Mark Plati: guitars
Gail Ann Dorsey: bass guitar, vocals
Mike Garson: piano, keyboards
Sterling Campbell: drums, percussion
Holly Palmer and Lani Groves: background vocals
"Oh you don't know the half of it." Said in an over-the-top manner, this was David Bowie's inauspicious kick-off to an over-sentimental start to "Life on Mars". Like the rest of his 1999 performance on "VH1's Storytellers" series, it poses a question, or more accurately, suggests the audience will be privy to inside information. But the answers don't come during a mostly tepid eight-song set.
Broadcast in August 1999, a quarter-century after he hung up his Ziggy Stardust kimonos, this episode teased fans with a rare chance to hear the shape-shifting artist discuss and deconstruct part of his mythology. Bowie was running on the fumes of what was a disappointing decade– between albums like Earthling, Outside, and the then forthcoming Hours…– but if anybody had an iconic back catalog, a colorful personal narrative (or narratives), and an amazing supporting cast to draw stories from, it was Bowie. Sadly, only flashes of his wit and gregarious storytelling come out during his television performance.
Standing at the center of what looks like a bad community theater stage set, entertaining an overly polite audience while donning a gray hoodie, Bowie comes off likable and very off the cuff. Take his introduction to "China Girl". After a hushed retelling of a story about a story– Iggy Pop, over coffee, recalling a 1970s Berlin punk show where German artists built and destroyed a replica of the Berlin Wall– he says, "this is a song I wrote with Jim at around that time, and I guess this one's also about invasion and exploitation, take it away, Mike." There's no mention or insight into Nile Rodgers, the Nazi reference in the song, or the then-controversial, award-winning music video– just a somewhat interesting little tale followed by a piano intro better suited to some low-budget made-for-TV movie. His storytelling continues in this vein, jumping between the Paul Anka connection to "Life on Mars", an Eartha Kitt obsession and the shocking admission that the mid-70s was a dark, drug-fueled period impervious to recall. What's especially frustrating is that he's charming and self-deprecating, tossing out casual references to a meeting with Abbie Hoffmann and doing an amusing Marc Bolan impression, suggesting he could actually tell dozens more interesting, relevant, and revealing stories if he felt like it.
.
(Visited 798 times, 1 visits today)