David Bowie The Pin Ups Radio Show – Pin Ups promo from 1973 – promo CD –
Sound Quality Rating
01. Rosalyn (The Pretty Things)
"I'd already been up Ealing Broadway to see Alexis Korner's Blues Incorporated, and that's when he had
a killer line up with Jack Bruce, Ginger Baker, Cyril Davies and Spike Heatley on bass, Graham Bond on
organ and alto with of course John Baldry on vocals. I think most London art school students found themselves
carted up there some time or other. Viv Andrews and Dick Taylor for sure. Dick was at Sidcup forming The Pretty
Things with Phil after he got chucked out of the Stones. Phil was pretty electric and cleared most halls in
about 15 minutes."
02. Here Comes the Night (Them)
"Anyway, there was lots to choose from – up the Windmill or the Elephant, get blocked and bussed over to Richmond.
Brian had cancer and was going to drop any day, Mick never washed. How could this new lot replace
the Stones? Yardbirds? Any wallop, they blasted out the old solos."
03. I Wish You Would (The Yardbirds)
"The Liddypool [Liverpool] thing didn't mean a light up Richmond. It affected one band who dropped
the 'beat' bit and became The Merseys. Never saw 'em play but they hung about a lot."
04. Sorrow (The Merseys)
"So there you were, you had the Prettys, Yardbirds and, if you ventured down The Marquee on a Sunday night,
the Floyd with dear old Syd, or The Animals down Windmill Street at the Scene Club, Eel Pie Island Ricky Tick
Club for The Creation or Reg's mob The Action. But the biggest buzz was back at The Marquee.
They dressed weeks out of date, but they did all the right stuff – Martha and Vandellas and all that.
A lot of action on a night. They were our band, The Who."
05. I Can't Explain (The Who)
Label : Parlophone – CDPURS1, Parlophone – 0825646082186
Audio Source :
Lineage :
Total running time : :11:59
Released : Sep 25, 2015
Sound Quality : Excellent quality! Equals record or radio
Artwork : Yes
This CD was released as promo CD which was supposed to be free bonus CD aside [Five Years 1969 – 1973] boxset (not a part of boxset!) bought exclusively in pre-order through davidbowie.com for US buyers at David Bowie Store in US and for EU buyers at David Bowie Store Parlophone UK.
However, this CD was also available as a free bonus CD with same boxset for certain period after boxset was released (only in US Bowie store). Also, shortly during November 2015, Radio Show was sold individually (exclusively at Bowie Store US too) for 10 US$, most probably until stocks were depleted.
This was originally recorded as a promotional tool for the release of the record in 1973 but was never used. The radio show features snippets from Pin Ups with brief observations by Bowie between songs regarding the bands covered on the album David Bowie – Pinups.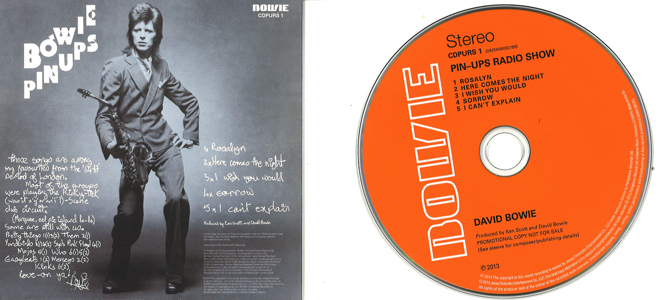 Companies, etc.
Phonographic Copyright ℗ – Jones/Tintoretto Entertainment Co., LLC
Licensed To – Parlophone Records Ltd.
Copyright © – Jones/Tintoretto Entertainment Co., LLC
Copyright © – Parlophone Records Ltd.
Mastered At – Air Mastering
Pressed By – Warner Music Manufacturing Europe
Exclusive Retailer – davidbowie.com
Glass Mastered At – Arvato – 56134703
Credits
Lettering – Ray Campbell
Mastered By – Ray Staff
Other [Front Cover Model] – 'Twig The Wonderkid'*
Other [Make-up & Masks] – Pierre Laroche
Photography By [Back Cover Photography By] – Mick Rock
Photography By [Front Cover Photography By] – Justin*
Producer – David Bowie, Ken Scott
(Visited 91 times, 1 visits today)