David Bowie The Pin Ups Radio Show – Pin Ups promo from 1973 – BBC Radio 6 Music
Sound Quality Rating
BBC Radio 6 Music given world exclusive access to previously unheard David Bowie 'Radio Show'
01. Nigel Reeve Interview 05:11
02. Shaun Keaveny Show 04:12
03. Lauren Laverne Show 04:42
04. Radcliff and Maconie Show 03:19
05. Steve Lamacq Show 04:15
06. Marc Riley Show 03:19
07. Pinups Promo Radio Show 12:50
Label : No label
Audio Source : BBC Radio Broadcast
Lineage : BBC Radio I Player > Nero Sound
Total running time : :38:17
Sound Quality : Excellent quality! Equals record or radio
Artwork : Bewlay Brothers.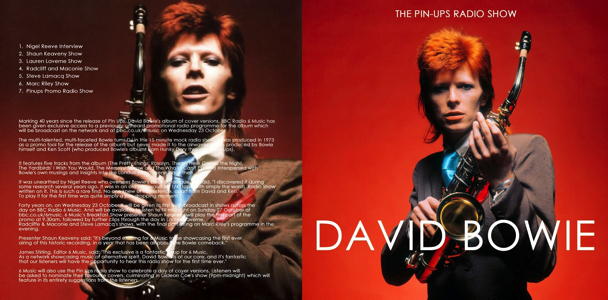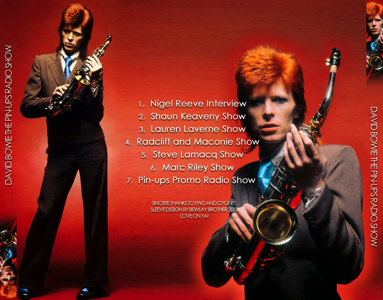 BBC Radio 6 Music given world exclusive access to previously unheard David Bowie 'Radio Show'
Marking 40 years since the release of Pin Ups, David Bowie's album of cover versions, BBC Radio 6 Music has been
given exclusive access to a previously unheard promotional radio programme for the album which will be broadcast
on the network and at bbc.co.uk/6music on Wednesday 23 October.
The multi-talented, multi-faceted Bowie turns DJ in the 15 minute mock radio show. It was produced in 1973 as
a promo tool for the release of the album, but never made it to the airwaves. It was produced by Bowie himself
and Ken Scott (who produced Bowie's albums from Hunky Dory through to Pin Ups).
It features five tracks from the album (The Pretty Things' Rosalyn, Them's Here Comes the Night,
The Yardbirds' I Wish You Would, The Merseys' Sorrow and The Who's I Can't Explain) interspersed with
Bowie's own musings and insights into the London music scene back then.
It was unearthed by Nigel Reeve who oversees Bowie's back catalogue. He said, "I discovered it
during some research several years ago. It was in an old tape vault on 1/4″ tape with simply the
words 'Radio Show' written on it. This is such a rare find. No one knew of its existence, apart from David and Ken.
To play it for the first time was quite simply a jaw dropping moment."
Forty years on, on Wednesday 23 October it will be given its first ever broadcast in shows across the
day on BBC Radio 6 Music. And will be available to listen to till midnight on Sunday 27 October at
bbc.co.uk/6music. 6 Music's Breakfast Show presenter Shaun Keaveny will play the first part of the
promo at 9.30am, followed by further clips through the day in Lauren Laverne,
Radcliffe & Maconie and Steve Lamacq's shows, with the final part airing on Marc Riley's programme in the evening.
Presenter Shaun Keaveny said: "It's beyond exciting for 6 Music to be showcasing the first ever
airing of this historic recording, in a year that has been all about the Bowie comeback."
James Stirling, Editor 6 Music, said: "This exclusive is a fantastic coup for 6 Music.
As a network showcasing music of alternative spirit, David Bowie is at our core, and it's fantastic
that our listeners will have the opportunity to hear this radio show for the first time ever."
6 Music will also use the Pin Ups radio show to celebrate a day of cover versions. Listeners will
be asked to nominate their favourite covers, culminating in Gideon Coe's show (9pm-midnight) which will
feature in its entirety suggestions from the listeners.
Here are the songs played in the short recording and a transcript of Bowie's chat between the tracks.
Known for his many alter egos, his delivery is in the style of born and bred Londoner David Jones,
the music loving, club going man about town:
* Rosalyn (The Pretty Things)
"I'd already been up Ealing Broadway to see Alexis Korner's Blues Incorporated, and that's when he had
a killer line up with Jack Bruce, Ginger Baker, Cyril Davies and Spike Heatley on bass, Graham Bond on
organ and alto with of course John Baldry on vocals. I think most London art school students found themselves
carted up there some time or other. Viv Andrews and Dick Taylor for sure. Dick was at Sidcup forming The Pretty
Things with Phil after he got chucked out of the Stones. Phil was pretty electric and cleared most halls in
about 15 minutes."
* Here Comes the Night (Them)
"Anyway, there was lots to choose from – up the Windmill or the Elephant, get blocked and bussed over to Richmond.
Brian had cancer and was going to drop any day, Mick never washed. How could this new lot replace
the Stones? Yardbirds? Any wallop, they blasted out the old solos."
* I Wish You Would (The Yardbirds)
"The Liddypool [Liverpool] thing didn't mean a light up Richmond. It affected one band who dropped
the 'beat' bit and became The Merseys. Never saw 'em play but they hung about a lot."
* Sorrow (The Merseys)
"So there you were, you had the Prettys, Yardbirds and, if you ventured down The Marquee on a Sunday night,
the Floyd with dear old Syd, or The Animals down Windmill Street at the Scene Club, Eel Pie Island Ricky Tick
Club for The Creation or Reg's mob The Action. But the biggest buzz was back at The Marquee.
They dressed weeks out of date, but they did all the right stuff – Martha and Vandellas and all that.
A lot of action on a night. They were our band, The Who."
* I Can't Explain (The Who)
(Visited 1,353 times, 1 visits today)