David Bowie 2011-07-18 FUV Live – New York (Paul Trynka Interview) Author of Starman – The Definitive Biography
Sound Quality Rating
David Bowie revolutionized rock and created many musical identities, but who is the man behind it all? Learn the results of author Paul Trynka's research as he discusses his Bowie biography, David Bowie: Starman, with FUV's Dennis Elsas
FUV LIVE
AUTHOR PAUL TRYNKA – WORDS AND MUSIC – 2011
Label : No label
Audio Source : FM Broadcast 7/18/11
Lineage : Unknown
Total running time : 0:55:02
Sound Quality : Excellent quality! Equals record or radio
Artwork : None
David Bowie was always a man of musical surprises and mystery whether in life or death.
Back in July 2011, I spoke with author Paul Trynka about his then newly released book, David Bowie: Starman, billed as the definitive biography. It's a fascinating read, and insights and observations that were new to me unfolded in both the book and in our conversation, which you can listen to below.
Trynka, a former editor of Mojo magazine, had already written a detailed bio of Iggy Pop and has recently published Sympathy for the Devil: The Birth of the Rolling Stones and the Death of Brian Jones. It will be interesting to see whether "Starman" gets a new and revised version to bring us the rest of the Bowie story.
Length: 55:26
LISTEN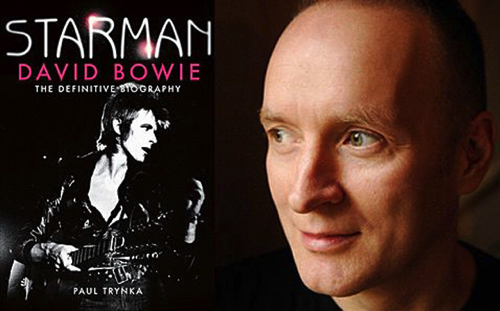 (Visited 244 times, 1 visits today)