David Bowie The David Bowie Story (Austrian Radio 1978).
Sound Quality Rating
DISC ONE
101. Introduction
102. SOUND AND VISION
103. DJ link
104. CHANGES
105. DJ link
106. RUBBER BAND
107. David chat
108. WHERE HAVE ALL THE GOOD TIMES GONE (The Kinks)
109. DJ link
110. WHERE HAVE ALL THE GOOD TIMES GONE (David Bowie)
111. DJ link
112. THE LONDON BOYS
113. DJ link
114. WE ARE HUNGRY MEN
115. DJ link
116. LITTLE BOMBADIER
117. DJ link
118. UNCLE ARTHUR
119. DJ link
120. JOIN MY GANG
121. DJ link
122. PLEASE MR GRAVEDIGGER
123. David chat
124. IF ALL THE WORLDíS A STAGE (Anthony Newley)
125. DJ link
126. LOVE YOU TILL TUESDAY
127. DJ link (part 1)
128. DJ link (part 2) & David chat
129. SPACE ODDITY
130. DJ link
131. CYGNET COMMITTEE
132. DJ link
133. MEMORY OF A FREE FESTIVAL
134. DJ link
135. ALL THE MADMEN
136. DJ link / AFTER ALL
137. SHE SHOOK ME COLD
138. DJ link
139. THE SUPERMEN
140. David chat
141. CHANGES (from David Live)
DISC TWO
201. Introduction
202. ZIGGY STARDUST
203. DJ link
204. QUICKSAND
205. DJ link
206. David chat
207. ANDY WARHOL
208. DJ link & David chat
209. OH! YOU PRETTY THINGS
210. DJ link
211. EIGHT LINE POEM
212. DJ link
213. David chat
214. SONG FOR BOB DYLAN
215. DJ link
216. FIVE YEARS
217. DJ link
218. David chat
219. LADY STARDUST
220. DJ link
221. HANG ON TO YOURSELF
222. DJ link
223. ZIGGY STARDUST
224. DJ link
225. JOHN IíM ONLY DANCING
226. DJ link
227. THE JEAN GENIE
228. DJ link
229. ALL THE YOUNG DUDES (Mott The Hoople)
230. David chat
231. SUFFRAGETTE CITY (from David Live)
DISC THREE
301. CRACKED ACTOR
302. DJ link
303. DRIVE IN SATURDAY
304. DJ link
305. LETíS SPEND THE NIGHT TOGETHER
306. DJ link
307. ALADDIN SANE
308. DJ link
309. PANIC IN DETROIT
310. DJ link
311. SEARCH & DESTROY (Iggy & the Stooges)
312. DJ link
313. SEARCH & DESTROY (cont.)
314. DJ link
315. WALK ON THE WILD SIDE (Lou Reed)
316. DJ link
317. I WISH YOU WOULD (Bowie)
318. DJ link
319. I WISH YOU WOULD (The Yardbirds)
320. DJ link
321. EVERYTHINGíS ALRIGHT (Mojos)
322. EVERYTHINGíS ALRIGHT (Bowie)
323. DJ link
324. DJ link
325. FUTURE LEGEND
326. DIAMOND DOGS
327. DJ link
328. SWEET THING
329. DJ link
330. REBEL REBEL (David Live)
331. ROCK 'N' ROLL SUICIDE (David Live)
332. DJ link
333. YOUNG AMERICANS
334. DJ link
335. WIN
336. DJ link
DISC FOUR
401. Introduction
402. "HEROES" (from Stage)
403. DJ link
404. FAME
405. DJ link
406. FAME
407. DJ link
408. STATION TO STATION
409. DJ link
410. David chat
411. DJ link
412. STATION TO STATION
413. David chat
414. TVC 15
415. DJ link
416. WILD IS THE WIND
417. DJ link
418. WEEPING WALL
419. DJ link & David chat
420. SUBTERRANEANS
421. DJ link
422. David chat
423. SUBTERRANEANS
424. DJ link
425. David chat
426. SOUND AND VISION
427. David chat
428. A NEW CAREER IN A NEW TOWN
429. DJ link
430. BREAKING GLASS
431. DJ link
432. David chat
433. SENSE OF DOUBT
434. DJ link
435. HELDEN
436. DJ link
437. SONS OF THE SILENT AGE
438. DJ link
439. PETER AND THE WOLF
440. DJ link
441. David chat
442. BEAUTY AND THE BEAST (from Stage)
443. DJ link
444. David chat
445. DJ link
446. BEAUTY AND THE BEAST (from Stage)
Label : From The Hunky Geordie Tapes – HUG136CD
Audio Source : FM broadcast (possibly mono)
Lineage : BASF LH60 x 4 (Noggin)
Taping Gear : Unknown
Taper: Unknown
Recording Location: Unknown
Total running time : 3:44:39
Sound Quality : very good. Equals record or radio apart from a slight noise and some dullness.
Attendance : Unknown
Artwork : By Steve23yh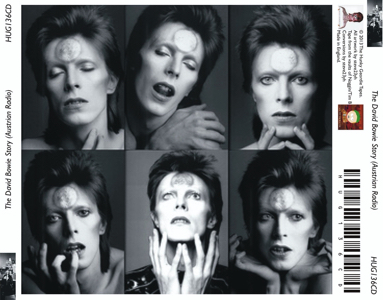 =======================
Notes:
NOTE THAT VOLUME DOES VARY QUITE A LOT BETWEEN SIDES
Side one a bit messy – seems like it was probably off station, so a lot of hum, crackle and hiss to remove.
iZotope RX2 denoiser for hum and hiss, Goldwave pop/click tool on default setting for crackle.
Not perfect, but perfectly acceptable. Note that the sound overall is depressed during Changes – either off station or tape problem.
Disc 1
Tape flip during one of the DJ links – have split into tracks 127 and 128, but am unsure if there's any content missing (probably is)
Tiny gap removed at 44 seconds in All The Madmen – three little jumps close by.
Disc 2
Tiny gap removed at 1:26 in Oh! You Pretty Things – jump as a result.
Tape flip between link track 215 and Five Years. Clean enough.
Disc 3
Disc 3 is a little short on time – believe it's the start, rather than end, that's trimmed.
Tape flip in link between Everything's Alright and Future Legend. Don't know if anything's missing, so have split into tracks 323 and 324
Disc 4
Tape flip during David chat segment (425) – seems to have involved minimal loss.
(Visited 466 times, 1 visits today)