David Bowie 2013-03-13 Starman Androgyny Arrives in the Living Room (BBC Radio 6)
Sound Quality Rating
To accompany the David Bowie Prom, another chance to hear the episode of The People's Songs which looks at Starman.
A look at the repercussions from a moment on a Thursday evening in 1972 when dads were horrified and kids astonished. During David Bowie's performance of his new single Starman on Top of The Pops, an outrageously dressed Bowie cuddled and caressed guitarist Mick Ronson. 15 million viewers were utterly shocked. It was a watershed moment in pop, marking the beginning of an era of British glamour and androgyny.
Whilst Bowie's song Starman wasn't that revolutionary or even original (Bowie later admitted he took a lot of inspiration from that old chestnut Somewhere Over The Rainbow), it was one of the first moments when sexual ambiguity made an explicit appearance in the defiantly heterosexual world of UK pop. To some degree, this was something new, but it did have a discernible lineage. Britain has a long history of transgender role-playing; in Shakespeare's time, male actors would perform as women, and there was the small matter of our tradition of pantomime dames. And it's long been a staple of British comedy from Hinge and Brackett to Dick Emery and The Pythons and onto David Walliams and Matt Lucas.
But Bowie's alter ego Ziggy Stardust was much more radical and fascinating. For excited, enthralled teenagers, it wasn't just that it was hard to tell if this was a man or a woman, but they couldn't even be sure if it was human. This smiling, benevolent, alluring and mysterious stranger (or alien?) changed the way Britain dressed and what we listened to. It was the start of the process of moving the monochrome Britain of Coronation Street, muddy football pitches, bovver boots, woodchip and drab certainties into a kaleidoscopic world of possibilities.
sample

Label : No label
Audio Source : Broadcast BBC Radio 6
Lineage : BBC Radio I Player
Total running time : 0:56:07
Sound Quality : Excellent quality! Equals record or radio
Artwork : Bewlay Brothers 2013.
Note: First broadcast: Wednesday 13 March 2013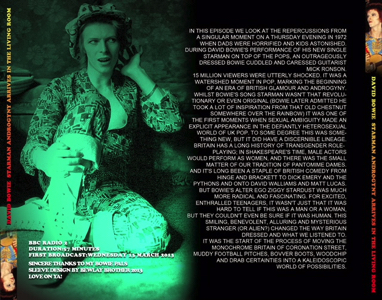 (Visited 342 times, 1 visits today)