David Bowie 1979-05-14 Conversations with Bowie – Capital Radio broadcast)
Sound Quality Rating
David Bowie spoke with twelve fans in the Capital Radio studio listening to, and discussing his new album "Lodger".
101 – Introduction.flac
102 – Interview and Songs.flac
103 – Advert.flac
104 – Advert.flac
105 – Interview and Songs.flac
106 – Advert.flac
201 – Introduction.flac
202 – Interview and Songs.flac
203 – Advert.flac
204 – Advert.flac
205 – Intervieuw and Songs.flac
206 – Advert.flac
207 – Velvet Couch.flac
Bonus:
Two Gentlemen In New York. FL Records – 080284
On October 5, 1979, David Bowie and John Cale went into the Ciarbisstudio, which is located on top of a house or appartment complex in the city of New York.
They recorded some songs there. Here are some results of these uniQue rehearsals!!
Side 1: Velvet Couch
Side 2: Piano-la
Label : No label
Audio Source : Radio broadcast
Lineage : X-gen tape
Lineage Bonus : 7″
Total running time : 2:57:21
Sound Quality : very good. Equals record or radio apart from a slight noise and some dullness.
Attendance : 10
Artwork : yes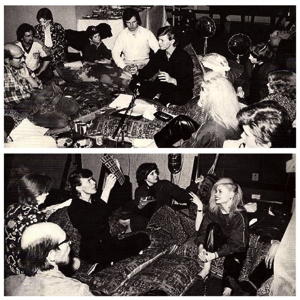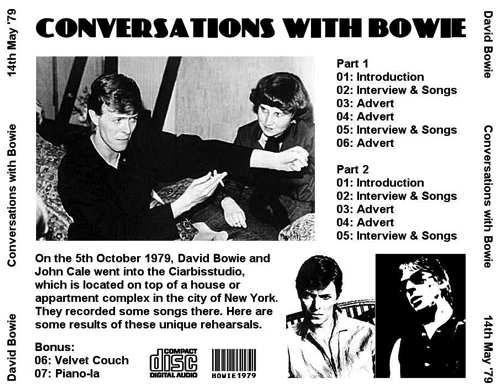 I purchased this numbered limited edition bootleg single, back in the "old days" from one of them "dodgy" mail order services, I expect some time after 8th February 1984, if the release code is to be believed. 😉 In fact, I purchesed 3 copies, expecting that one day they'll have some value, considering it was limited to 500 copies. I received Numbers 298, 302, and 303. I guess the "inner Circle" got the important numbers. 😆
In any case, my copies have had very limited airings over the last 25 years, and so this vinyl rip is probably as good as it gets.
(Visited 816 times, 1 visits today)