David Bowie BBC World service January 2001 – At The Beeb 2001 –
Sound Quality Rating
Track 1. Radio January 8, 2001, 09:30 GMT, Music Mix: David Bowie at the BBC, BBC World service
A half hour program celebrating Bowie's birthday
Track 2. January 15, 2001, 09:30, The Music Mix, BBC World Service,
Part 2 of this two part documentary with an exclusive interview with Bowie
Track 3. lets dance David Bowie Glastonbury 2000.
Label : No label
Audio Source : BBC Broadcast
Lineage : Unknown
Total running time : 1:21:10
Sound Quality : Excellent quality! Equals record or radio
Artwork : Yes
Description:
Recording made by me January 2001 from radio broadcast and transferred to cdr and shared with a few at the time.
worth it just for the longish clip of The Supermen from BBC session that was not released on Bowie at the Beeb set: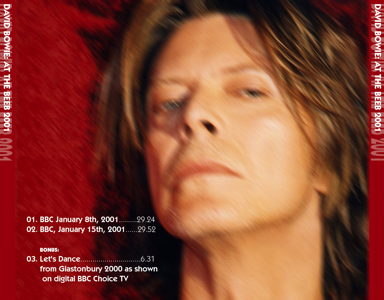 A few days after his headlining appearance at Glastonbury 2000, David Bowie headed for Broadcasting House in London and performed a showcase set for a delighted BBC audience. But he wasn't always so warmly welcomed at the Beeb – 35 years earlier, he failed his first audition for singing out of tune and sounding like a bad cockney. The BBC eventually relented, and a box set of his sessions from the 1960s and '70s, plus highlights of the recent gig are available to the public.
David Bowie At The BBC takes a look at the story behind the sessions, exploring his early incarnations and examines how the echoes of The Laughing Gnome continue to the present day.
The annual music festival held at Glastonbury, in the West of England, never fails to provide a seminal moment. Whatever the weather, amongst the obscure and often surreal settings that have made the festival a legend, one act stands out from the rest to make the mud and ticket price all worth while. Without doubt the star of Glastonbury 2000 was David Bowie.
Having first appeared at Glastonbury in 1971, Bowie returned at sundown on a Sunday night in June 2000. Wearing an Alexander McQueen frock coat reminiscent of his 1970s theatrical style and tossing back his long hair, Bowie embarked on a set which spanned his career. From Changes, a song which he had originally unveiled at the festival 30 years previously, through to Fame, Let's Dance and I'm Afraid Of Americans, Bowie entranced a crowd of 100, 000 with an incredible voice and few theatrics.
Bowie the Bohemian
Some three decades earlier, at the start of his career, things had been different. Having graduated from technical college in the south east of England, a young Davie Jones had developed his acting and performance skills with mime artist Lindsay Kemp, before establishing his own arts group, The Beckenham Arts Lab. He led a bohemian life, pretentiously reading the works of authors such as Kerouac, Kafka and Duchamp whilst developing a keen eye for the avant-garde.
Having been spotted by an agent at the Marquee Club in London, in 1966, at the age of 19, he released his first album under the name of David Bowie. A name change neccesitated by the success of one Davy Jones who had shot to fame with the band the Monkees.
Bowie's early music had a strong folk influence and it wasn't until 1967, when he met record producer Tony Visconti, that the Oddity really took off. The now legendary album Space Oddity had been inspired by Stanley Kubric's film, 2001: A Space Odyssey. The title track was planned to be released to coincide with the American lunar landing, but was slow to make a UK chart impression as the BBC refused to give it air play until the astronauts had safely returned from their mission. In September 1969 it finally had chart success and went on to win Bowie an Ivor Novello award.
His next album, The Man Who Sold The World ,was not an immediate success. The image of Bowie languishing in full evening gown and make up on the cover, shocked audiences and led to it being banned in the US. Of his image Bowie has commented:
'I thought I was being terribly Pre-Raphaelite. I thought I looked like Gabriel Rossetti.'
By 1971 Bowie had teamed up with new manager Tony Defries, reputedly referred to as Tony De Freak amongst the Bowie entourage, and the promotional theatre began. Following a tour of the US, Bowie released Hunky Dory. Here he conveyed his new found passion for American culture by including open letters to performers such as Bob Dylan and paying tribute to New York celebrities such as Andy Warhol and Lou Reed.
Of his homage to Andy Warhol he has commented:
'[Warhol] hated it, he loathed it, he told people "That's the worst thing I've ever heard". I was really upset by that. I thought it was a flattering portrait of him. .. we never particularly got on, I'd seen him around a lot – you couldn't avoid Andy in the '70s and '80s. He'd attend the opening of an envelope.'
Ziggy Played Guitar
The success of tracks from Hunky Dory – such as Life On Mars – didn't come until 1973. By that time Bowie had already moved on to his next project. As a defence mechanism for his shyness, he created a stage persona. As the androgynous rock star Ziggy Stardust, Bowie simultaneously became the King and Queen of the glam rock scene.
Ziggy was lavish, indulgent and odd. Audiences began to question Bowie's very existence. Rumours of his multiple sexual partners and his open marriage to model Angie, served to fuel the fires and when openly asked about his sexual preferences, Bowie failed to give a truthful answer. Of this time he has commented:
'I lied. I said I was gay when I was actually bisexual. I had thought about saying sexistentialist, but I'd realised that had already been used.'
For almost two years Bowie appeared as Ziggy. Interviewers began to confuse the character with the man and Bowie himself began to loose the way.
With a family history of mental illness, Bowie had feared that he himself was prone to madness. He believed that in creating theatrical persona's he could live out his fantasies, but when a lack of sleep, coupled with a high drug intact, led the performer to hallucinate on a daily basis, Bowie had to question his own sanity. On 3rd July 1973, in front of an adoring crowd of Ziggy lookalikes, Ziggy Stardust and the Spiders From Mars retired.
Changes
Bowie's career has been littered with characters. As a performer, his alter ego metamorphosed into the master of make-up, Aladdin Sane; the sleek and clean Thin White Duke and much later the front man for an underground band, The Tin Machine. On Broadway he excelled in The Elephant Man and as a film star he has played numerous roles including an alien in the cult classic The Man Who Fell To Earth, a vampire in The Hunger and a soldier in Nagisa Oshima's Merry Christmas Mr Lawrence.
Bowie is incapable of standing still. In an interview in 1975 he petulantly answered questions regarding Ziggy's demise as:
'I'm just David Bowie period. Whatever you want me to be I won't be it.'
Constantly on the look out for something new, Bowie's music has sliced through trends and expectations. From glam rock – a period that John Lennon reputedly referred to as 'Rock n roll with lipstick' – to the haunting, ambient instrumental sounds on albums such as Low and Lodger, Bowie adapts and survives.
Loving The Alien
In the 1980s, following the return of Major Tom in Ashes to Ashes, Bowie transformed into a pop star. The album Let's Dance, released in 1983, went gold in 13 countries and once again Bowie was an international star. The title track was nominated for numerous awards, and songs such as Modern Love and China Girl topped both the UK and US singles charts.
Of this period he has commented:
'I wanted to come in touch with the common factor and not seem to be some sort of alien freak on the outside, which I am not… I feel more a part of everything and I want to express that feeling. I don't want to seem detached and cold, because I am not. '
After The Serious Moonlight tour, he hastily released the Tonight album and embarked on the most elaborate tour of his career – The Glass Spider. Later he was to believe that Tonight was a 'mistake' and until recently has limited his shows to small venues, including small tours with the four piece band, The Tin Machine.
Before his two hour set at Glastonbury 2000, Bowie claimed to be as 'nervous as a kitten'. It had been sometime since he had played to such a crowd but he quickly demonstrated that he has not lost his ability to hold an audience in the palm of his hand.
Just when you think you know what he is going to do next, Bowie pops up with another face and another sound. Of his ability to be one step ahead he has commented:
'I put it down to ADD (Attention Deficiency Disorder)… I never have been able to concentrate on one thing for very long without getting kind of itchy. I am a guy of enthusiasm, and I get terribly excited about things that are new to me
(Visited 269 times, 1 visits today)