David Bowie Myths, Masks & Make-Up (compilations)
Sound Quality Rating
01- Lightning Frightening
(Alternate).flac
02- The Man (The Shadow man)
(AKA Shadowman).flac
03- The Supermen.flac
04- He Was Alright
(Alternate).flac
05- Rupert The Riley
(Version 1 – Alternate).flac
06- Tired Of My Life.flac
07- Changes
(Demo).flac
08- Miss Perculiar
(Nick King All-Stars).flac
09- Bombers (Demo).flac
10- Looking For A Friend
(David Vocal).flac
11- Eight Line Poem
(Acetate).flac
12- Sadie's Song (Little Toy Soldier)
(Riot Squad).flac
13- My Death
(Russell Harty Show).flac
14- Kooks
(Demo).flac
15- Right On Mother
(Demo).flac
16- Amsterdam
(Demo).flac
17- Intro Andy Warhol.flac
Label :
Audio Source :
Lineage : Unknown
Total running time : 0:49:37
Sound Quality : The sound quality varies from poor (Russell Harty) to excellent. The content makes up for the quality of a couple of these tracks.
Artwork : GJG Graphics
Except for "Little Toy Soldier" (1967) and "My Death" (1973), these are demos for The Man Who Sold The World, Hunky Dory and Ziggy Stardust. Recorded between 1970 and 1971, most have been in circulation for years, but some of these versions are of superior audio quality.
Notably:
This version of "Lightning Frightening" is the same take as the 3:38 version found on The Man Who Sold the World, but due to an edit error at Ryko, that one is missing the intro, while this 4:02 one is complete.
"The Man (AKA Shadowman)" is an excellent quality version of one of the best still-unreleased Bowie songs.
"Looking for a Friend" (Bowie vocal) is great quality and a good performance, much preferable to the Freddi Burretti vocal version from the same Arnold Corns sessions.
"Tired of My Life (demo)" and "Rupert the Riley (demo)" also sound better on this compilation.
The other demos are pretty rough and don't hold much interest other than historical.
The demos of "Right On Mother" and "Little Toy Soldier" (Riot Squad) can be found in much better shape on The Forgotten Songs of David Robert Jones, as can "He Was Alright (demo)", which was also commercially released as "Lady Stardust [previously unreleased demo]" on The Rise and Fall of Ziggy Stardust and the Spiders From Mars.
To get hold of all the best unreleased early Bowie has always been frustrating as there is no one definitive collection, but this does well to fill in some gaps.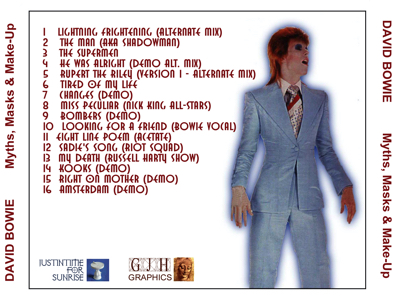 .
(Visited 962 times, 1 visits today)