David Bowie Additions 1947-1971 (A collection of songs from the late 60's and early 70's)
Sound Quality Rating Noise ,dull ,but still good listened to
Tracklisting:
01 – Ken Pitt interview
(interview with Ken Pitt about his book "Pitt Report" on the BBC (20/07/1985)) ,incl. Liza Jane and first part Uncle Arthur)
02 – Ken Pitt interview
(interview with Ken Pitt about his book "Pitt Report" on the BBC (20/07/1985)) ,incl. second part Uncle Arthur and Mr. Gravedigger)
03 – (Ken Pitt Interview)
(interview with Ken Pitt about his book "Pitt Report" on the BBC (20/07/1985))
04 – Social Girl
(Extract from Demo)
05 – Even a Fool Learns to Love
(Extract from Demo)
06 – That's a Promise
(Demo)
07 – Aprils Tooth of Gold
(Demo 1968)
08 – When I'm five
(Demo 1968)
09 – Lieb Dich bis Dienstag
(German LYTT jan 1969)
10 – Mit Mir In Deinen Traum
(German WILMY Jan 1969)
11 – Ragazzo Solo
(Italian Space Oddity)
12 – Holy Holy
(Complete A Side Single 1970)
13 – Tired of my Life
(Chrysalis Demo)
14 – I'm Just Looking for a Friend
(Chrysalis Demo)
15 – Miss Peculiar
(Chrysalis Demo)
16 – Shadowman
(Chrysalis Demo)
17 – Lightning Frightening
(Chrysalis Demo)
18 – Rupert the Riley
(Chrysalis Demo)
19 – Don't be Afraid
(Chrysalis Demo)
20 – Hang onto Yourself
(With Gene Vincent Jan 1971)
Label : No label
Audio Source : Unknown
Lineage : Unknown
Total running time : 1:05:36
Sound Quality : Noise ,dull ,but still good listened to
Artwork : MossGarden
A collection of songs from the late 60's and early 70's ,It's a collection of mostly demos, some of them in very bad quality and some of them are listenable. Some of them are complete and some of them are snippets.
I don't think there is anything groundbreaking on this disk although the snippet of a young Bowie doing a overdub of his version of the french original to "My Way" is something I have never heard elsewhere.(Even a Fool Learns to Love).
The first 3 tracks are from an interview with Ken Pitt about his book "Pitt Report" on the BBC (20/07/1985) and include Liza Jane,
Uncle Arthur and Mr. Gravedigger.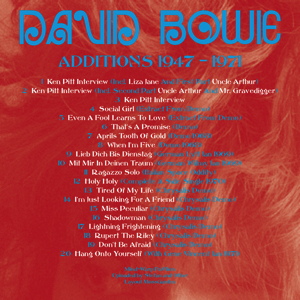 (Visited 968 times, 1 visits today)