David Bowie Divine Symmetry (BBC Radio 1 ,New York 8-1-97 – VH1 Fashion Awards 09-1996 – Bridge benefit 19-09-96).
Sound Quality Rating
Radio 1 ,January 8, 1997 .
01. The man who sold the world.flac
02. Supermen.flac
03. Andy Warhol.flac
04. Repetition.flac
05. Lady Stardust.flac
06. White light white head.flac
07. Shopping for girls.flac
08. Quicksand.flac
09. Aladdin Sane.flac
VH1 Fashion Awards ,New York september 1996 .
10. Fashion – .flac
11. Little Wonder.flac
Bridge Benefit at Mountain View, San Francisco on 19th October 1996 .
12. Aladdin Sane.flac
13. Jean genie.flac
14. I'm hot for you baby.flac
15. I Can't Read.flac
16. The man who sold the world.flac
17. "Heroes".flac
18. Let's Dance.flac
Label : No label
Audio Source : Broadcast
Lineage : Unknown
Taping Gear : Unknown
Taper: Unknown
Recording Location: Unknown
Total running time : 1:13:07
Sound Quality : The BBC tracks are broadcast quality, the other songs are available in better quality elsewhere
Attendance : Unknown
Artwork : Yes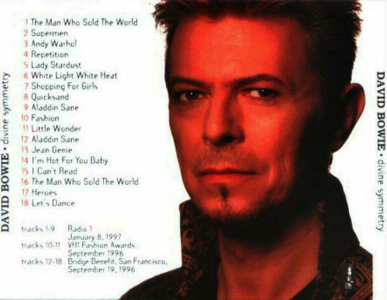 review
A bizarre mastering fault introduces the disc, with track one running blank for 17 seconds and track two ("Man Who Sold the World") cutting in nine seconds late. It's a sorry opening to what rapidly resolves itself as the best Bowie boot of the late 1990s — and, perhaps surprisingly, one of the best ever made. A nine-track BBC session, staged to compensate British fans for the singer's 50th birthday concert taking place in New York, opens things up with an oldies but goldies session bolstered by some of the most dynamic rearrangements he has ever conceived. Half unplugged, half undressed, the fruits of these re-evaluations were apparent on his revelatory fall tour, but there is a sense of ingenuous relaxation here which even the best gigs did not recapture. Two cuts from the September 1996 VH1 fashion awards follow. Recorded live, with all the sonic niceties that implies, takes on "Fashion" and "Little Wonder" jerk things back into familiar focus, and bigger and better performances of both are available elsewhere. But seven songs recorded at Neil Young's Bridge concerts that same month not only regain one's attention with another revision of "Aladdin Sane," it keeps it through a performance highlighted by a blistered blues-flavored "Jean Genie," an astonishingly effective acoustic-led "Heroes," and, finally, "Let's Dance," wickedly, but irresistibly reinvented as the funk/punk son of "Station to Station." Bowie's career is no stranger to some truly influential and utterly indispensable boots: Santa Monica (1972), https://www.davidbowieworld.nl/mijn-bootlegs-2-2/tour-recordings/1972-1973-the-ziggy-stardust-tour/attachment/david-bowie-his-masters-voice-front1/, and Thin White Duke (1976).
As much as his official output, those albums painted the image and confirmed the vision which sustained Bowie through the remainder of his career — a point since proven by official releases for at least portions of all three.
It took 20-plus years; Divine Symmetry is as great, and as revelatory as the best of those. And the next two decades don't look so scary, after all.
Review 2
Fairly random acoustic set from Bowie's BBC radio session in 1997. A few tracks come off as slightly dreck and drab, and it's a shame he wasn't afforded more air time, however long time fans will enjoy the Aladdin Sane and The Man Who Sold The World acoustics. It's also nice to hear Repetition (taken from the indifferent Lodger album), which Bowie frequently played live at the time. An interesting set from the Thin White accoustic one.
.
(Visited 1,523 times, 1 visits today)