David Bowie – Ziggy 2 – (1971-06-05 John Peel In Concert).
Sound Quality Rating Noise ,dull ,but still good listened to
BBC In Concert Recorded 5-6-71 – Broadcast 20-6-71
01. Bombers .flac
02. Queen Bitch.flac
03. The Supermen.flac
04. Looking For A Friend.flac
05. Almost Grown .flac
06. Kooks.flac
07. Song For Bob Dylan.flac
08. Andy Warhol (with Dana Gillespie).flac
09. It Ain't Easy.flac
Marc. TV Show 09-09-1977
10. It's Going To Be Me.flac
Sound Quality: Noise ,dull ,but still good listened to
DJ John Peel introduces the songs end gives the audience some information on Bowie.
The audience in the studio is limited and there is soft clapping after each song.
'Queen Bitch' fades in to start the show but the source tape is playing at a slightly slower speed than normal, so the track is slightly slow and features a skip on the vinyl halfway through. ThesoundresumesitscorrectspeedafterthattrackandalthoughBowiesvocals are very clear, the overall sound is quite bass heavy and muffled. 'Almost Grown' features 'Geoffrey Alexander', who later became 'Geoffrey McCormack' and 'Warren Peace' and George Underwood supplies vocals for 'Song For Bob Dylan' . Bowie says that he wrote 'Andy Warhol' for Dana Gillespie and she sings the track here and it's a superb version with outstanding guitar work from Mick Ronson.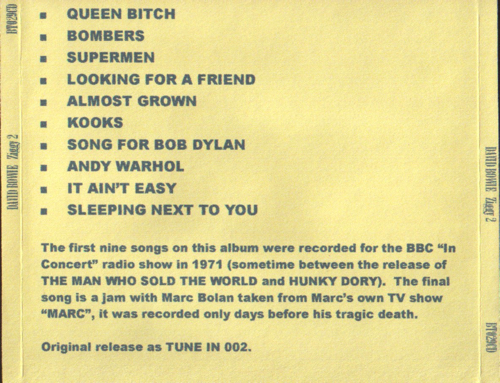 The first nine tracks from the John Peel In Concert recording, from Paris Studio: recorded 3rd June 1971 and broadcast on the 20th.
The final track's from the Marc TV show, 9th September 1977 (sneeze and you'll miss it).
Info the first nine tracks
Studio BBC Paris Stdio ,London
Mucicians
David Bowie: vocals, piano, 12-string guitar
Mark Carr-Pritchard: guitar
Mick Ronson: guitar
Trevor Bolder: bass
Mick Woodmansey: drums
George Underwood, Dana Gillespie and Geoffrey Alexander: vocals and backing vocals.
Produced by Jeff Griffin.
REVIEW BY STEVEHAWK
A funny gig from BBC's "In Concert" series, with Bowie and a couple of friends singing their favourite songs as well as songs from the coming album HUNKY DORY. A very interesting version is ANDY WARHOL sung by Dana Gillespie! The sound quality is normal. The last song is from the TV show Marc, and is very short.
(Visited 1,062 times, 1 visits today)