David Bowie The Year Of The Spiders – (BBC Sessions Various Dates & Location 1972) – SQ 8/9
Sound Quality Rating
THE SOUND OF THE SEVENTIES WITH BOB HARRIS (18th May 1972)
[Maida Vale Studios, London, UK]
01. Hang Onto Yourself
02. Ziggy Stardust
03. Waiting For The Man
04. Queen Bitch
05. Five Years

TOP GEAR TV SHOW WITH JOHN PEEL (16th May 1972)
[Maida Vale Studios, London, UK]
06. White Light White Heat
07.Moonage daydream
08. Hang Onto Yourself
09. Suffragette City
10. Ziggy Stardust
THE JOHNNY WALKER SHOW (22nd May 1972)
[The Aeolian Hall, London, UK]
11. Starman
12. Space Oddity
13. Changes
14. Oh You Pretty Things
THE SOUND OF THE SEVENTIES WITH BOB HARRIS (23rd May 1972)
[Maida Vale Studios, London, UK]
15. Andy Warhol
16. Lady Stardust
17. White Light White Heat
18. Rock'n'Roll Suicide
very good. Equals record or radio apart from a slight noise and some dullness.
A very nice Japanese issue from the former DANCING HORSE label, now called SWITCH ON!.
The sound quality is excellent, and the songs are probably recorded from the original BBC tapes.
These tracks should have been on the never released BBC series Volume 2 & 3.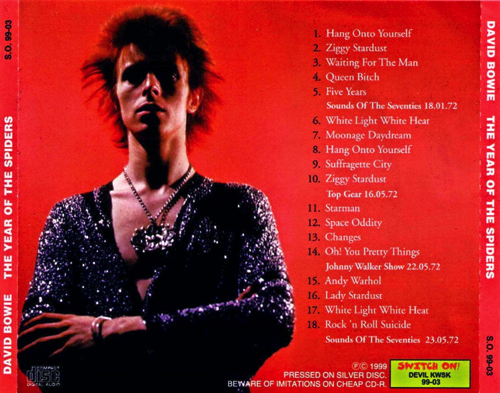 (Visited 459 times, 1 visits today)