1970-02-05 London ,Paris Cinema Studio ,BBC Session (Remastered) – SQ 8
Broadcast on 8th february 1970
Studio : BBC Paris Studio ,London
01 Amsterdam.flac
02 God knows Im Good.flac
03 Buzz The Fuzz.flac
04 Karma Man.flac
05 London Bye Ta Ta.flac
06 An Occasional Dream.flac
07 The Width Of A Circle.flac
08 Janine.flac
09 Wild Eyed Boy From Freecloud.flac
10 Unwashed And Somewhat Slightly Dazed.flac
11 Fill Your Heart.flac
12 The Prettiest Star.flac
13 Cygnet Committee.flac
Later that same month Hype signed to Mercury Records.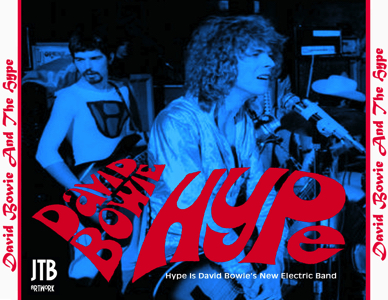 'Waiting For The Man' was recorded but not broadcast (and is now lost), while 'Memory Of A Free Festival' was edited down from 6'40" to 3'12".
The BBC didn't include tracks from this show on their "Bowie At The Beeb" broadcast, because the master tape had accidentally been wiped. To everybody's surprise, a cassette taped from the radio in 1970 surfaced in 1984. Nobody complained that the sound quality was rather poor, John Peel's introductions had crudely been edited out and 'Memory Of A Free Festival' was missing altogether.
The first bootleg LP issue in 1984 was No More Sleeping With Ken Pitt (Citizen Kane Records 001), re-released as We Were So Turned On (idem), and London Studios (idem). A year later, Janine (Fancy Records PCS 70, LP) appeared, on which the sound quality was much better and the original running order of the songs was restored. This album was reissued on CD as The Day And The Moon (Manic Depression CD 016); many re-releases have since followed, i.e. A Semi-Acoustic Love Affair (no label), which has been made from a cassette, and is not a straight copy of Janine.
As the master tape had been wiped, Bowie himself came to the rescue and offered his personal copy of the show for the Bowie At The Beeb CD. It is absolutely great to hear Amsterdam/God Knows I'm Good/The Width Of A Circle/Unwashed And Somewhat Slightly Dazed/Cygnet Commitee/Memory Of A Free Festival and John Peel's commentary in (almost) impeccable sound quality. It certainly makes one long for a complete release one day
Musicians
David Bowie – vocals ,guitar ,keyboard
plus The Tony Visconti Trio
Tony Visconti – bass
Mick Ronson – guitar
John cambridge – drums

DAVID BOWIE and THE HYPE

David Bowie "In Concert" 05-02-1970
In February 1970, David Bowie required a more permanent band to back him for the promotion of his latest album, 'David Bowie.' John Cambridge was retained from the 'Space Oddity' recording session and Tony Visconti volunteered for bass guitar duty. Cambridge recommended his friend Mick Ronson as guitarist.
In the March 28, 1970 edition of Melody Maker, Bowie stated "I'm very happy with the band, I have Tony Visconti who has played bass on nearly all my records, John Cambridge who used to be with Juniors Eyes and Mick Ronson on guitar and I play 12 string guitar. Although we're all happy with the set up I can't see it becoming a really permanent thing. I want to retain Hype and myself as two separate working units whereby we can retain our own identities. We've had these costumes made by various girlfriends which make us look like." I was a bit apprehensive about wearing them at the Roundhouse gig because I didn't know how the audience would react. If they think it's a huge put on, the whole thing will backfire, but they seemed to accept it which was nice."
(Visited 314 times, 1 visits today)