"Holy Holy" was released as a single in January 1971. It was recorded in November 1970, after the completion of The Man Who Sold the World, in the perceived absence of a clear single from that album. Like Bowie's two previous singles, it sold poorly and failed to chart.
David Bowie 7 "single 1971 Germany In Very Nice Condition!
side A. Holy Holy
side B. Black Country Rock
Description
Label: Mercury 6052 049
Format: Vinyl, 7″, 45 RPM, Single
Country: Germany
Released: 1971
Media Condition: EX
Sleeve Condition: EX
ring wear: no
All three seams looking perfect: see photo 3, small damage bottom
Picture sleeve looks near mint: Yes
creases or folds: no
stamps or writing: no
At the time Marc Bolan's Tyrannosaurus Rex was a significant source of inspiration for Bowie. On this track, according to NME editors Roy Carr and Charles Shaar Murray, "Bolan's influence is so much in the ascendant that it virtually amounts to a case of demonic possession".
The single's B-side was another Tyrannosaurus Rex flavoured song called "Black Country Rock". Bowie performed "Holy Holy" on Britain's Granada Television wearing a dress, which he would also wear on the cover of the soon-to-be-released UK edition of The Man Who Sold the World.
A more energetic version of the song was recorded in 1971 for The Rise and Fall of Ziggy Stardust and the Spiders from Mars. It was dropped from the album, but subsequently appeared as the B-side to "Diamond Dogs" in 1974. This version was also released as a bonus track on the Rykodisc reissue of The Man Who Sold the World in 1990 (despite the sleeve notes referring to it as the original cut), as well as on the Ziggy Stardust – 30th Anniversary Reissue bonus disc in 2002.
Bowie himself vetoed the inclusion of the original at a late stage (in favor of the remake), and the single remained the only official release of the 1970 recording until 2015, when it was included on Re:Call 1, part of the Five Years (1969–1973) compilation.
Track listing
A side
"Holy Holy" (Bowie) – 3:13
B side
"Black Country Rock" (Bowie) – 3:05
Production credits
Producers:
Herbie Flowers on "Holy Holy" (credited as Blue Mink)
Tony Visconti on "Black Country Rock"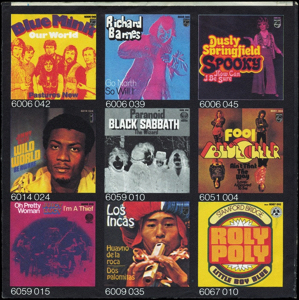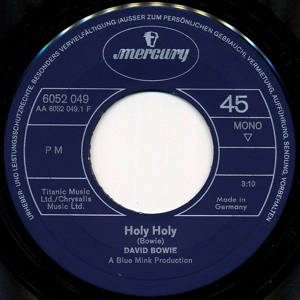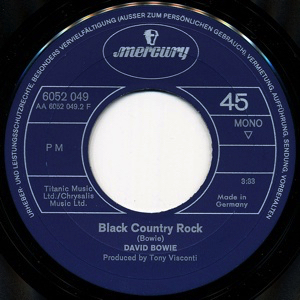 Musicians:
David Bowie: vocals, guitar
Mick Ronson guitar on "Holy Holy"
Herbie Flowers: bass on "Holy Holy"
Barry Morgan: drums on "Holy Holy"
Mick Ronson: guitar on "Black Country Rock"
Tony Visconti: bass on "Black Country Rock"
Mick Woodmansey: drums on "Black Country Rock"
1969 to 1970 was a period of tremendous creativity and artistic growth for David Bowie: one that saw him enter with Hendrix perm and acoustic guitar, only to exit with hair three times in length and a growing interest in unisex rock of the hardest order. Capturing his proto-Ziggy cusp perfectly was his last release on Mercury, the "Holy Holy" / "Black Country Rock" single. Oddly, "Holy Holy" did not appear on any subsequent Bowie album and to this day has never seen an official re-release. "Black Country Rock" is the same version from "The Man Who Sold The World" albeit in a far flatter, mono mix. But it's the A-side that is the subject of appraisal here as it's one of the more obscure and bewildering of Bowie tracks from this period.
"Holy Holy" saw Bowie draw together several diverse threads to construct a bouncy though haunting reverie placed somewhere between his own "Bombers" composition with a tinge of Tyrannosaurus Rex-era Bolan acoustic-strum tied together with similarly quavering vocals against a regimented and sharply fractured build. This track features one of the several proto-Spiders backing band lineups, Herbie Flowers appearing on bass (and producer's seat) accompanying Mick Ronson (guitar) and Mick Woodmansey (drums.) Bowie drags the half-wordless, pleading lyrics over the music (itself rendered as slow as the brief "Strawberry Fields Forever"-type minor chord stair-stepping intro) that reflects its dirge-like appeal for autonomy and release. Bowie's breathy backing vocals lag behind his lead at a druggy pace as the almost-there Spiders reinforce the "Bolero" theme unwashed, slightly dazed and confused. There are drums but they barely manage to clamber over the muddy production by song's midpoint, with the bass plonks from Herbie Flowers throughout that operate more as the sole percussion instrument — oddly foreshadowing Tony Visconti's bass/producer prominence on Bowie's "The Man Who Sold The World."
Bowie returned to the studio to overhaul "Holy Holy" in 1972 and a new approach was taken. It was fed amphetamines, thrown roughly on a bed, savagely stripped of its former Bolan-isms and the fuck was rocked out of it into a glisteningly sexy glam-blam blitz. Bowie and his Spiders cohorts (now with Trevor Bolder in tow providing far more fluid and rapid bass) ratchet up the tempo on "Holy Holy" to such an extreme it's a minute shorter in length than the original as they dispensed with the final verse and replaced it with a blazing guitar solo from Mick Ronson. The abrupt stop and starts were also retained, exaggerated by the increase in tempo which only served to accent the tightly arranged, quickly executed and abrupt "Bolero" sequence changes (The intro is also sped up into a descending, wayward thrash of early Alice Cooper proportions.) This far more electric rendition allowed Ronson the space to cut loose with grinding sinewy, multi-tracked, stereo lead/rhythms guitar that soar and roar over Bowie's now bristling vocals, pleading viciously as they stagger weirdly with a filtered backward echo that compresses it to continually ebb back and forth as though all the shaking sexuality of the track that had lain dormant in the original was now fully awakened. The track concludes with near-infinite Ronno sustain guitar multi-tracked into a flowing, triumphant phalanx surveying their victory from a recently conquered hilltop. It's neatly phased and you can JUST picture him grimacing painfully as his streamlined riffing continues beyond the fade…it's some of Ronson's most unyieldingly sensitive and finely-tempered guitar playing, ever.
Both versions of "Holy Holy" are two completely different takes of the same outsider invocation and are weirdly out of sync with the rest of Bowie's material from the respective periods in which they were cut.
Note:
Both original and remade versions of "Holy Holy" were originally available only on single, although the latter was finally released in 1974 as the B-side of the "Diamond Dogs" 45 and did appear on the (now deleted) Rykodisc reissue of "The Man Who Sold The World" — erroneously stated as the original on the liner notes. (Why?)
David Bowie's brief period signed to Mercury/Phillips yielded a clutch of singles and two albums. Unfortunately, in their original formats they are deadly rare and expensive. The Mercury single of "Holy Holy" is discussed here not only because of its musical merits, but in order to highlight the differences between the original and its remake. Perhaps a far more reasonably priced re-release of both will happen sometime in the future.
(Visited 49 times, 1 visits today)