David Bowie 2004-05-13 Hershey ,Park Pavilion – Hershey Park –
Sound Quality Rating
101. Rebel Rebel .flac
102. New Killer Star.flac
103. Cactus.flac
104. Sisster Midnight.flac
105. Hang On To Yourself.flac
106. All The Young Dudes.flac
107. Fame.flac
108. China Girl – attempt.flac
109. China Girl.flac
110. The Loneliest Guy.flac
111. The Man Who Sold The World.flac
112. Panic In Detroit.flac
113. Hallo Sunday.flac
114. Sunday.flac
115. Heathen (The Rays).flac
201. Band Introduction.flac
202. Under Pressure.flac
203. Station To Station.flac
204. Ashes To Ashes.flac
205. The Superman (Short ,2 min).flac
206. Quicsand .flac
207. White Light White Heat.flac
208. Let's Dance.flac
209. Modern Love .flac
210. I'm Afraid Of Americans.flac
211. "Heroes".flac
212. Encore Break.flac
213. Suffragette City .flac
214. Ziggy Stardust.flac
Label : No label
Audio Source : Audience recording
Lineage : Unknown
Taping Gear : Unknown
Taper: Unknown
Recording Location: Unknown
Total running time : 2:15:27
Sound Quality : Good. Equals record or radio/TV apart from a slight noise and some dullness.
Attendance : Unknown
Artwork : By Saloca 2004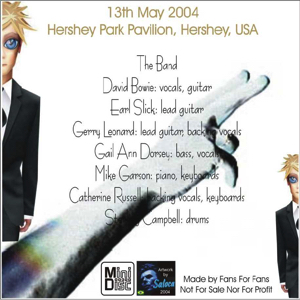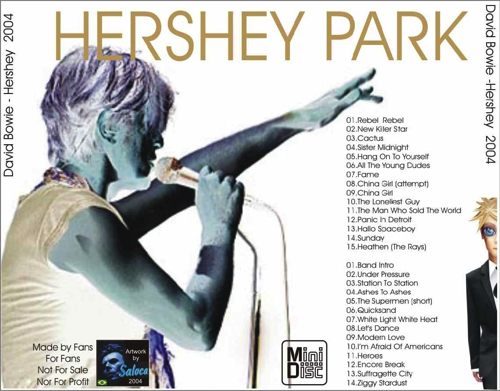 Review Hershey 5-13-2004 By bowiegal
OMG HERSHEY WAS INCREDIBLE!!!! I was prompted to write to you for Gwn and MandN and Nazzz66 and myself because we have spent the most incredible day alive at Hershey Park riding rollercoasters (except for Nazzy who got picked on by Bowie for being the "kind of person who would vomit on one of those things" and being the "kind of person he … "really" wants at his shows" wink wink. so .. riding rollercoasters, eating chocolate, and David Bowie all in the same day with some incredibly wonderful bowienetters made the PERFECT PERFECT DAY!!!
Not to mention that David himself ROCKED the house tonight!! A set list packed with tons of oldies, but none-the-less VERY VERY GOODIES such as Sister Midnight, Station to Station, LETS DANCE!! and MODERN LOVE!!! I was a little blown away!! As Gwn put it, " I nearly came in my pants when they started Station to Station!" and I don't think there was a dry seat in the house!!!
A little special note was when he saw Peanut's 9 yr old daughter Sarah in the second row with her lil sign and her screaming Supermen, and he said… "you're a lil young to appreciate that one" then they broke into The Supermen, only about 8 lines into the song he quits, slamming the mic down on the stage … only to start back up with a beautiful Quicksand.
Golly, no one could have asked for a more perfect night!!! We were all completely blown away!!!
————————————————————————————————————-
Review Hershey Hershey ? THE BEST DAY EVER!!! By mandn
WOWOWOWO!!! WHAT A DAY!! Rollercoasters, Chocolate and BOWIE!!
It was just such a great day! We got to the park around 11am or so. Hit the rollercoasters right away! Had a bite to eat and then back on the rides. Made sure to hit the log flume for a quick rinse off before the park closed and then changing in an amusement park bathroom isn't quite as much fun as one would think. But it worked, we looked great.
And boy did we get Bowie last night! From the classic opening of Rebel Rebel, not the jazzier one we are used to, to the last note of Ziggy!! An unbelievable setlist!! Panic in Detroit AND Station to Station!!!!! I never thought I would hear those two songs in the same setlist again.
David was in a fine jocular mood last night. Laughing and joking with the crowd. Pointing to the newest monstrosity of a rollercoaster at Hershey Park and asking if anyone had gone on it today, of course we had. SO we raised our hands, to which he asked, "Anyone throw up?" Nazzz66 raises his hand and David replied, "Now THAT'S my kind of fan!" He was also making chaos theory jokes for Physics Day, which it was at the park.
We did our part by contributing Bowie Beach balls for the crowd's fun. When one made it up to Daivd, he said "don't ever fuck with an Englishman and a beach ball." then he gave it a good hard kick!
There seemed to be some new changes and riffs in each song last night! It was truly unbelievable. Everything sounded new and fresh, and we are all exhausted!
China Girl, Modern Love and Let's Dance, the last one he sang for some very lucky woman's birthday. "Happy Birthday Lady!" and adding that "well, if we're gonna play that one, we should do it now as it won't sound any good after what we were going to play."
A nice teaser of part of the The Supermen and then into Quicksand. When someone yelled out Width Of A Circle, David asked "Do you know how to play it? No? Well, neither do we, so we're fucked! "
David and everyone were in fine form and loving every minute of it. The music was superb, the venue was awesome and there couldn't have been a more memorable night if I tried to think of one.
BTW, I forgot to mention how much I LOVE THE STEREOPHONICS!!!!!! Been so looking forward to seeing them and they were better than I could have imagined. I woke up to them this morning too so it was a nice little way to complete the circle.
Their set was really a treat and some ass kicking testosterone guitar! it's about time! Thank you everyone!.
My most abundant thanks go to David and the band and all my BNet friends who helped make such a magical day come to life!
David Bowie Tour band 2003-2004 A Reality Tour
A Reality Tour was a worldwide concert tour by David Bowie in support of the Reality album. The tour commenced on 7 October 2003 at the Forum Copenhagen, Denmark, continuing through Europe, North America, Asia, including a return to New Zealand and Australia for the first time since the 1987 Glass Spider Tour. Bowie retired from performing live in 2006, making this tour his last.
The tour grossed US$46 million, making it the ninth-highest-grossing tour of 2004.
The Tour band
• David Bowie – vocals and acoustic guitar
• Earl Slick – lead guitar
• Gerry Leonard – guitar, backing vocals
• Gail Ann Dorsey – bass guitar, vocals
• Sterling Campbell – drums, percussion
• Mike Garson – keyboards, piano
• Catherine Russell – backing keyboards/backing vocals
Start date 11 June 2002
End date 23 October 2002



(Visited 530 times, 1 visits today)