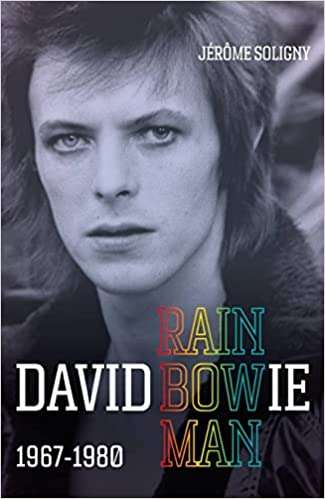 In David Bowie Rainbowman: 1967-1980
Author:
Jérôme Soligny
Category: Discography, Hermione Farthingale, Iggy Pop, Lou Reed, Mike Garson, stories, studio albums, Woody Woodmansey
Publisher:
Octopus Publishing Group
Published: September 22, 2022
ISBN-13: 9781800960633
Pages: 704
Country: United Kingdom
Language: English
Dimension: 23,5 x 18,5 x 4.2 cm
Description:
---
In David Bowie Rainbowman, Jérôme Soligny tells the story of David Bowie the musician with the help of those intimately involved with the creation of his music.
This uniquely exhaustive work on Bowie's 1967-1980 albums draws on over 150 interviews with the musicians, producers and friends who knew Bowie best, including Robert Fripp, Hermione Farthingale, Lou Reed, George Underwood, Mick Ronson, Carlos Alomar, Trevor Bolder, Mike Garson, Woody Woodmansey and many, many others. With an essay by Soligny on each album followed by oral histories from the most trusted and influential figures in Bowie's musical life, David Bowie Rainbowman is the definitive guide to a singular and mercurial genius – the Rainbowman himself.
@RainbowmanBook
---
From the Publisher
About the Author
Jérôme Soligny is a musician, writer and journalist based in Le Havre, France. Over the course of 25 years, Jérôme spoke with Bowie and interviewed him on numerous occasions for Rock&Folk magazine. He was presented with the Chevalier des Arts et Lettres by Tony Visconti in 2019 and is described by Bryan Ferry as 'one of the great French authorities on contemporary music'.
(Visited 104 times, 1 visits today)
Back