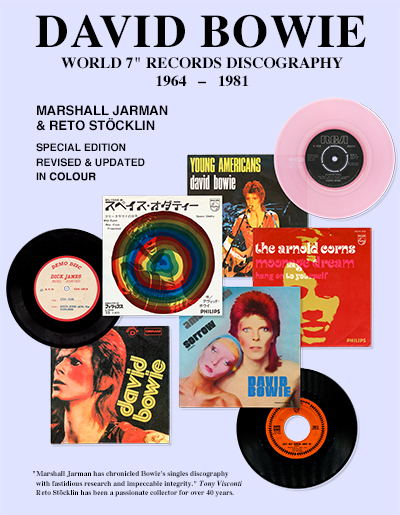 Description:
---
In 1994 Marshall Jarman, long established Bowie dealer and mail order supremo par excellence, published the first edition of this book, which covered the vinyl 45s of the first 17 years of The Thin White Duke's recording career; essentially his celebrated RCA years and all the weird and wonderful oddities that came before.
World 7" really was the first of its kind, and reviewing the tome in my sadly short-lived self-published fan magazine, Crankin' Out, I referred to its encyclopaedic quality as "almost biblical". Twenty-four years on, and everything has changed. Fanzines were superseded by the internet, vinyl is undergoing a spectacular Lazarus-style resurgence in desirability, and the dear old Dame finally went to meet his Starman in the sky. 
But what a legacy, and what a book. This beautifully printed new edition – for which MJ's been ably and admirably assisted by Swiss super-collector Reto Stocklin – is also much transformed. It's now undeniably 100% biblical; a spotters' rarities resource like no other. Things still draw to a close when Bowie's glory years came to an abrupt halt, but there is much to enjoy here. The whole production has seen an exhaustive upgrade, and details, with incredible diligence and patience, a neat 1,000 records accompanied by 900 colour illustrations and more across its 244 pages. A must for vinyl junkies and record collectors everywhere. 
Softcover edition
244 pages (180 in the original edition)
A4 on heavy gloss paper
Full colour, high quality print with spot-UV cover
Addenda with dozens of records that weren't in the first edition
More than 1,000 records
80 acetates
More than 900 colour illustrations
26–page middle section with specialties (unusual records and 7″ related memorabilia)
Forewords by Kevin Cann, Christoph Heid and Tony Visconti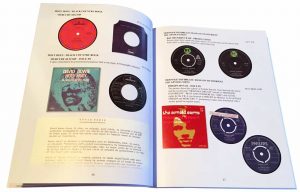 Marshall Jarman was a dealer in rock music records for more than 30 years and one of the world's most well-known collectors of David Bowie 7" records. He started collecting with Space Oddity in 1969. He has written articles about David Bowie 7" records for major collectors' publications, including 'Record Collector' (UK), 'Goldmine' (USA) and 'Goldwax' (Japan). He has broadcast regarding David Bowie singles on BBC Radio and advised London auction houses, television programmes and record labels on matters relating to David Bowie 7" records.
Reto Stöcklin has been a passionate collector of David Bowie records for more than 40 years, starting with Bowie's seminal Ziggy Stardust album. Reto started collecting in the days of snail mail lists and the uncertainty of knowing whether or not the record that you so desperately wanted was going to be yours. The days spent exploring flea markets and record stores in the hope of discovering a previously unknown gem held an air of excitement now sadly missing in the Internet age. Reto has contributed to many magazines and discography books.
Marshall and Reto have been friends for more than 35 years
(Visited 20 times, 1 visits today)
Back