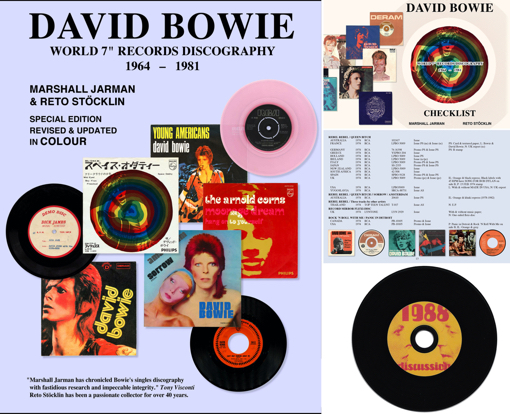 Description:
---
Deluxe edition Same content as softcover edition, plus:
Strictly limited deluxe edition of 275 numbered copies
Signed by the authors with a personalised dedication
Exclusive hard cover with spot-UV – gloss finish plus jacket – heavy gloss paper
Unique record collector box designed to store 20-30 7″ vinyl records
Interview CD
Checklist leaflet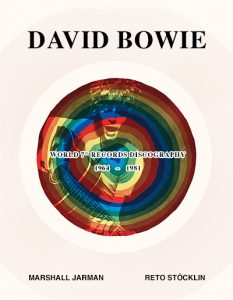 Background
In 1994, rare record dealer and Bowie 7" collector Marshall Jarman published the first edition of this discography with the help of many collectors worldwide, including his old friend Reto Stöcklin. Marshall now trades on the stock market instead of rare vinyl and, upon meeting with Reto in 2016 – after many years absence from the record-collecting scene, was amazed to discover that his discography had achieved iconic status and was regularly selling for over £100. Indeed, David Bowie remains one of the world's most collectable artists, the demand even seems to follow an exponential curve, with a new generation of collectors emerging. In September 2016, after too much beer in a Sankt Gallen bar in the heart of the Swiss Alps, the two friends decided to update the book. With modern technology it would be an easy task, surely?
Back in the late Eighties / early Nineties we had to do everything manually, photocopying record labels and sleeves, and communicating by snail mail and telephone. Tracking down information required serious detective work. But now we've got the web! Twenty-five years ago, eBay, Discogs, Facebook and Popsike were science fiction. With the ease of communications, social media and digital cameras it would be a simple task to update a discography. Wrong! Technology has facilitated much quicker communications and allowed affordable colour publication; however it has introduced new problems. Now anyone can post anything on a blog with such ease that there is more misinformation than ever.
Assembling this updated discography involved far more work and time than we had imagined. We first envisaged scanning the book and make a simple pdf file, then an e-book – a straightforward update with maybe a few more coloured illustrations. Somehow, the project evolved into a fully revised and updated deluxe colour edition. Frustrating at times, exasperating at other times, nonetheless fascinating investigations, it has been very satisfying and a great sense of achievement to see it finally finished.
This is a discography of David Bowie 7" records, meaning recordings by the artist David Bowie on a 7" record format. Therefore it does not include those recordings by a variety of artists of songs written by Bowie, only those that were recorded by David Bowie himself. The Arnold Corns records are included because they are actually David Bowie records, Arnold Corns being a pseudonym used during the first half of 1971. Bootleg records are not included, only records made by record labels he was contracted to. Counterfeit records are mentioned as a warning to collectors to be alert. Thai E.P.'s, although not sanctioned, are included because of their collectability. Acetates are not regarded as records by the industry but are highly sought after and those with unissued material are especially interesting to collectors, hence the separate section.
The first edition of this book listed the records in chronological order, which was controversial but over the years collectors have said that they prefer it this way and therefore we retained the original format. However, we had to think carefully about how to include those records absent from the original book. There are so many permutations and each collector will have his/her own preference. Unfortunately, it's not possible to produce bespoke books so democracy has to prevail. After consulting with many long-term collectors, the consensus was that they preferred that the "new" records be in some way separate from the "old" ones. Hence this layout with addenda – it's simple to navigate and find what you're looking for, separates old from new and we think it's quite attractive to look at.
We've also kept the original format of illustrating every label for the pre-RCA period, but only illustrating examples of RCA labels due to their uniformity – and of course commercial considerations. To illustrate all the records in the book would have made it well over 500 pages, without even documenting the many label or sleeve variations of a single issue. With picture sleeves, we've illustrated all the original ones, but where the same photo was used on another country's sleeve we've mentioned it, rather than illustrate sleeves that are more or less the same.
(Visited 30 times, 1 visits today)
Back