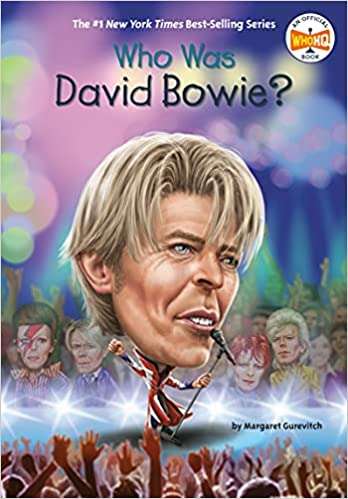 Description:
---
Find out how this English singer-songwriter and actor who constantly reinvented his look and sound became one of the most influential musicians of the twentieth century in this new book from the #1 New York Times bestselling series.
David Bowie, born David Robert Jones, wasn't just an incredible singer; he had an amazing talent for keeping his fans happily guessing about what he would do next. He alternated between musical genres with ease, established a successful acting career, and even created a legendary persona–the rocker alien Ziggy Stardust–that people still dress up as for Halloween each year. Author Margaret Gurevich takes readers through David Bowie's life and shows exactly why he is an inspiration to many people and is celebrated all over the world.
Editorial Reviews:
Who Was David Bowie?
When audiences tuned in to their favorite British music show, Top of the Pops, on July 6, 1972, they didn't know what to expect from the singer they were about to see. Most had heard "Space Oddity," his huge hit that had actually been broadcast in Britain during the US Apollo 11 moon landing three years before. Some viewers had also bought his two most recent albums, Hunky Dory and The Rise and Fall of Ziggy Stardust and the Spiders from Mars. However, many people had never seen David Bowie perform live. They didn't even know what he looked like.
Then David stepped up to the mic. His hair was bright red, and he wore a rainbow–colored shiny jumpsuit and red boots. He also wore makeup. The audience wasn't sure what to think, but he certainly had their attention.
He grabbed the mic to sing "Starman," a song from the Ziggy album. As he sang, he put his arm around his guitarist, Mick Ronson. Some people were uncomfortable. They weren't used to seeing men wearing makeup on television. They also didn't like that David was hugging another man.
But he didn't care what they thought. He was only being himself. He pointed at the television audience as he sang. Viewers felt like he was talking to them and, just maybe, giving them permission to be themselves, too. It really felt as if he were speaking personally to everyone who was watching.
That night, the man in the blue eye shadow and sparkly clothes, dressed as Ziggy, a character from his most recent album, strummed his blue guitar and showed Britain who he was. It had taken him nine years to become this successful. It was finally happening—-and on his own terms.
Chapter 1: Absolute Beginners
David Robert Jones was born in Brixton, in South London, England, on January 8, 1947. He had two older siblings, a half sister, Annette, and a half brother, Terry. His parents were Haywood Stenton Jones, called "John," and Margaret Mary Burns, known as "Peggy." John worked for a children's charity called Barnardo's, and Peggy worked as a waitress. When David was six, he and his parents moved to the Bromley neighborhood of London. Shortly after, Annette moved away, and Terry joined the air force.
At that time, parts of England were still recovering from World War II. Rubble littered the streets, and David and his friends sometimes played in old bomb shelters. David's childhood was a happy one. His parents always encouraged music. Peggy spoke about David's grandfather, who played wind instruments. His father bought a record player—-something few families could afford. In elementary school, David participated in art and music classes and sang in the choir. He also loved all things American—-even baseball and American football, which were both unpopular in England. His favorite music was American, too. He and his cousin Kristina often danced to records by Elvis Presley, a famous American singer.
Around this time, David's mother took him to see the American rock and roll artist Little Richard perform in a movie. That show sparked his interest in the saxophone. Shortly after, he begged his father to loan him money for the instrument. He worked part–time jobs to earn the rest. That Christmas, David finally received his saxophone. It was white with gold keys.
When David was eleven, Terry returned. He introduced David to jazz, a popular American music known for its improvised sound. When musicians improvise, they make up notes as they play, rather than playing something they've already memorized.
That year, David graduated from elementary school. For his secondary school, he chose Bromley Technical High School because of its music and art classes. He and his friends played their guitars at lunch and performed in an end–of–the–year school concert.
When he was sixteen, David saw his first live music performance—-it was Little Richard. He loved how Little Richard jumped on stage and stood on his white grand piano. At one point, he clutched his heart and fell to the floor. David thought Little Richard was dying. Suddenly, the performer raised his head and shouted, "Awopbopaloobop Alopbamboom!" The audience cheered. David never forgot that exciting performance.
In addition to the saxophone, David also learned to play the ukulele and piano. He and his friends sometimes made their own instruments and formed a band called the Konrads. One day, David and another band member, George Underwood, got into a fight. George punched David right in the eye! After four months in the hospital and many surgeries, his left pupil looked much larger than his right. His eyes looked like they were two different colors. George felt awful, but David forgave him. His unique eyes became his favorite feature!
In 1963, all sixteen-year-old David wanted to do was sing and play instruments. He imagined himself wowing audiences just like Little Richard. That year, David graduated high school and began working in an advertising company. But the work—-cutting and pasting designs on paper—-was boring to him. He looked forward to evenings when he could play with the Konrads. Unfortunately, the late nights tired him out the next morning. David realized he couldn't be a rock star and work in an office, too. He quit the agency and formed a new band called Davie Jones and the King Bees.
David was the saxophone player and lead singer. He dreamed of making it big. His father also had huge hopes for him. He helped David write a letter asking companies to manage the King Bees. One of his letters compared the King Bees to the Beatles—-the most popular rock group in the world at that time. David's confidence worked! Leslie Conn, a talent scout, asked the King Bees to audition. Unfortunately, the band played so badly, he stopped them mid–set. David was so upset, he cried. But even if he didn't know what it was, Leslie saw something in the King Bees and decided to manage them, anyway.
In 1964, the King Bees put out a single called "Liza Jane." It flopped, and David searched for a new band again. He joined the Manish Boys in 1965. At the time, the "mod" look was in style. Mods dressed in three–piece suits, ties, and fancy shoes. David decided this should be the image of a lead singer.
But he needed more than style to get noticed. Leslie knew good stories got attention and helped David create his own. He appeared on television and talked about how people made fun of his long hair. It wasn't true, but it got the Manish Boys extra publicity. Unfortunately, it wasn't enough to make them successful, and David once again searched for a new band.
He found a group called the Lower Third and a manager named Ken Pitt. Since there already was a well–known singer named Davy Jones in a band called the Monkees, Ken asked David to change his last name—-but only for his career. His real name remained David Jones. He picked the name Bowie, after Jim Bowie, an American pioneer. He thought the name made him sound tough. Jim Bowie even had a knife named after him! David called it "the ultimate American knife." With a new name and mod style, David hoped his career would reach new heights, too.
Chapter 2: Who Can I Be Now?
David was twenty years old, and things were looking up. In 1967, Deram Records, a new music company, gave him a solo recording contract. This meant they only wanted David, not his band, the Lower Third. But David could finally create the music he liked best. Around the same time, David's half brother, Terry, began suffering from mental–health issues and had to move to a hospital for treatment. David missed Terry very much. He tried to cope with Terry's absence by writing music.
The result was a new album called simply David Bowie. Like his other records, it did poorly. Ken Pitt didn't want him to give up, so he encouraged David to audition for theater and television. He landed parts in a short film and an ice cream commercial, but they paid little. His dreams of becoming a star were slipping away, and he explored other interests.
He studied with a famous mime, Lindsay Kemp, and started a musical group called Feathers. In Feathers, David sang and performed as a mime. Ken saw this as another promotional opportunity. He created Love You till Tuesday, a thirty–minute film project showcasing David and his group. But it didn't bring stardom. Deram Records dropped him from their label. However, there was one person who was drawn to his Feathers performance—-a woman named Mary Angela Barnett, who was called "Angie."
Angie was immediately charmed by David's singing voice and saw his star potential. The two soon began dating. David's personal life was changing, and he wanted a musical change, too. In 1969, he cofounded the Arts Lab, a safe space for musicians, poets, and singers to share their work without judgment. David shared his own music with others at the Arts Lab.
He'd just seen a movie called 2001: A Space Odyssey about a journey to the moon and Jupiter. The storyline and special effects inspired him to write a song he called "Space Oddity." It was about an astronaut named Major Tom who was lost in space ". . . far above the world." Ken pitched this song to Mercury Records, a new label. They signed David to record a single and three albums.
David's song "Space Oddity" was off to a slow start. That same year, the United States was planning its own space mission, Apollo 11. Columbia was the first spacecraft to take humans to the moon. Even though the song was released on July 11, 1969, British and American radio stations didn't want to play it until the astronauts returned safely to Earth. But Ken's friends at a British station did him a favor. When the astronauts placed the United States flag on the moon on July 20, 1969, "Space Oddity" played on British televisions everywhere. It didn't hit the airwaves again until the astronauts returned to Earth four days later.
Just days after "Space Oddity" played on televisions, David competed in the Malta International Song Festival in Malta, Greece. Unfortunately, his second–place finish was followed by terrible news: His father was very sick. David flew home and showed him the award. John Jones had always supported his son and said he knew he'd succeed. He died shortly after, on August 5.
David was heartbroken. He said, "There were so many things I would have loved to have said." To escape the grief, he worked harder than ever.
While "Space Oddity" only hit 124 on the US music charts, by September it reached 48 in the United Kingdom. David and Angie celebrated by moving out of David's parents' house and renting an apartment in Haddon Hall, a historic mansion in the English countryside. They hoped to make the place more stylish. They painted the sitting room and bedroom ceilings silver, the living–room walls a dark green, and the bedroom walls pink. They covered the chairs in red velvet and dyed the drapes the same color. Finally, they built a recording studio in the basement.
Angie encouraged David's career, and he liked that she understood him so well. The couple married on March 19, 1970.
Angie made David happy, but his business partnership with Ken didn't. "Space Oddity" had reached number five in the United Kingdom a few months before, but David wanted to be well–known in the United States, too. He didn't think Ken was doing enough to make that happen. When Tony Defries promised stardom, David hired him as his new manager. He also started another band. Tony Visconti played bass and Mick "Woody" Woodmansey played drums. Mick "Ronno" Ronson became the guitarist. He had the popular hard–rock sound David wanted. The two became good friends, and Mick Ronson moved into Haddon Hall with him and Angie. With a new manager and band, David was ready for another new look. The band wore silver jumpsuits, and David wore a silver–blue cape and dyed his hair to match. He and his bandmates also put on glittery makeup. The audience wasn't sure if it liked the dramatic new look, an extreme version of what was then called "glam rock," but the band was having fun.
David and his bandmates recorded their next album in April 1970. The Man Who Sold the World was one of the first glam–rock records to hit the music scene. David was excited to shoot the cover photo for the album. He wore a blue–and–gold man's dress in a medieval style and lay on a lounge chair in his living room. He said the look was "very much" him. But American executives at Mercury Records didn't want a man wearing a dress on their album cover. David became angry, but it didn't change things. In the end, the US cover had a picture of a cowboy, and the UK cover had the photo of David at home in Haddon Hall.
About the author
Margaret Gurevich; I love writing books for teens, and am excited about the Chloe series coming out. When I'm not writing and researching books, I love spending time with my family. Other favorite things are cooking, eating, hiking, and watching too much television.
(Visited 19 times, 1 visits today)
Back