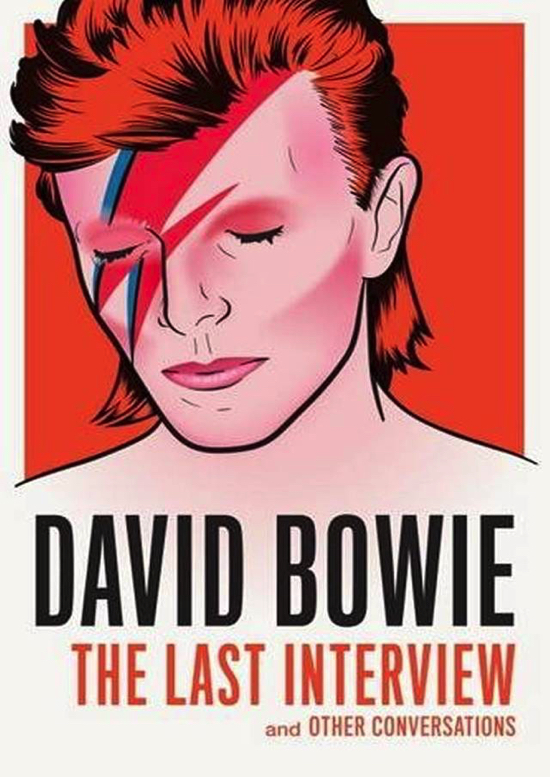 David Bowie The Last Interview: and other conversations
Author:
David Bowie
Category: Biography, Interview
Publisher:
Melville House Publishing
Published: November 8, 2016
ISBN-13: 9781612195759
Pages: 220
Country: USA
Language: English
Dimension: 14,0 x 21,0 x 1,5 cm | 226,8 grams
Description:
---
Product Description
The latest addition to The Last Interview series concentrates on the late great David Bowie. Bowie was famous for his fascinating refusal to stay the same – the same as other trending artists, or even the same as himself. In this remarkable collection, he reveals the fierce intellectualism, artistry, and humor behind it all, in candid discussion about his sexuality, his drug usage, his sense of fashion, how he composed, and more. It is a must-own for all Bowie fans
"David's friendship was the light of my life. I never met such a brilliant person. He was the best there is."—Iggy Pop
The massive, world-wide outpouring of grief at the death of David Bowie notably focused on not only his stunning musical output, but also his fascinating refusal to stay the same—the same as other trending artists, or even the same as himself.
In this remarkable collection, Bowie reveals the fierce intellectualism, artistry, and humor behind it all. From his very first interview—as a teenager on the BBC, before he was even a musician—to his last, Bowie takes on the most probing questions, candidly discussing his sexuality, his drug usage, his sense of fashion, how he composed, and more.
For fans still mourning his passing, as well as for those who know little about him, it's a revealing, interesting, and inspiring look at one of the most influential artists of the last fifty years.
Born in London in 1947, DAVID BOWIE was one of the most influential musicians, performers, and songwriters of the last fifty years, captivating generations of fans and inspiring countless performers across every creative genre. His consistent evolution (spanning styles from rock 'n' roll to soul, funk, techno, disco, and jazz) and shifting personae (from Ziggy Stardust to Aladdin Sane and the Thin White Duke and on) made an indelible impression on pop music and culture. Some of his classic hits include "Changes," "Fame," "Heroes," "Let's Dance," and "Space Oddity." An accomplished actor, Bowie starred in The Man Who Fell to Earth in 1976. He died on January 10, 2016—two days after the release of his 35th album, Black Star.
David Bowie interview collection shows the man behind the legend
David Bowie, here performing in 1995, died in January at age 69. A new collection of interviews and conversations gives insight into Bowie the man.
The introduction of "David Bowie: The Last Interview and Other Conversations" begins: "David Bowie gave a lot of interviews … until he didn't."
Quirky, well-spoken and charming, the iconic music legend who died of cancer in January at age 69 left behind a trove of inspiration. But fans looking for in-depth discussions about Bowie's musical process will be disappointed by this collection of 10 interviews spanning 1964 to 2006.
Instead, the wide-ranging interests of Bowie the person are highlighted: film, style, fashion and art. The book is the latest installment in Melville House's Last Interview series, chronicling the final words of such illuminating lives as James Baldwin, Jane Jacobs and Kurt Vonnegut.
It starts with an interview in 1964, with a 16-year-old David Jones (he would become David Bowie about two years later) representing a group called the Society for the Prevention of Cruelty to Long-Haired Men. The giggle-filled chat on the BBC's "Tonight" was focused, most fittingly, on the length of his hair. It had been three years since Bowie had had it cut.
In a story titled "David Bowie Tells All and More," Bowie paints a portrait of an artist unashamed of himself and his family. "The majority of the people in my family have been in some kind of mental institution," he tells Patrick Salvo of Interview in 1973.
The most confounding interview is the conversation Bowie had with writer William Burroughs. These two kindred spirits had only recently become acquainted with the other's work.
They had a deep conversation about honesty ("I usually don't agree with what I say very much," Bowie says), the state of writing songs ("Songwriting as an art is a bit archaic now. Just writing a song is not good enough"), Bowie's audience ("I'm quite certain that the audience that I've got for my stuff don't listen to the lyrics"), film ("I don't believe in proper cinema; it doesn't have the strength of television"), sound ("I wonder if there is a sound that can put things back together"), before Bowie proclaims "maybe we are the Rogers and Hammerstein of the Seventies, Bill!"
Then there is a 13-year gap from 1974 to 1987, which yields two solid conversations, one being the pinnacle of the book: the 1987 Kurt Loder interview for Rolling Stone.
It includes the tidbit that Bowie "works out and roller skates in his spare time." One can imagine a 40-year-old Thin White Duke roller-skating down the street.
And Loder asks, "Is it true that when Ziggy and the Spiders played Santa Monica on the first tour, the band went off to a Scientology meeting and got converted?" Of course it is.
The conversation touches on film, which Bowie had grown more interested in, before delving into Bowie's listening habits in the mid-1980s, which is a nice trip down memory lane.
The final time Bowie does a formal interview in this collection, in 1992, features the infamous question about what he kept in his fridge in 1975.
Bowie stopped touring and giving interviews after a heart attack onstage in 2004, although he did do a gag interview in 2006 for Ricky Gervais' show "Extras," the last entry in this book. But he didn't stop recording and releasing albums. The last, "Blackstar," came two days before his passing and was a sort of self-interview. The album recently earned four Grammy nominations, for best rock performance, rock song, alternative music album and engineered album, non-classical.
Bowie believed that he could say the things he wanted to say with his music, which remained true until his death.
As the number of interviews decreased, the importance of each word increased. Those words still remain the most important part of who David Bowie was. So long David Jones, we miss you dearly.
BY JON KALEUGHER – [email protected]
(Visited 18 times, 1 visits today)
Back