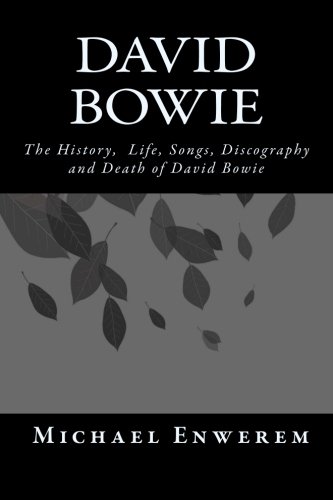 Description:
---
David Bowie, an entertainment and musical legend who died from cancer and who to many is extremely sophisticated and complicated is fully written in this book in relation to his musical legendary prowess. In addition, his history, life, songs, discography and death is explained. More so, his personal lifestyle like religion and sexuality is also explained.
The book when studied carefully indeed brings one closer and in totality with the history of David Bowie.
About the author
Mr. Michael C. Enwerem is a creative and professional writer of multifarious interests covering Relationships, Politics, International Policies, Environmental Laws and Environmental Management . He has a Bsc in Environmental Management, and has written a couple of articles and projects topics on environmental issues. He is responsible for editing and graphic management in a couple reputable online platform. At his leisure time he tutors students on a couple of subjects more especially on environmental management, politics, human rights and relationships. He enjoys travelling, writing and lecturing.
(Visited 10 times, 1 visits today)
Back