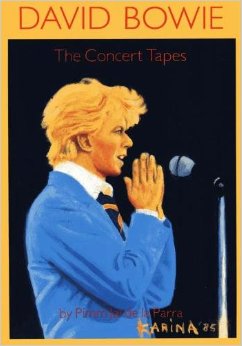 Description:
---
On April 9, 2002, Pimm Jal de la Parra, one of the greatest Bowie fans, passed away at the age of 35. Three months before his death, we met several times to discuss the plans we had made: we would sell his book David Bowie: The Concert Tapes through a Bowie website I ran at the time. Unfortunately, things turned out differently and the plan was never carried out again. Until now.
Pimm Jal de la Parra – David Bowie: The Concert Tapes David Bowie: The Concert Tapes is a unique 1985 book, written and compiled entirely by Pimm Jal. It contains detailed descriptions of more than 400 unauthorized recordings of Bowie concerts, made by fans standing in the audience with tape recorders. Pimm Jal, 18 at the time, described the concerts in great detail, including the setlists, the words Bowie spoke, the concert halls and the anecdotes. All this very richly illustrated with more than 300 photos, illustrations, concert tickets and other trivia.
Pimm Jal 18 years old, photo: Matthijs van Heyningen jr.A unique time document, the ultimate Bowie bible, made long before the advent of the internet. Years later, Pimm Jal would become particularly famous with another unique music bible about U2, U2 Live: A Concert Documentary (2003), in which he performed the same concept. David Bowie: The Concert Tapes self-published by Pimm Jal and he had a few boxes left.
Customer Reviews
Less common than the diskografie is the ' tapografie ', of which this result of fanatical hobbyism is an example. Although the compiler (son of the filmmaker) only 18 years old, he succeeded 325 concert bands of perhaps the most important pop artist of the 1970s to detect, which ties in this book chronologically. The list, which in addition to audio tapes also video tapes, covers the period 1966-83. Each item includes: date, place, quality on a scale of 4 to 10, duration, song titles; also on videos: color or black and white, source. What makes the book more interesting than a dry enumeration, is the extended notes to each band. The book also contains: a list of tours with places, a chronological index of audio tapes and videos. The maker announces in an afterword to appear regularly additions to the book. The work is abundantly illustrated in black and white with pictures, posters and programs. This will appeal to more people than just the seasoned Bowie-fan who must have everything of his idol. Whole English text.
A must have for the live Bowie collector
By samcooke69 on May 9, 2013
Format: Perfect Paperback Verified Purchase
This book is amazing. Keep in mind the author has since passed away and the book is a bit older. That said this book is the s***! Literally every show/tape is commented on. Again only up to the mid 80's. This work is such a labor of love and I wish the author was still around to thank ! Can't go wrong with this gem!
(Visited 23 times, 1 visits today)
Back