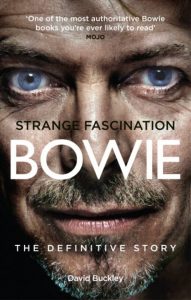 David Bowie Strange Fascination: The Definitive Story
Author:
David Buckley
Category:
Biography
Publisher: Virgin Books; Revised, Updated editie
Published: 09 Mar, 2010
ISBN-13: 9780753510025
Pages: 576
Country: United Kingdom
Language: English
Dimension: 20,1 x 12.7 x 3.8 cm
Description:
---
David Buckley's unique approach to unravelling the Bowie enigma, via interviews with many of the singer's closest associates, biography and academic analysis, makes this unrivalled biography a classic for Bowie fans old and new. This revised edition of Strange Fascination comes at a time when Bowie is, once again, on a creative roll, and captures exclusive details about the tours, the making of the albums, the arguments, the split-ups, the music and , most importantly, the man himself. Also including exclusive photographic material, Strange Fascination is the most complete account of David Bowie and his impact on pop culture ever written.
Review
One of the most authoritative Bowie books you're ever likely to read. Mojo As a critique-cum-re-establishment of the David Bowie character, definitive is pretty much it. Guardian A fascinating portrait of a fascinating artist … if you like Bowie and you're into biographies, this is the one to read — Marc Almond Buckley manages the ultimate achievement of any rock biog and sends you scuttling back to the records. Guardian A definitive re-establishment of the man and the myth of David Bowie. Future Music
(Visited 26 times, 1 visits today)
Back