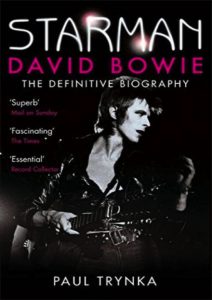 David Bowie Starman: The Definitive Biography
Author:
Paul Trynka
Category:
Biography
Publisher:
Little Brown & Compan
Published: March 1, 2012
ISBN-13: 9780751542936
Pages: 448
Country: USA
Language: English
Dimension: 19,5 x 12,8 x 3,3 cm Weight 401 grams
Description:
---
Summary
"Ziggy Stardust," "Changes," Under Pressure," "Let's Dance," "Fame," "Heroes," and of course, "Starman." These are the classic songs of David Bowie, the artist whose personas are indelibly etched in our pop consciousness alongside his music. He wrote and recorded with everyone from Iggy Pop to Freddie Mercury to John Lennon, sold 136 million albums, has one of the truly great voices, and influenced bands as wide-ranging as Nirvana and Franz Ferdinand.
Has there ever been a more charismatic and intriguing rock star than David Bowie? In Starman, Paul Trynka has painted the definitive portrait of a great artist. From Bowie's early years in post-war, bombed-out Brixton to the decadent glamour of Ziggy Stardust to the controversial but vital Berlin period, this essential biography is a celebration of Bowie's brilliance and a timely reminder of how great music is made – now with an update on the making and release of The Next Day.
This book will define Bowie for years to come
Review (s)
Fascinating The Times Sharp, elegant and convincing Mojo The most complete and compelling portrait of Bowie's life ever assembled Rolling Stone The diamond dog's bollocks … boasting countless new interviews with key players … the first Bowie book to get as close as possible to the essence of the man Record Collector Superb Mail on Sunday
(Visited 20 times, 1 visits today)
Back