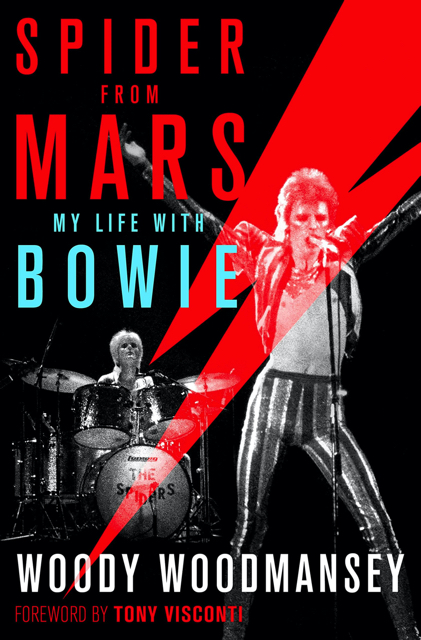 Description:
---
The death of David Bowie in January 2016 rocked the globe. Millions of fans celebrated his music, his film and theatrical roles, his trend-setting influence on fashion and gender and popular culture.
Drummer Woody Woodmansey is the last surviving member of Bowie's band The Spiders from Mars, which helped launch his Ziggy Stardust persona and made Bowie a star. In this first memoir to follow Bowie's passing, Spider from Mars reveals what it was like to be at the white-hot center of Bowie's self-creation. With never-before-told stories and never-before-seen photographs, Woodmansey offers details of the album sessions for The Man Who Sold the World, Ziggy Stardust and the Spiders from Mars, Aladdin Sane, and Hunky Dory: the four albums that made Bowie sensational. And, as fame beckoned but eventually consumed Bowie, Woodmansey recalls the wild tours, eccentric characters, and rock 'n roll excess that drove the band apart.
A vivid and unique evocation of a transformative musical era and the enigmatic, visionary musician at the center of it, with a foreword by legendary producer Tony Visconti, Spider from Mars is for everyone who values David Bowie.
In Spider From Mars: My Life with Bowie, Woody Woodmansey recalls his experience of London's burgeoning glam rock scene and of Bowie while playing as his drummer on four seminal albums: The Man Who Sold The World, Hunky Dory, The Rise And Fall Of Ziggy Stardust And The Spiders From Mars and Aladdin Sane. He also appeared on two live albums, Ziggy Stardust: The Motion Picture and Santa Monica '72. The candid memoir talks about the characters who surrounded Bowie, the album sessions and provides behind-the-scenes moments with one of the world's most iconic singers.
Woody's memoir, which he started work on in 2014, focuses on this key period and brings it to glorious life. With the confidence of youth, Woody always thought he'd be in a famous band but the nineteen-year-old rocker from Hull never expected to be thrust into London's burgeoning glam rock scene, and also into a bottle-green velvet suit and girl's shoes. Playing with Bowie took him on an eye-opening and transformative journey. In Spider From Mars he writes candidly about the characters who surrounded Bowie, recalling the album sessions as well as behind-the-scenes moments with one of the world's most iconic singers. The result is an insightful, funny, poignant memoir that lovingly evokes a seminal moment in music history and pays tribute to one of the most outstanding and innovative talents of our time.
(Visited 17 times, 1 visits today)
Back