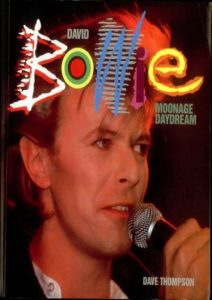 David Bowie Moonage Daydream
Author:
Dave Thompson
Category: Biography, Concert information
Publisher:
Plexus Publishing
Published: June 27, 1996
ISBN-13: 9780859651400
Pages: 192
Country: United Kingdom
Language: English
Dimension: 9.75 x 0.5 x 11 inches
File Size: Glossy front and back cover
Description:
---
David Bowie's career has been one of the most colourful and intriguing in modern rock history. In Moonage Daydream Dave Thompson not only looks into the man himself, as seen through the eyes of many of the people who surrounded him and helped to influence him, but also carefully chronicles every step of Bowie's career detailing every concert performance, all original compositions, and a complete discography. A must for every dedicated Bowie fan
Notes
14 parts over 224 pages including index of records, film and live shows.
Glossy front and back cover
About the Authors
Dave Thompson is the British born author of over 100 books, largely dealing with rock and pop music (The Fall, Ozzy Osbourne, Rod Stewart, The Sparks and many more), but also covering film, sports, philately, numismatics and erotica. He lives in Newark, Delaware and is married to writer Amy Hanson.
Thompsons teaching experience includes 25+ years at the University of Alabama, and 3 years at Virginia Polytechnic Institute and State University. He earned a BS in Liberal Arts and a PhD in Economics from the University of Tennessee. He is a member of the American Economic Association, the Academy of Management, and the Southern Management Association. He has also served on the editorial boards of a number of journals, including the Journal of Economics and Finance, the Journal of Management, the Journal of Management Case Studies, and the Journal of Management Issues.
(Visited 28 times, 1 visits today)
Back