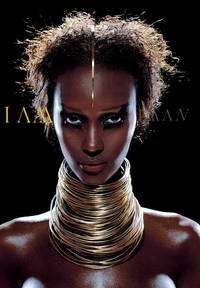 Description:
---
Synopsis:
Iman's emergence in 1975 sparked an upheavel in cultural identity that continues today, and her first book is a gloriously entertaining hybrid essay on the cultural-cum-political power of good looks.
A quarter century of the most famous photographs by Helmut Newton, Steven Meisel, Herb Ritts, Peter Lindbergh, Bruce Weber, Scavullo, David Bailey, Nick Knight, and many others are contextualized by well-known essayists, a chorus of celebrity contributions, and Iman's own take on her much-mythologized career. The book's outrageous pop design–by graphic designers Barnbrook Studios–makes it plain that this is not just one woman's success story. I Am Iman captures the funny, infuriating, and often absurd validation of black and ethnic looks in a beauty industry where billions of dollars–and the self-image of women everywhere–are on the line.
Peeks behind the curtain and scintillating interviews are courtesy of feminist critic bell hooks, Intervieweditor Ingrid Sischy, model and manager Bethann Hardison, and such celebrities as Cindy Crawford, Yves St. Laurent, Naomi Campbell, Bruce Weber, Tyra Banks, and many more. With graphic design featuring gatefolds, diecuts, and other interactive elements, as well as specially commissioned, never-before-seen images by Annie Leibowitz, Ellen Von Unwerth, Sante D'Orazio, and Michel Comte, this book is an assemblage worthy of any fashionista's dream.
About the Author:
Iman is a legendary supermodel, a cosmetic mogul, and wife of David Bowie.
(Visited 7 times, 1 visits today)
Back