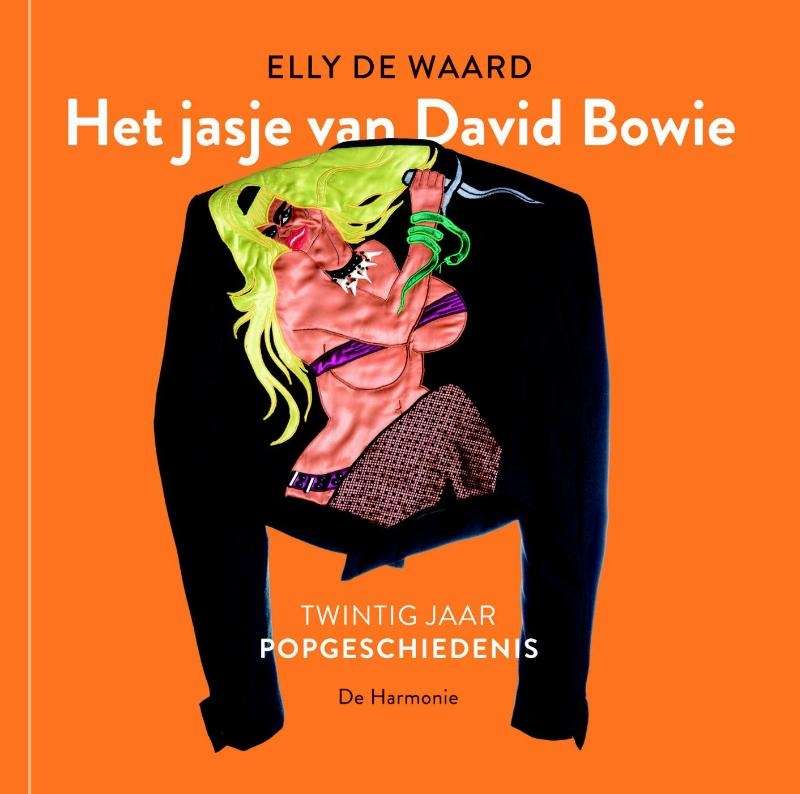 David Bowie Het jasje van David Bowie: Twintig jaar popgeschiedenis (Dutch)
Author:
Harmonie, Uitgeverij de
Category:
stories
Publisher: Elly de Waard
Published: 01 Nov, 2015
ISBN-13: 9789076174709
Pages: 402
Language: Dutch
Dimension: 29,7 x 29,5 x 3,2 cm
Description:
---
Hoe kwam het bijzondere, geborduurde jasje van David Bowie, dat hij droeg tijdens zijn optreden en de daaropvolgende persconferentie in 1974 in Amsterdam, in het bezit van Elly de Waard?
Elly de Waard werkte twintig jaar lang als popjournalist voor Vrij Nederland en de Volkskrant. Zonder schroom en terughoudendheid interviewde zij een onuitputtelijke hoeveelheid internationale popmuzikanten, waaronder David Bowie, The Rolling Stones, The Beatles, Roxy Music, Frank Zappa en The Velvet Underground. Het jasje van David Bowie geeft een breed overzicht van wat de popmuziek in de jaren zeventig en tachtig te bieden had en hoe deze muzikanten zich ontwikkelden tot de supersterren zoals wij ze nu kennen. Al hun concerten, nieuwe albums en hun ideeën over muziek en politiek passeren de revue, alsook alles eromheen, zoals Woodstock, groupies, films, rockopera's en dus ook het verhaal over het jasje van David Bowie.
Recensies
'Zo zorgt Het jasje van David Bowie niet alleen voor veel plezier maar stemt het ook weemoedig. Want al lezende besef je ineens dat je zelden meer stukken leest als De Waards 'waarom ik The Eagles afwijs''
NRC boeken recensie
Het jasje van David Bowie, dat nu in bezit is van de dichteres en ex-popjournaliste Elly de Waard (1940), hangt niet op de tentoonstelling David Bowie Is in het Groninger Museum. Ze bood Bowies torrerojasje, met een beeltenis van Russische stripheldin Octobriana op de rug, aan het museum aan, maar het management van David Bowie gaf er geen toestemming voor, schrijft De Waard in Het jasje van David Bowie, de bundeling van haar artikelen over popmuziek en interviews met muzikanten.
Blijkbaar weet het management nog altijd dat De Waard het jasje veertig jaar geleden heeft gestolen, toen Bowie een persconferentie gaf in het Amstel Hotel in Amsterdam. Bowie, die Nederland bezocht om een Edison in ontvangst te nemen, had het jasje over een stoel gehangen. De Waard nam het mee als genoegdoening, schrijft ze nu. Als jurylid van de Edisons had ze ervoor gezorgd dat Bowie er een kreeg, maar tijdens zijn bezoek gaf de Britse ster alleen een interview aan Henk van der Meyden, de roddeljournalist van De Telegraaf.
David Bowie was een van de helden van de popjournalist De Waard die van 1968 tot 1986 schreef voor Vrij Nederland en de Volkskrant. Zes van de 145 stukken in Het jasje – 131 uit VN en 14 uit de Volkskrant – gaan over Bowie. Alleen over Bryan Ferry en Roxy Music schreef ze meer stukken: negen.
De beste artikelen zijn de interviews met haar helden en andere sterren uit de jaren zeventig, zoals John Lennon, Lou Reed en de Rolling Stones. Vooral als ze eigenlijk zijn mislukt, zijn ze heerlijke lectuur. In 'John Cale, drugs, wapens en rock' bijvoorbeeld beschrijft De Waard eerst uitvoerig hoe de afspraak voor een interview na zijn optreden in het Amsterdamse Paradiso misloopt, doordat Cale druk bezig is met drugs. Uiteindelijk krijgt ze hem in de bar van Hotel Krasnapolsky te spreken. De bar is al gesloten, maar Cale heeft nog een kratje pils naast zich staan. Hij is zweterig en ziet er verward uit, als ze gezellig met hem gaat meedrinken. Hij begint dan aan een onsamenhangende, maar grappige monoloog die eindigt met de vraag: 'Zijn alle obers hier van die Marokkanen? Van die kleine zwarte mannetjes uit Noord-Afrika?'
Door de vele artikelen over Bowie, Ferry en de andere seventies-sterren, geeft Het jasje van David Bowie een eenzijdig beeld van 'twintig jaar popgeschiedenis', zoals de ondertitel luidt. Over zwarte muziek zijn slechts enkele stukken opgenomen, waaronder een over Bob Marley. Hierin analyseert De Waard op nogal academische wijze 'de ritmische vernieuwing van de reggae': 'Vrijwel het enige contrast met al die op diverse plaatsen invallende ritme-instrumenten vormen de zangstemmen.'
Gelukkig zijn niet alle analyses – ongeveer de helft van Het jasje – zo droog. Zo plaatste De Waard in 1981 kritische kanttekeningen bij de muzikale én tekstuele overdaad van Bruce Springsteen die al in 1974 in de Verenigde Staten was uitgeroepen tot 'de toekomst van de rock 'n' roll.' Over Hotel California van The Eagles was ze vier jaar eerder zelfs louter negatief. Ze begint haar beschouwing neutraal, als een nieuwsbericht, met de mededeling dat The Eagles komen optreden. Vervolgens beschrijft ze, ook neutraal, de geschiedenis van de groep. Maar dan brandt ze los en fileert ze de 'volstrekt vergeetbare nummers' van Hotel Californiaom ten slotte te concluderen dat The Eagles 'smaakvolle onbenulligheid' brengen die net zo erg is als de 'smakeloze onbenulligheid' van veel andere hitparadenummers.
Zo zorgt Het jasje van David Bowie niet alleen voor veel plezier maar stemt het ook weemoedig. Want al lezende besef je ineens dat je zelden meer stukken leest als De Waards 'waarom ik The Eagles afwijs'. Toen ze 'The Eagles, smaakvol onbenul' schreef, waren The Eagles, wier 'Hotel California' nog altijd elk jaar hoog eindigt in de Nederlandse Top 2000 aller tijden, op het toppunt van hun roem. De Waard trok zich hier niets aan, en sabelde hun werk genadeloos neer.
Maar sinds ze in 1986 is gestopt met schrijven over popmuziek omdat ze zichzelf daar te oud voor vond, is 50,000,000 Elvis Fans Can't Be Wrong steeds meer het uitgangspunt geworden in de popjournalistiek. Een stuk met de titel 'De Totalitaire Techno van Tiësto' is nog altijd niet verschenen. Nieuwe albums van megasterren als Adèle gaan gepaard met een stroom interviews en artikelen waarin hoogstens enige kritische kanttekeningen worden geplaatst bij de distributiewijze van het product. Steeds meer staat de popjournalistiek in het teken van de jubelcultuur waarin voor ontspoorde interviews en eigenwijze analyses als die van De Waard geen plaats meer is.
(Visited 10 times, 1 visits today)
Back