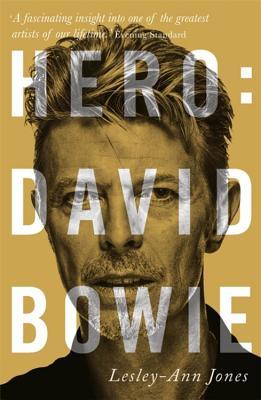 David Bowie Hero
Author:
Lesley-Ann Jones
Category:
Biography
Publisher:
Hodder Stoughton
Published: October 10, 2017
ISBN-13: 9781444758818
Pages: 496
Language: English
Dimension: 6.38 x 1.63 x 9.5 inches
Description:
---
'Through interviews with friends and colleagues, as well as detailed research, the writer has gained unprecedented knowledge of the true story behind the legend. This is a fascinating insight into one of the greatest artists of our lifetime.' Evening Standard
'Through several interviews with Bowie she evocatively portrays his fascinating life, often with a tenderness you wouldn't expect.' Daily Express
'An intriguing book. This is a personal friendship in writing. The knowledge divulged here is an endearing and powerful tale of a man who conquered the entire entertainment industry with his creative force.' Variety

A unique portrait of the globally revered artist and the extraordinary, complex man behind the legend.
His music thrilled the generation it was written for, and has entertained and inspired every generation since.
HERO: DAVID BOWIE is an intelligent exploration of the man behind the myths and the makeup told from the very beginning.
Respected music journalist and biographer Lesley-Ann Jones knew David Jones from the days before fame, when he was a young musician starting out, frustrated by an industry that wouldn't give him a break and determined to succeed. Here she traces the epic journey of the boy from Bromley born into a troubled background to his place as one of the greatest stars in rock history.
Jones has interviewed numerous friends and associates of Bowie, many of whom have never spoken publicly about him before. Drawing on this new material and meticulous research, the real story of Bowie's family background is told; the true inspiration behind the creation of Ziggy Stardust is revealed, and we learn how his marriage to Angie ended in agony following his comeback from a near fatal drug addiction. Jones also revisits Bowie's tragic relationship with his brother and his deep bond with T Rex frontman Marc Bolan.
Bowie's rebellious nature, his many sources of inspiration and creativity, and his complex, intense personality are discussed here, creating a unique and compelling portrait of an extraordinary man.
This is Bowie as you've never seen him before.
Lesley-Ann Jones
Lesley-Ann Jones is a British biographer, novelist, broadcaster and keynote speaker.
She honed her craft on Fleet Street, where she worked as a newspaper columnist and feature writer for more than twenty years. She has also worked extensively in radio and television, appears regularly in music documentaries in the UK, USA and Australia, and is the writer and co-producer of 'The Last Lennon Interview', a film about the final encounter, in New York, between the former Beatle and BBC Radio One presenter Andy Peebles.
Her debut memoir 'Tumbling Dice' is out now.
NB: the cover of TUMBLING DICE displayed here is NOT the current, correct one, but is of an edition that was never published! It appears to be impossible to change it! The ISBN for the CORRECT, CURRENT VERSION is 978109175
First serialisation rights for TUMBLING DICE were acquired by the Mail on Sunday UK, published across four pages on 7th April 2019. Second serial went to The Times, UK, featured as a double-page spread on 10th April.
The author's interview with US ABC Radio network is syndicated to 2,000 stations across the United States. She has discussed the book on most BBC local stations, including BBC York, Northampton, Guernsey, Cornwall, Solent, Hereford & Worcester, Derby and Oxford. Live radio exposure continues over the coming weeks, with BBC Radio London's Robert Elms Show, Wandsworth Radio, Express FM's The Soft Rock Show, K107FM Scotland, Wycombe Sound, Camglen Radio (Scotland), the Sticks Radio Show & podcast, BBC Radio Kent, Radio Caroline, Talk Radio's The Paul Ross Show and Talk Radio Europe's Bill Padley Show.
Lesley-Ann Jones's agents are currently negotiating with two independent production majors on a screen adaptation of TUMBLING DICE.
Other recent works include 'Hero: David Bowie', 'Imagine', and 'Ride a White Swan: The Lives and Death of Marc Bolan'. Her globally-acclaimed definitive biography of Queen frontman Freddie Mercury, re-issued in 2019 as 'Bohemian Rhapsody', is a Sunday Times Top Ten Bestseller. The book accompanies the band's long-awaited eponymous feature film, the highest-grossing music biopic of all time
(Visited 17 times, 1 visits today)
Back