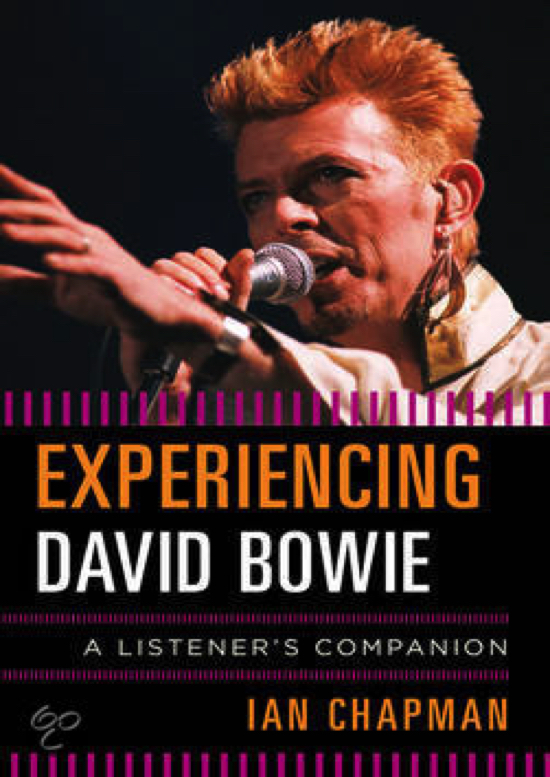 David Bowie Experiencing: A Listener's Companion
Author:
Ian Chapman
Category:
Biography
Publisher:
Rowman and Littlefield Publishers
Published: September 1, 2015
ISBN-13: 9781442237513
Pages: 254
Language: English
Dimension: 23,3 x 16,0 x 2,3 cm - Weight 503 grams
Description:
---
Summary
In Experiencing David Bowie: A Listener's Companion, musicologist, writer, and musician Ian Chapman unravels the extraordinary marriage of sound and visual effect that lies at the heart of the work of one of the most complex and enduring performers in popular music. Still active in a career now well into its fifth decade, Bowie's influence on music and popular culture is fixed. At the height of the glam rock era, Bowie stood head and shoulders above his peers. His influence, however, would extend far beyond glam through successive changes of musical style and stage work that impacted upon wider popular culture through fashion, film, gender studies, theatre, and performing arts. As Chapman suggests, Bowie recognized early on that in a post-war consumer culture that continued the cross-pollination or media platforms, the line between musician and actor was an ever-thinning one. Opposing romantic notions of authenticity in rock, Bowie wore many faces, challenging listeners who consider his large body of work with a bewildering array of musical styles, covering everything from classic vaudeville to heavy metal, glam rock to soul and funk, electronic music to popular disco. In Experiencing David Bowie, Chapman serves as tour guide through this fixed musical landscape, tracing his development as a musical artist through twenty-seven studio albums he generated. Pivotal songs anchor Chapman's no-nonsense look at Bowie's work, alerting listeners to his innovations as composer and performer. Moreover, through a close look at Bowie's visuals-in particular his album covers, Chapman draws the lines of connection between Bowie the musician and Bowie the visual stage artist, illuminating the broad nature of his art. This work will appeal to not only fans of David Bowie, but anyone interested in the history of modern popular music, fashion, stage and cinema, and modern art.
Editorial Reviews
Review
What I particularly enjoyed was the writer's passion for Bowie's music, often recalling his excitement as a teenager at listening to each new release on vinyl for the first time. The innovations of each track are explored along with the visual impact and meanings or Bowie's album covers. Despite his enthusiasm, Chapman acknowledges and explains the reasons behind Bowie's less successful works in the 1980s and 90s. This work will greatly appeal to fans of David Bowie as well as anyone interested in the history of modern popular music, fashion, stage and cinema, and modern art. Sixtyplusurfers David Bowie is one of the most daring and influential artists of his generation. Ian Chapman, musicologist and musician, serves as our tour guide, taking us through the ever-evolving art of Bowie. Chapman goes into great detail about every studio album, as Bowie glides from music hall to metal, glam to soul, disco to electronics. Bowie's compulsion to innovate becomes clear. And Chapman includes in this study an exploration of the visual aspects, so vital to Bowie's impact. The book gives us a far deeper understanding of a complex musical force. Pop Culture Classics Chapman's narrative approach is to describe the discovery of each new album in a kind of second-person voice: you go to the record store. You wait in line (yes, we used to do that). You take the record home. You look at the front and back covers. You put the record on the turntable. You flip it over after the side finishes. And so on … [I] n Chapman's hands [this] works quite well, especially-I should think-with readers who actually did experience new records exactly that way … Chapman makes the case for many of Bowie's more recent albums … [And] the critical analysis he brings to bear upon such late-period Bowie albums as Heathen and Reality has gotten me interested enough that I just might check out those titles. And realizing that makes me say to Ian Chapman, ' Job well done. ' Musoscribe
About the Author
Ian Chapman is a senior lecturer in music at the University of Otago, New Zealand. A music iconographer and specialist in glam rock, he is a former professional musician and the author of several books, including Kiwi Rock Chicks, Pop Stars & Trailblazers (2010).
(Visited 27 times, 1 visits today)
Back