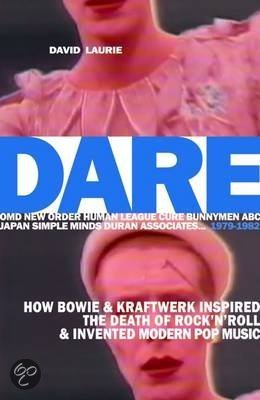 David Bowie Dare: How Bowie & Kraftwerk Inspired The Death of Rock'n'Roll and Invented Modern Pop Music
Author:
David Laurie
Category:
Synthpop
Publisher:
Something In Construction
Published: October 8, 2015
ISBN-13: 9780993347900
Pages: 390
Language: English
Description:
---
DAVID LAURIE LOOKS BACK ON BOWIE'S RAMPANT EXPERIMENTALISM IN MID-70S BERLIN THAT SAW HIM TEAR UP THE RULE BOOK AND REFUSE TO READ IT EVER AGAIN." THE LINE OF BEST FIT
DARE is the first book from David Laurie, MD of boutique record label, Something In Construction. A successful Kickstarter Project, which saw DARE a Staff Pick, has paid for the First Edition. It's a large format paperback with colour pictures, published by SIC Publishing.
It's about Synthpop, more or less, and how David Bowie, Kraftwerk and the advent of cheap synths rendered Rock'n'Roll redundant, forever changed what it meant to be "in a band" and invented Modern Pop Music along the way.
It focuses on 1979-1982 and offers a perceptive and entertaining look at a Pop Revolution that played out on Top Of The Pops, rather than deep underground – and why the "plastic music" of the early Eighties is so very durable and influential.
CHAPTERS
01. "HEROES" Just who did invent the 80s?
KRAFTWERK NEU BOWIE MORODER BLONDIE SPARKS
02. DAWNING OF A NEW ERA After the grey 70s, dour English eccentrics reach for the fun, the colour and the glamour.
THE JAM, THE SPECIALS, ADAM AND THE ANTS
03. THE SOUND OF THE CROWD Synthpop arrives.
GARY NUMAN, OMD, ULTRAVOX, SOFT CELL, THE HUMAN LEAGUE
04. TEMPTATION Funk Gets Serious, Disco Is Exhumed.
ORANGE JUICE, NEW ORDER, PiL, GANG OF FOUR + NEIL YOUNG
05. MAD WORLD The floodgates open; brilliant new groups every week.
ABC, ASSOCIATES, TEARS FOR FEARS, YAZOO, TALK TALK
06. GHOSTS The Top Ten welcomes all sorts of oddities.
JAPAN, MONSOON, GRACE JONES, LAURIE ANDERSON
07. FLOORSHOW Goth's moths step into the light.
BAUHAUS, THE CURE, THE SISTERS OF MERCY, SIOUXSIE & THE BANSHEES
08. DUCK ROCK Punks import Hip Hop and Electro from New York.
MALCOLM MCLAREN, AFRIKAA BAMBAATA, THE CLASH
09. NEW GOLD DREAM The European Canon tilts at stadiums.
SIMPLE MINDS, THE BUNNYMEN, U2, PETER GABRIEL, KATE BUSH
10. AVALON In Pursuit Of Production Perfection.
ROXY MUSIC, DURAN DURAN, SCRITTI POLITTI DARE
11. THRILLER Economies Of Scale. Kajagoogoo vs Prince.
MICHAEL JACKSON, MADONNA, PRINCE, CDs, MTV
12. ALL YOU NEED IS NOW The persistence of Duran Duran and the perpetual Eighties revival
LCD SOUNDSYSTEM, LA ROUX, HOT CHIP, THE KILLERS
(Visited 31 times, 1 visits today)
Back