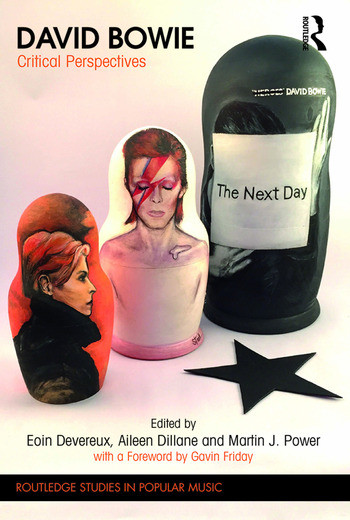 Description:
---
Book Description
David Bowie: Critical Perspectives examines in detail the many layers of one of the most intriguing and influential icons in popular culture. This interdisciplinary book brings together established and emerging scholars from a wide variety of backgrounds, including musicology, sociology, art history, literary theory, philosophy, politics, film studies and media studies. Bowie's complexity as a singer, songwriter, producer, performer, actor and artist demands that any critical engagement with his overall work must be interdisciplinary and wide-ranging in its scope. The chapters are organised around the key themes of 'textualities', 'psychologies', 'orientalisms', 'art and agency' and 'performing and influencing' in Bowie's work. This comprehensive book contributes a great deal to the study of popular music, performance, gender, religion, popular media and celebrity.
Table of Contents
Introduction: Where Are We Now? Contemporary Scholarship on David Bowie Eoin Devereux, Aileen Dillane and Martin J. Power  Part 1: Assemblages  1. David Bowie is. Kathryn Johnson  2. In this Age of Grand Allusion: Bowie, Nihilism, and Meaning Richard Fitch  3. Culminating Sounds and (En)visions: A Critical Reading of Bowie's "Ashes to Ashes." Eoin Devereux, Aileen Dillane, and Martin J. Power  Part 2: Subjectivities  4. Turn Myself to Face Me: David Bowie in the 1990s and the Discovery of the Authentic Self  Bethany Usher and Stephanie Fremaux  5. 'Crashing Out with Sylvian': David Bowie, Carl Jung and the Unconscious Tanja Stark  6. Dear Dr. Freud: David Bowie Hits the Couch (A Psychoanalytical Approach) Ana Leone  Part 3: Orientalisms  7. Moss Garden: David Bowie and Japonism in Fashion in the 1970s Helene Thian  8. Reconsidering Bowie in the 1980s: The Case for China Girl Shelton Waldrep  9.Embodying Stardom, Representing Otherness: David Bowie in 'Merry Christmas Mr. Lawrence' Mehdi Derfoufi  Part 4: Agencies  10. Art's Filthy Lesson Tiffany Naiman  11. Authorship, Agency, and Visual Analysis: Reading (some) Bowie Album Covers Ian Chapman  12. Revisiting Bowie's Berlin David Buckley  Part 5: Alterities  13. David Bowie: The Extraordinary Rock Star as Film Star Julie LobalzoWright  14. The (becoming-wo)Man Who Fell to Earth Dene October  15. Out of this World: Ziggy Stardust and the Spatial Interplay of Lyrics, Vocals, and Performance Barish Ali and Heidi Wallace  Part 6: Affinities  16. David Bowie Now and Then: Questions of Fandom and Late Style Nick Stevenson  17. How Superficial!: David Bowie and the Art of Surfacing in 21st Century Literature Vanessa Garcia
Editor(s)
Biography
Eoin Devereux is Associate Professor and Assistant Dean for Research in the Faculty of Arts, Humanities and Social Sciences at the University of Limerick, Ireland.  He is also an Adjunct Professor in Contemporary Culture at the University of Jyvaskyla, Finland.  He is the author of Understanding the Media (3rd edition, 2014) and editor of Media Studies: Key Issues and Debates (2007).
Aileen Dillane is an ethnomusicologist based in the Irish World Academy at the University of Limerick, Ireland. She co-edited Morrissey: Fandom, Representations and Identities (2011) with Eoin Devereux and Martin Power. Her areas of research interest include ethnomusicological theory and practice, popular music and culture studies, performance studies and urban soundscape studies.
Martin Power is Lecturer in the Department of Sociology at the University of Limerick, Ireland. Recent publications include Morrissey: Fandom, Representations and Identities(2011, co-edited with Eoin Devereux and Aileen Dillane) and Marxist Perspectives on Irish Society (2011, co-edited with Micheal O'Flynn, Odette Clarke and Paul M. Hayes).
Reviews
"An interdisciplinary account of David Bowie's career at its best. This is a refreshing and insightful collection of essays that addresses the phenomenon of an artist who changed the direction of pop music forever. It is crammed with fascinating perspectives that raise the curtain on Bowie's performance antics and sheer force of creativity". – Professor Stan Hawkins, University of Oslo.

'Remarkably interesting' – Andrew Griffin, Red Dirt Report
(Visited 29 times, 1 visits today)
Back