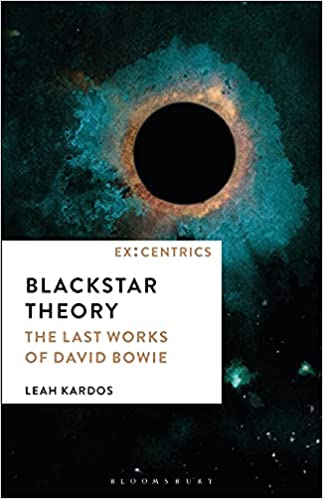 Description:
---
Blackstar Theory takes a close look at David Bowie's ambitious last works: his surprise 'comeback' project The Next Day (2013), the off-Broadway musical Lazarus (2015) and the album that preceded the artist's death in 2016 by two days, Blackstar. The book explores the swirl of themes that orbit and entangle these projects from a starting point in musical analysis and features new interviews with key collaborators from the period: producer Tony Visconti, graphic designer Jonathan Barnbrook, musical director Henry Hey, saxophonist Donny McCaslin and assistant sound engineer Erin Tonkon.
These works tackle the biggest of ideas: identity, creativity, chaos, transience and immortality. They enact a process of individuation for the Bowie meta-persona and invite us to consider what happens when a star dies. In our universe, dying stars do not disappear – they transform into new stellar objects, remnants and gravitational forces. The radical potential of the Blackstar is demonstrated in the rock star supernova that creates a singularity resulting in cultural iconicity. It is how a man approaching his own death can create art that illuminates the immortal potential of all matter in the known universe.

Review
"Leah Kardos deftly uncovers the patterns in David Bowie's "late style," seeing the mortality, morality, and self-consciousness hiding in plain sight. While musicological analysis is at the heart of her endeavor, she is nevertheless attuned to the places in his epic career where there are fissures and unexpected correspondences with other forms of art. Blackstar Theory is a feast for any Bowie fan-rabid or casual-and performs the closure that many of us were seeking.
A welcome addition to the growing canon of Bowie studies." —Shelton Waldrep, Distinguished Professor of English, University of Southern Maine, USA
"This is one of the most intelligent studies of David Bowie's music that will ever be published. It illuminates the interconnected web of meanings that are discoverable in his work in ways I have never encountered before. Leah Kardos shows with genuine illumination that the music of the late Bowie tackles big ideas such as the nature of identity, creativity, chaos, transience and im/mortality and provides us with signposts that take us back to the very start of his extraordinary life and musical career. The book is a major achievement." —Keith Ansell-Pearson, Emeritus Professor of Philosophy, University of Warwick, UK
"A star-gazing telescope of sorts, Blackstar Theory provides an illuminating view of the last great works of a dying star. Intimately connected to the music and art of David Bowie, Leah Kardos elegantly crafts a respectful conduit for readers to share in her examination of the meanings generated by Bowie's work. As an in-depth scholarly guide and probing navigational tool, Blackstar Theory is a must-read for anyone wishing to engage with the constellation of meanings generated by Bowie's late music and art." —Lisa Perrott, Senior Lecturer, Waikato University, New Zealand, and series editor of New Approaches to Sound, Music and Media (Bloomsbury)
Author
Leah Kardos is a senior lecturer in music at Kingston University London, UK, where she co-founded the Visconti Studio with music producer Tony Visconti. She specializes in the areas of record production, pop aesthetics and criticism, and exploring interdisciplinary approaches to creative practice.
Greg Hainge is Reader in French and Head of the School of Languages and Comparative Cultural Studies at the University of Queensland, Australia. He is the author of Capitalism and Schizophrenia in the Later Novels of Louis-Ferdinand Céline and has published widely on cinema, music, critical theory and French literature.
Paul Hegarty is Professor of French and Francophone Studies at the University of Nottingham, UK. He is the author and editor of 11 books that span critical and cultural theory, rock, experimental and noise music, as well as audiovisual art including Noise/Music (Bloomsbury, 2007), Rumour and Radiation (Bloomsbury, 2014) and Annihilating Noise (Bloomsbury, 2020). He is also Co-editor of Bloomsbury's Ex: Centrics series.
(Visited 74 times, 1 visits today)
Back