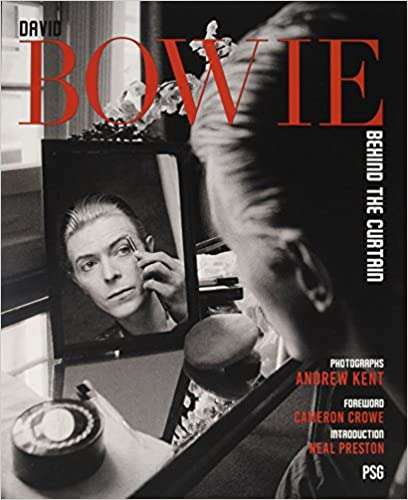 Description:
---
Behind The Curtain is a rare, exclusive, intimate, and very candid look at David Bowie during the rise of the Thin White Duke, his Station to Station tour, and numerous larger-than-life stories along the way. In 1975, rock 'n roll photographer Andrew Kent landed the gig of a lifetime. He had been entrusted by Bowie to document, with unfettered access, anything and everything Bowie and his entourage encountered for the next two years. Backstage, on stage, private parties, birthday parties, limos, quiet hotel moments, dressing rooms, Berlin, Paris, New York, London, Helsinki, Moscow. Also along during the Station to Station tour was an 18 year old Rolling Stone reporter researching a cover story on Bowie named Cameron Crowe. In 1976 Bowie took Iggy Pop, his manager Pat Gibbons, his personal secretary Coco, and Kent on an impromptu excursion by train to the Soviet Union. A mistake on the schedule at the train station caused the group to miss their return train to Helsinki leading the press to run frenzied headlines reading, "David Bowie Missing in Soviet Union!." With his unprecedented access, Kent created a one-of-a-kind travelogue, capturing the unique and spectacular life of one of the most iconic musicians in rock 'n roll history.
Author:
Andrew Kent is an acclaimed photographer who created many of the most iconic images of 1970's rock superstars including Freddie Mercury, Elton John, Jim Morrison, KISS, Iggy Pop, and Frank Zappa. Undoubtedly, Kent's most important collaboration was with David Bowie from 1975 through 1978. The trust Kent developed with Bowie allowed the music legend to put his guard down resulting in many unusually candid moments documented.
Kent was a staff photographer for Capitol Records, Atlantic Records, and A&M Records. He was also a staff photographer with Creem, Circus, and Rock magazines. Kent's photography has been featured prominently in publications including Rolling Stone, Vanity Fair, Playboy, Time, Newsweek, Q, and Mojo. Kent's photos are featured on the covers for albums including Iggy Pop's "Lust For Life" and KISS's "Alive II."
Presently Kent lives in Sun Valley, Idaho pursuing more leisurely interests that include skiing, fly fishing, and motorcycles.
Cameron Crowe is an actor, author, director, producer, screenwriter and journalist. Before moving into the film industry, Crowe was a contributing editor at Rolling Stone magazine, for which he still frequently writes.
Crowe has made his mark with character-driven, personal films that have been generally hailed as refreshingly original and devoid of cynicism. Michael Walker in The New York Times called Crowe "something of a cinematic spokesman for the post-baby boom generation" because his first few films focused on that specific age group, first as high schoolers and then as young adults making their way in the world.
Crowe's debut screenwriting effort, Fast Times at Ridgemont High, grew out of a book he wrote while posing for one year undercover as a student at Clairemont High School in San Diego, California. Later, he wrote and directed one more high school saga, Say Anything, and then Singles, a story of Seattle twentysomethings that was woven together by a soundtrack centering on that city's burgeoning grunge music scene. Crowe landed his biggest hit, though, with Jerry Maguire. After this, he was given a green light to go ahead with a pet project, the autobiographical effort Almost Famous. Centering on a teenage music journalist on tour with an up-and-coming band, it gave insight to his life as a 15-year-old writer for Rolling Stone. For his screenplay, he won an Academy Award. Also in late 1999, Crowe released his second book, Conversations with Wilder, a question and answer session with the director
(Visited 28 times, 1 visits today)
Back