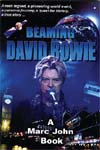 In the late '90s, while there were numerous digital operators emerging to provide an alternative to 35mm projection, no strategic partnerships providing an end to end solution had been established.
John, recognising this as an opportunity, launched Quantum digital and became the first head of digital cinema for Odeon UK.
Quantum's first major digital cinema project was the worldwide live broadcast of a Bowie concert in 1999. In addition to the Bowie screening, the book offers an insight into the diverse range of alternative programming digital enables cinemas to provide. This is the interesting bit, as the live satellite broadcast of the Bowie gig was an amazing pioneering use of the digital equipment.
If John had stuck to the facts, disposed of the numerous dodgy metaphors, egotistical statements and refrained from referring to himself as "The Man", the end result would have made a great article for Screen Digest.
A good read, on the whole, it does not make.